Two days barely does the capital of Thailand justice, but here are some great ideas to get a taste of what the city has to offer.
Day 1
ChangChui Creative Park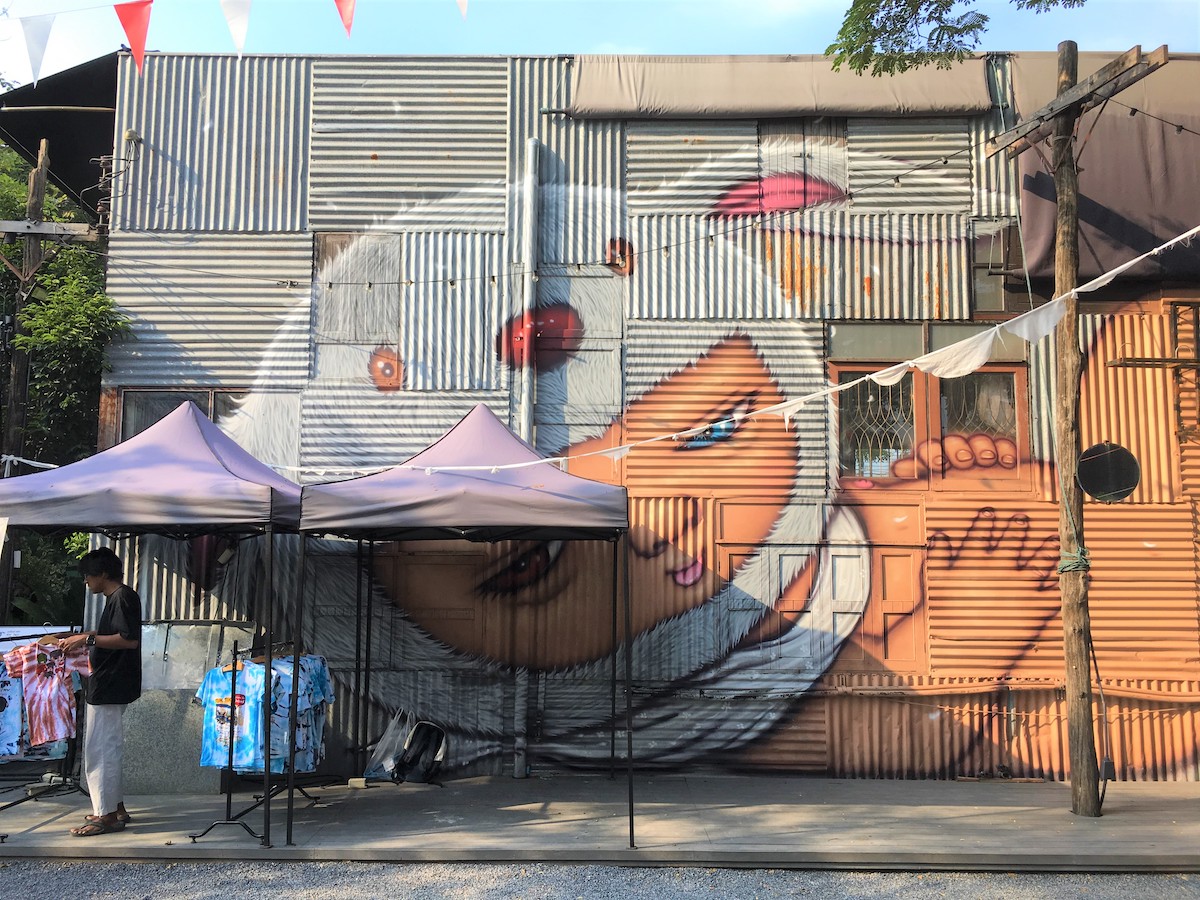 Also called the "Plane Market," this hive of local creativity is constructed from antiques, reused, and recycled items, giving it a very well-planned vintage feel. A small cinema, as well as stages, allow space for performing arts. The focal point here is a disused airplane where passengers take off for fine-dining adventures, complete with a ride down the plane's large spiral playground slide.
Bangkok Art and Culture Centre
Located in the heart of Bangkok's shopping district, this contemporary arts center provides a venue for creativity and features a rotating schedule of local and international artists working in a plethora of media. The building also houses cafes, bookstores, and local artists' shops across its many floors.
The Grand Palace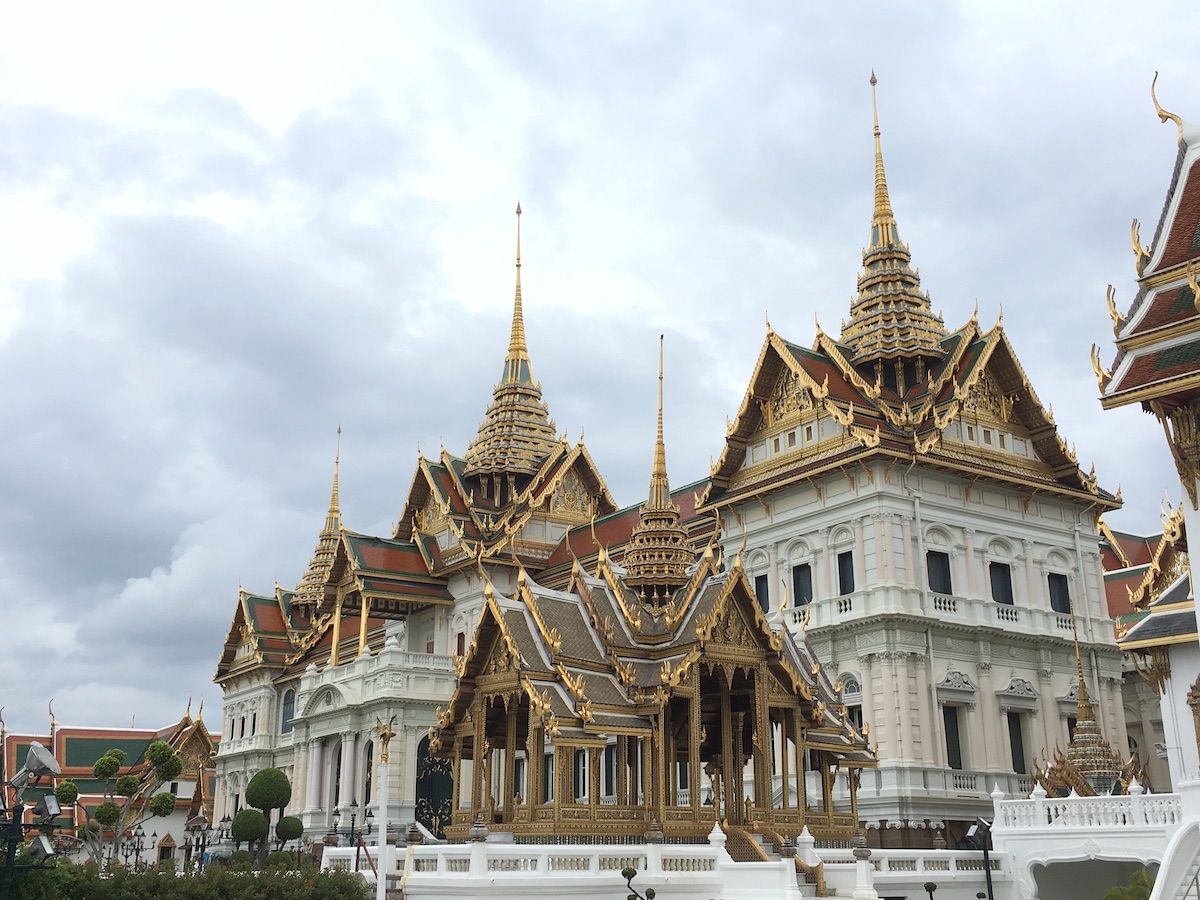 The centerpiece of the old city, this has been the official residence of Thailand's kings since the city was founded, and is a delight for the eyes as every corner and crevice are filled with color and filigree. Although no longer the day-to-day residence of the royal family, ceremonial functions still take place here. It is also highly revered by Thai and Lao people, as the country's most famous Buddha image, the Emerald Buddha, is kept here after previously residing in Vientiane. 
tip: Due to cultural sensitivities, you will need to follow a strict dress code here: no sleeveless shirts, no shorts, no mini skirts, no see-through or torn clothing. There are some sarongs and wraps available to purchase just inside the main gate.
Day 2:
Wat Arun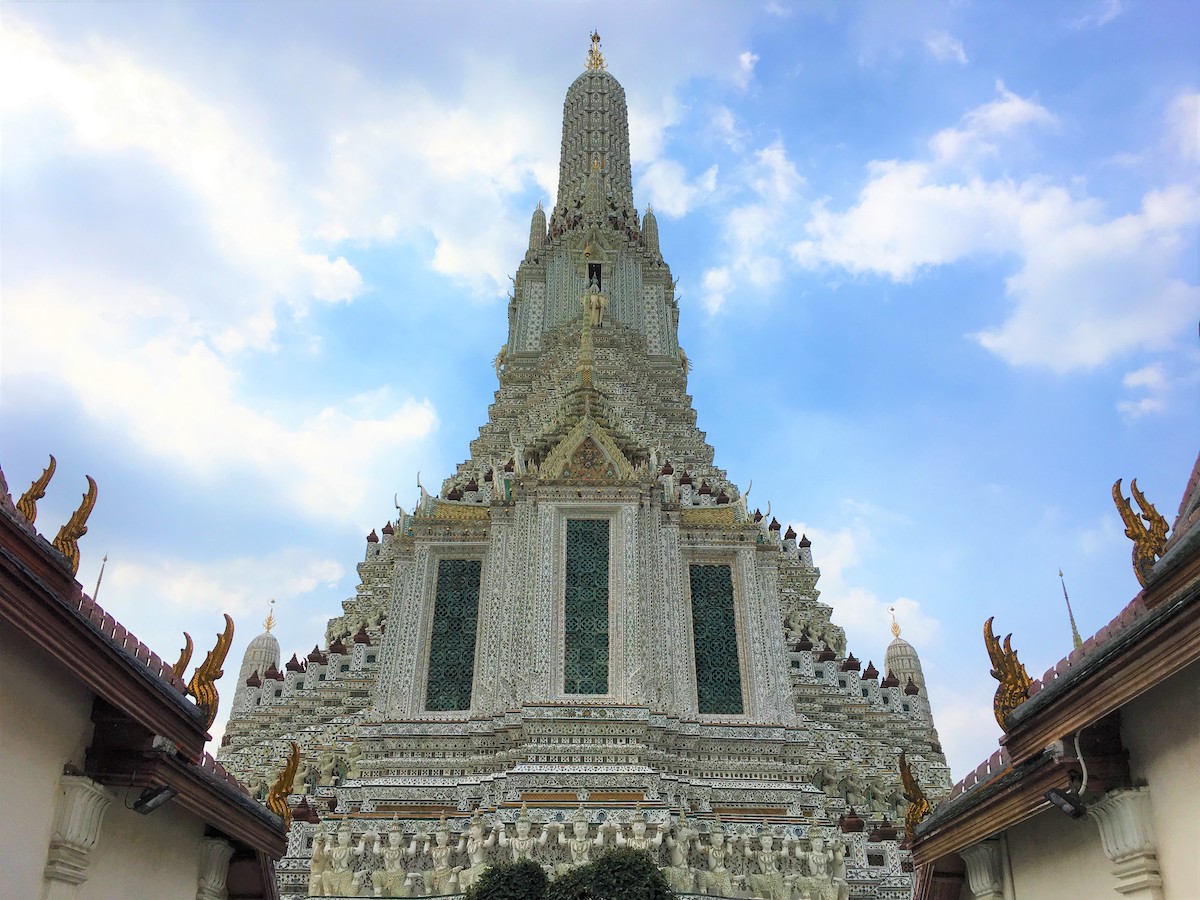 With a name meaning "The Temple of Dawn," Wat Arun sits on the west side of the Chao Phraya River where it glistens in the morning sunlight. This is one of the best known land-marks of the city and even features on the reverse of the 10 baht coin. It is covered in white plaster and shards of broken porcelain arranged in beautiful patterns. Legend has it this crockery came from a ship that sunk in the river nearby. 
tip: There are local restaurants at the ferry pier at Tha Tien which offer fantastic views of Wat Arun as you dine. For a more upscale option,  enjoy a fine meal at Sala Rattanakosin or Riva Arun.  
ICONSIAM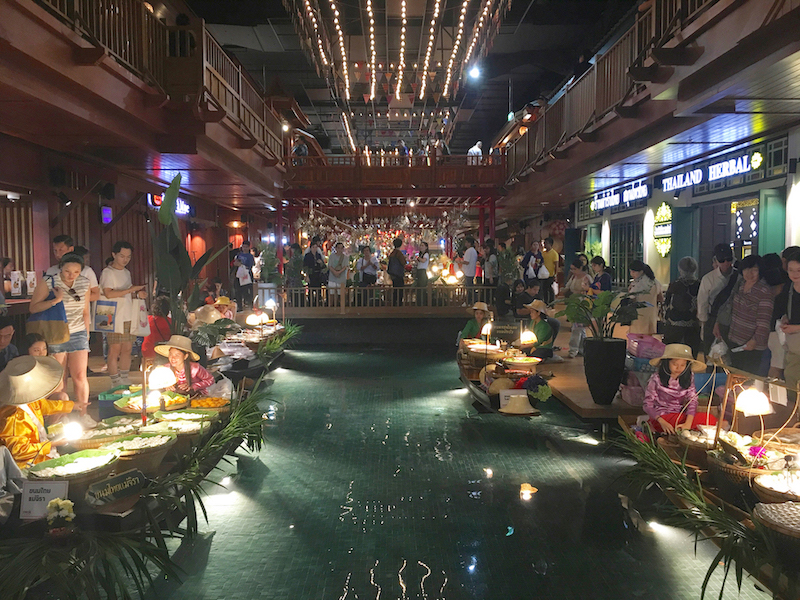 Opening to great fanfare in 2018, this huge shopping center offers floors and floors of shopping and dining adventures. Nearly every name brand imaginable is represented here, including the first Apple store in Thailand. The complex will also house several residential buildings for the well-heeled. ICONSIAM can easily be reached by their own ferry boat from the pier under Saphan Taksin BTS station. 
Chinatown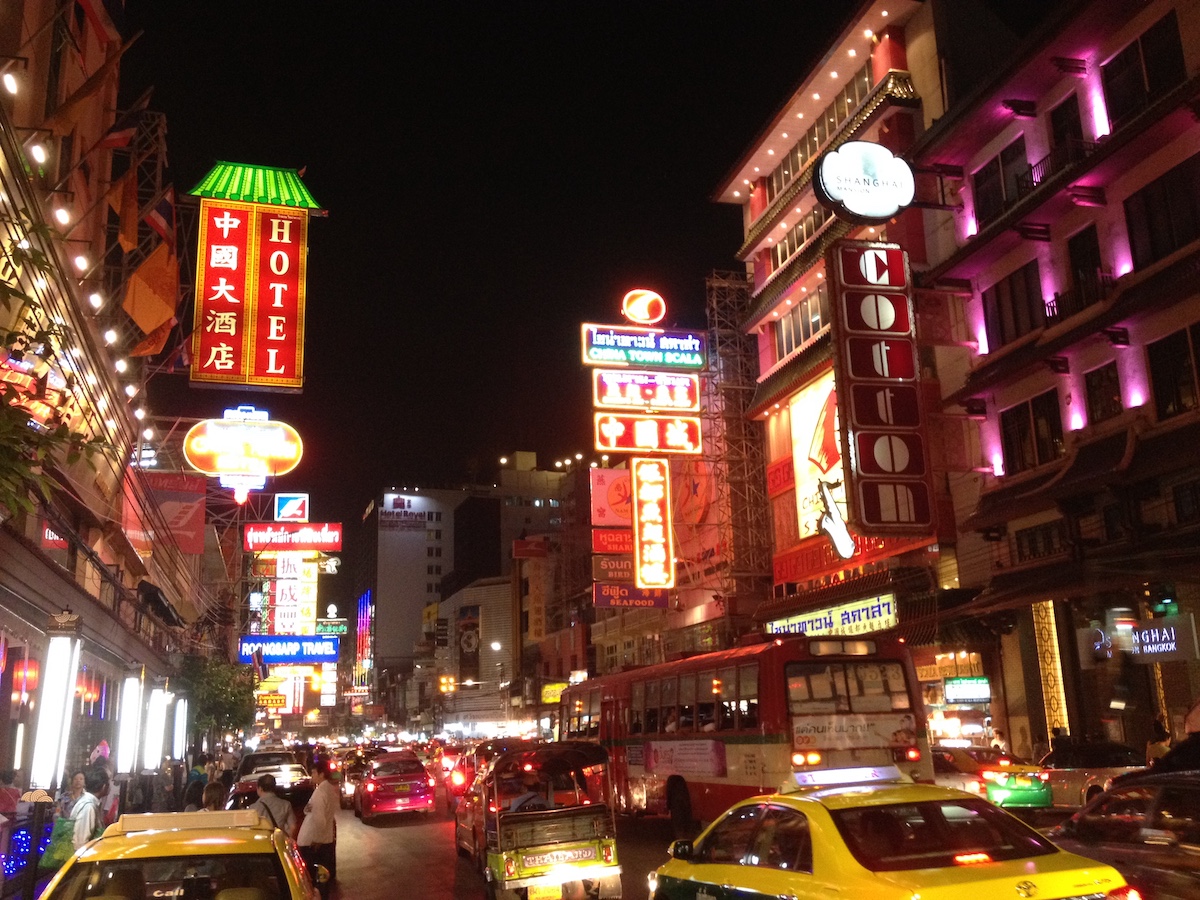 A small Chinese settlement was located in the area that was to become the Grand Palace, so the king granted them this land surrounding Yaowarat Road in exchange. Nowadays the area still retains a strong Chinese flavor with several famous markets, and is a very popular area for street side food stalls and restaurants in the evenings.
tip: For a break from the tropical heat, enjoy a drink, snack, or a meal along with panoramic views at the Sky View 360 rotating restaurant on top of the Grand China Hotel.
must try: Guay Jub, a bowl of rolled noodles and pork in a peppery broth, sold every night in the lobby of the Chinatown Rama Theater. Due to its popularity, sometimes you have to queue!
Asiatique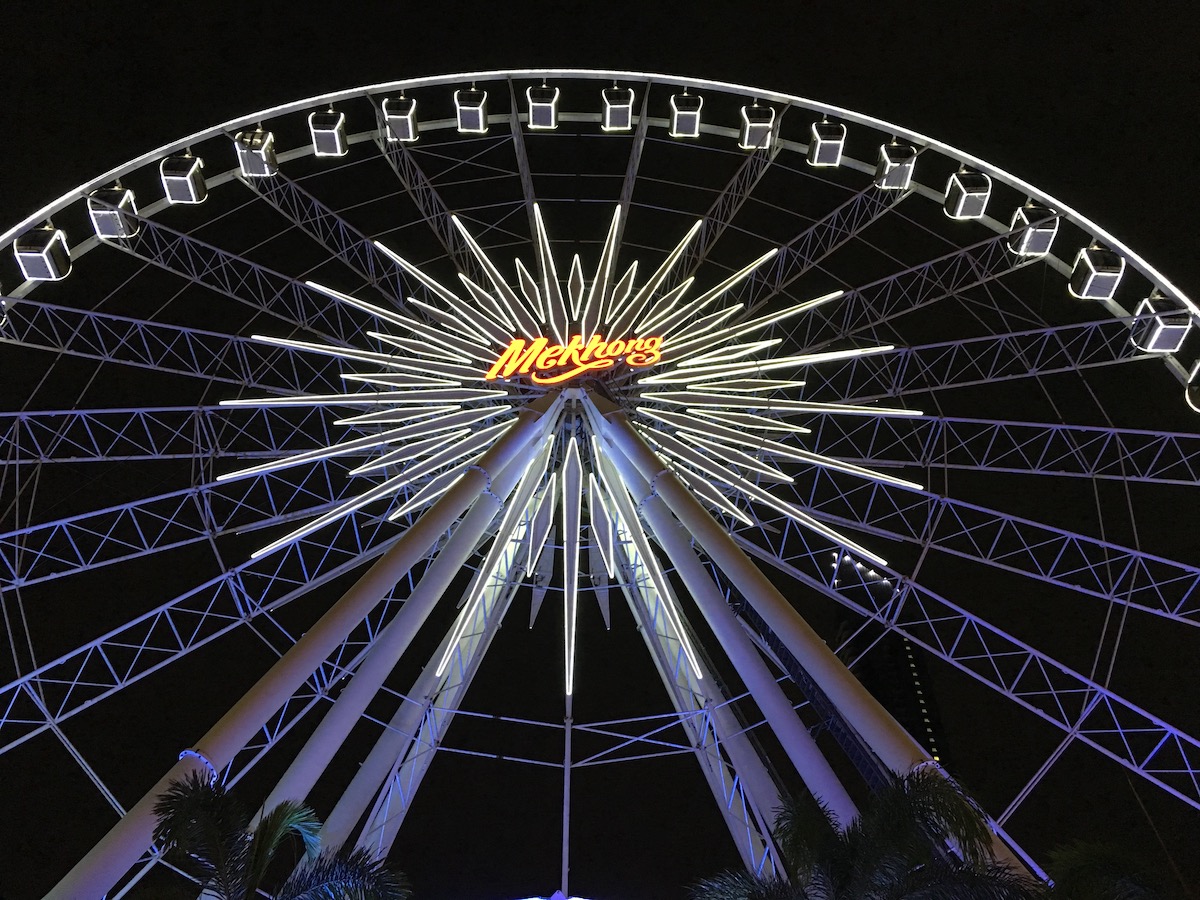 This open-air shopping area is located on former docklands, yet still keeping a distinct nautical theme. Large cargo warehouses now house restaurants and boutiques from local artisans selling objets d'art and souvenirs. Entertainment also abounds with the Joe Louis puppet theater, the famous Calypso Cabaret, and a Muay Thai kickboxing show. To get a better view of the area, board Asiatique Sky, their 60m Ferris wheel!
tip: Bring an appetite as there is a lot to eat here – even a durian buffet for the adventurous! 
GETTING THERE
Lao Airlines flies daily to Bangkok from Vientiane and Luang Prabang
and four times weekly from Pakse and Savannakhet.
GETTING AROUND
Public transport is easy and available on both BTS skytrain and MRT
subway systems, as well as taxis and motorbikes. The Chao Phraya
Tourist Boat offers a one-day river pass with unlimited hopping on
and off for only 200 baht.
Text and photographs by: Jason Rolan