Get off the beaten path and rediscover Luang Prabang
One of Luang Prabang's most iconic and impressive structures is being refurbished. The old steel and wooden bridge built by the French in the 1920s when Luang Prabang was part of Indochina is now clocking up a hundred years in age. It used to be only the adventurous and bold who dared to tread its wobbly and precarious planks high above the Nam Khan (Khan River) but now the creaking and loose boards that lined both sides of the bridge have been replaced with one sheet of treaded steel. Now it's easy to walk over the bridge and explore what the other side of the Nam Khan has to offer. If you want to get away from the main area of town, there are plenty of things to do and see with a totally different vibe. Now, all it takes is an easy stroll on the bridge.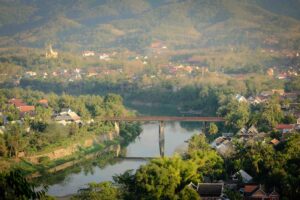 The other bank will take you through villages with shops selling items as diverse as bamboo rice baskets and pink gasoline in glass bottles. Life is simple and much different than in the town, homemade ice-cream sellers on bicycles ply their wares to groups of children playing with kites, the scrap metal collector shows up on his motorbike ready to take any old rusty tin, trays of Mekong river weed like dark green hair are drying outside basic wooden homes and weaving looms can be seen gracing verandas all backed up with an intermittent soundtrack of crowing roosters.
If you go early enough in the morning you may catch a parade of monks at almsgiving crossing the bridge, a stunning photo opportunity. Here's a tip: tak bat (almsgiving) does not only happen on Luang Prabang's main street. Long lines of monks on their daily rounds can be seen across the Nam Khan and you will probably be the only one watching. If you prefer a more serene and calm almsgiving experience head over the bridge just before first light to escape the crowds.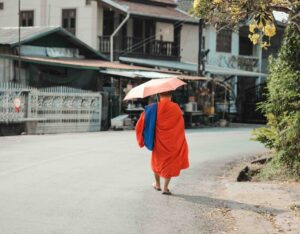 On the second intersection after the bridge, a left turn will bring you to a small but very popular wet market on your right. Fruits, vegetables, spices, fresh fish, and produce from the forest such as bamboo shoots and jungle herbs are laid out on low tables for sale. You can also find many different types of rice and dried chilies. Grab a fresh nam oi (sugarcane juice) from the vendor on the right as you go in to slake your thirst. You can spot her tall sticks of fresh sugarcane propped up in buckets to be ground into juice between the gears of an oversized metal mangle.
When you take the road past Apsara Rive Droite, be on the lookout for the atmospheric ruined temple on your right, remnants of the Haw invasion in the 1880s. Further up the road as it splits in two, keep to the left, and as you round the bend, you will see a big plot of land. This is the sunset viewpoint at the meeting of the Mekong and Nam Khan. There is a small trail that descends to some large rocks on the shore. These are popular vantage spots for people wanting to commune with nature. You will have a fantastic view of the Mekong and the peninsula. The sun will set straight ahead of you and boats will be bathed in a warm glow as the sun dips below the horizon.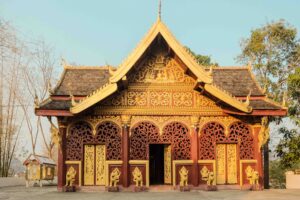 Wat Xieng Lek, further up the road, has a quaint and friendly community. Here there are only three novices and a revered monk that has lived here since age 14 and is said to tell fortunes. If you are interested in temple architecture this could be an interesting trip as there are at least 10 temples to see in the vicinity.
Ban Xang Khong and Ban Xieng Lek are renowned as villages of artisans, especially famous for weaving and papermaking. Here you can see trays of mulberry mulch scattered with bright pink bougainvillea petals propped up to dry, producing the famous saa mulberry paper. As the fibers are long, the paper is strong and is used to make lampshades, formed into books, and painted on. The locals rely on tourism to support their income, as being outside the city it can be harder to make a living. Wood carvings, fine jewelry, and weaving are made locally and sold here.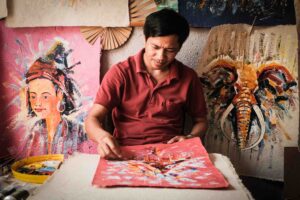 Heading back in the late afternoon, the last stretch of road before the bridge will be buzzing and getting in full swing for the evening rush. On both sides, sellers offer cooked food, fresh meat and vegetables, lottery tickets, grilled pork skewers, and freshly made on-the-spot roti with condensed milk. The bridge is busy with locals out for a drive as the temperature cools down
Take the lefthand footpath of the bridge back to town. Facing away from the town gives you a view of the gilded hexagon-shaped Wat Pa Phon Phao glimmering in the light of the setting sun and trees cast black shadows on the river. This a literal golden photo opportunity to add to your lasting memories of Luang Prabang.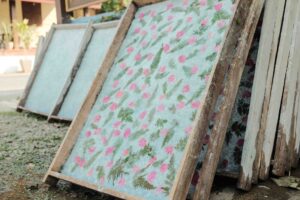 GETTING THERE
Lao Airlines flies frequently to Luang Prabang from Vientiane, Bangkok, Chiang Mai, Hanoi, Pakse, and Siem Reap.
GETTING AROUND
By foot or bicycle is recommended
Text BY Anita Preston
PHOTOGRAPHS BY Anita Preston / Evensong Film