When he arrived in Sydney as a student in 2001, Ariya Khamvongsa spent his first days sightseeing.
But as he took in the famous Darling Harbour and the iconic bridge, it wasn't the world-famous landmarks that caught his eye – it was a queue outside a harbourfront café.
With no idea why he was lining up, he gamely joined the queue, and was baffled when he reached the end and discovered what everyone was waiting for – a coffee.
"I said, it's gotta be something good! So I lined up with them, and then realised, oh, you're waiting for a coffee?" he says.
"Australians and their coffee is just manic – they drink a lot! It's all about their coffee. That particular place, Jamaican Blue Cafe, did up to 1000 cups a day."
Until then, Ariya, known back in his home country of Laos as "Pop", had never liked coffee, at least not the bitter black brew with sweetened condensed milk everyone drank in Vientiane. But on this day, he tried a latte – with two sugars.
The next day, he went back and asked for a job, becoming a dishwasher and later, a sandwich-maker, in the hours around his studies. By the time he'd graduated to waiter and, finally, a fully trained barista, he had weaned himself off the lattes, one sugar at a time, and hasn't drunk anything but espresso since.
That was a long time ago, when he was just 18. Today, 16 years later, he's the proud owner of Naked Espresso, a growing empire of hip, buzzing coffee shops. They are distinctly urban-Australian, with industrial-style décor, "latte art" infographics on the wall and energetic young staff in yellow shirts, all bearing the café's logo.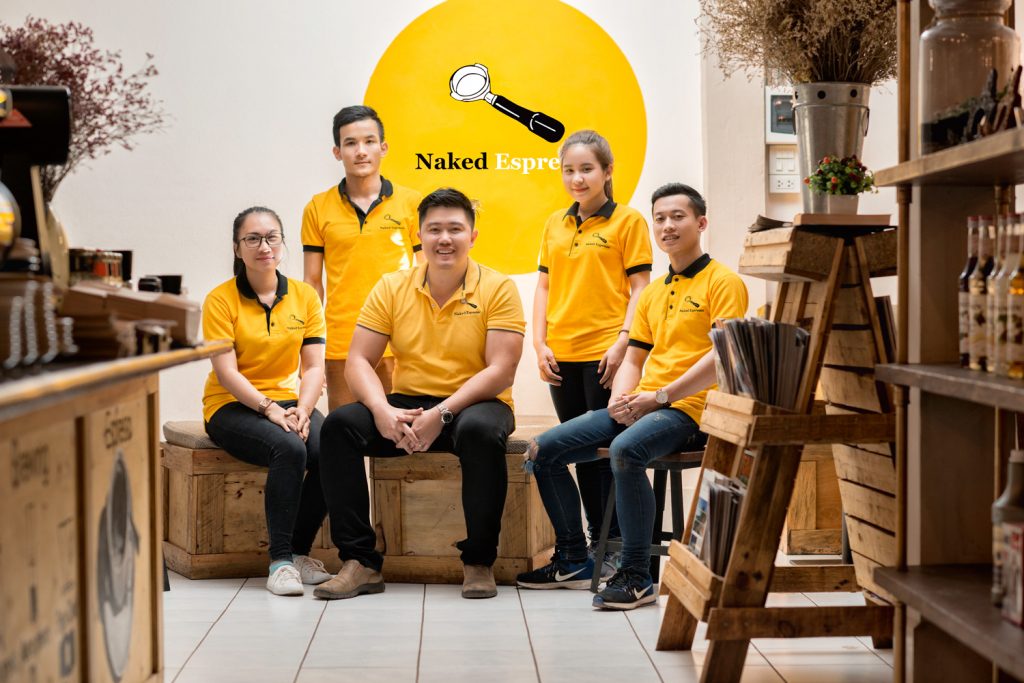 But outside, the tropical heat and narrow streets couldn't be more difficult than an Australian city. Naked is Vientiane's very own slice of Australia – or four and a half slices, to be precise.
Speaking in his flagship café in a street off the riverfront in Vientiane's bustling town centre, Pop says he knew, right from the start, that he would probably run a coffee shop someday, switching his studies from accounting to international hospitality and hotel management – a decision he says his parents found difficult to understand at the time.
But it wasn't until a visit to Vientiane in 2010 that he realised he could do it here, and that his real inspiration was closer to home.
He remembers sitting with his wife at Khop Chai Der restaurant in the town centre, and observing streams of foreigners coming in and out of Joma Bakery Café across the street.
"It's very inspiring to see the amount of people walk in – they're the Starbucks of South East Asia," he says of the Canadian-run local chain.
"There're three in Vietnam, four in Cambodia. It's very consistent, very systematic – they're just spot-on."
The two decided to return to Vientiane to start a family and set up their own café – a long journey that brought them eventually to their first venue on Dongpalane Road.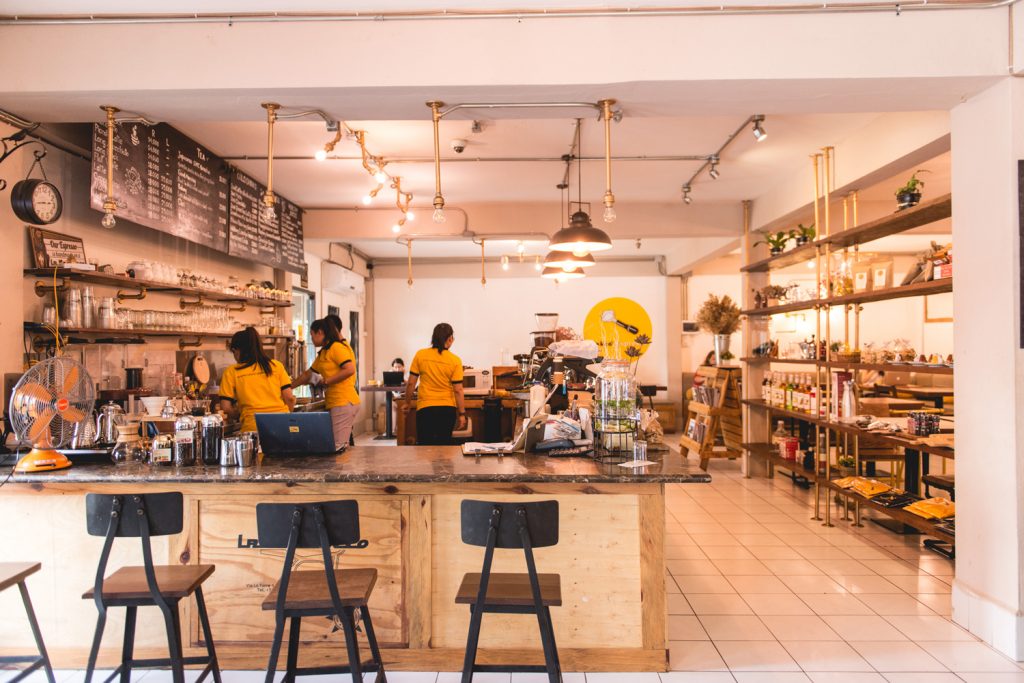 The atmospheric Naked is named after the type of filter Pop uses in his machines – harder to master and known technically as "bottomless porta-filters".
"That was harder to say and a bit long and boring, so we went with Naked," he says.
The first branch – Sydney-style with modern art and vintage bicycles on the walls – opened in 2012, on his 28​th​ birthday. At first, he says, his clientele was mainly foreigners looking for an authentic coffee fix that was closer to what they were used to. But steadily over the intervening five years, he has noticed more and more Lao people embracing café culture.
"When I first opened my first shop, there were only four or five cafes, and now there're about 50 cafes [in Vientiane]," he says.
He says both locals and foreigners love to work over coffee on their laptops, have meetings or catch up with friends – just like in Australia.
"That's our plan, to bring Australian coffee culture to Laos," he says.
"We're celebrating 65 years [of diplomatic relations] between Australia and Laos and I think Australia has given me a lot."
And he even got the chance to tell this to the Australian Prime Minister, Malcolm Turnbull, in person when he was in Vientiane for the ASEAN Summit in September, 2016.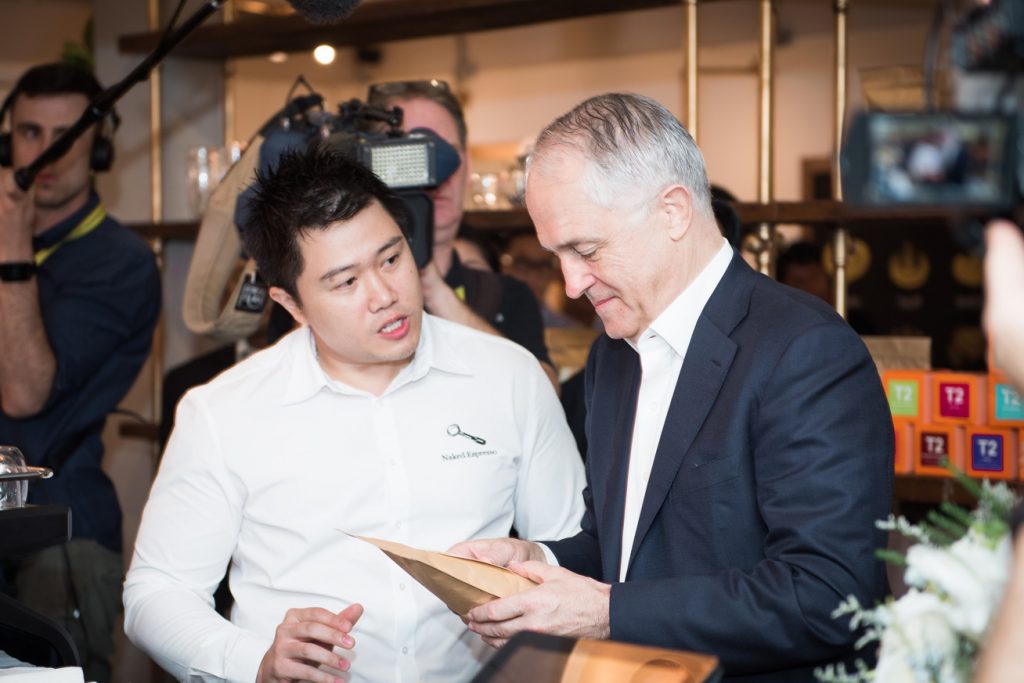 The Australian Embassy, wanting to give Mr Turnbull a memorable experience while in Laos, selected Naked's riverside branch as a venue for a special reception.
"It just was a dream come true – he's a guy that I look up to," Pop says.
"We even created a Prime Minister's blend, very limited."
Today, two of the café's four branches are franchised, with one to open shortly in Vientiane's up-and-coming cafe and shopping district on Khouvieng Road, and another slated for Luang Prabang. He's planning a roasting house and barista training courses, and is focusing more and more on using single blend coffees from Laos and overseas.
We tried to set up a new standard that I think eventually people will want to explore, what the international world is like.
"We also do events, pop-ups, boat racing and That Luang. We're trying to bring Lao people in. Now it's picking up the Lao younger generation."
"We try to be a supporter to other cafes as well. My aim is to step back and do wholesales now," he says.
"We've got this theme that we've tried to build values – that hospitality is a good job. Laos needs it because it's a small country. People were quite embarrassed to be working as a waiter in Lao culture, but now it seems like people are enjoying it."
He's not the first to say it, but of course, happy staff leads to happy customers – not a problem for the Naked franchise in Vientiane's coffee renaissance.
Words: Sally Pryor
Photos: Xayyaphone Thammavongsa