Impeccable aircraft maintenance is a lofty goal
The hangar on the tarmac behind Vientiane's Wattay Airport is a far cry from the bustle of the arrivals and departures lounges, with all of its lines of people and clattering suitcase wheels. There is a certain order and calmness to this place.
Aircraft are arranged in neat rows among high scaffolding and towering steel beams, while groups of blue-clad technicians quietly work on each plane's gaping interiors. The masses of coiled steel, knobs, lids, and wires within look bright and tidy.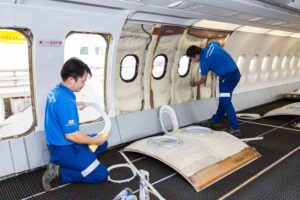 Lao Airlines is able to perform crucial maintenance work on both Airbus A320 and ATR aircraft, all on its own. This is all part of Lao Airlines' effort to improve the capacity of its engineers under certification from the European Aviation Safety Agency.
Today, I am witnessing a C check, which is a heavy check. It is performed at different intervals depending on the aircraft. ATR should undergo this every 5000 flight hours, and Airbus A320 should get one every 7500 flight hours or 24 months. A C check requires a detailed visual inspection and a system operational test. All of the tasks are laid out in detail in Lao Airlines' Aircraft Maintenance Program.
One of the mechanics walks me through some of this process, "The condition of the entry door seals is one inspection that we can do visually. However, some other parts of the aircraft require closer examination and the use of specialized equipment."
He also mentioned that the entire process is so thorough that it can take several weeks to complete. In aviation safety, there is no room for error, so Lao Airlines must ensure that every part is functioning, always. To achieve this, the mechanic added, "we must work just as hard, or even harder, than the aircraft we inspect."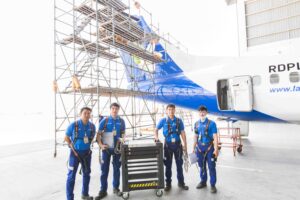 Text BY Jason Rolan
PHOTOGRAPHS BY Anousith Bounyong