This colorful festival is a time to reconnect with family and friends.
The Hmong are one of the more famous ethnic groups in Laos – proud of their identity and protective of their culture, they have their own spoken and written language, and are the third-largest ethnic group in Laos, with about 9% of the population. The Hmong began migrating from southern China into Laos in the 19th century. They inhabit the northern and central parts of the country including Xieng Khouang, Luang Prabang, Oudomxay, Luang Namtha, Xayaboury, Xaysomboun, Vientiane, and Bolikhamxay provinces. Today, they have a large overseas diaspora in the US, Australia, and even French Guiana, in South America. 
In the past, the Hmong were called Miao or Lao Soung. Lao Soung means "Lao of the mountaintops" and was used by the government to refer to where the Hmong traditionally settled. However, this name is no longer official, and generally, the Hmong prefer to be called by their ethnic group name.
In December or January, the Hmong celebrate their new year, called Noj Peb Caug (pronounced Nor Pe Chao). At home, families will make rice cakes, present offerings to the ancestor spirits, and share meals with relatives and friends.
In towns like Luang Prabang, Phonsavan, and the outskirts of Vientiane, with large Hmong populations, a larger public celebration takes place at an outdoor venue, often lasting a full week. There are many activities during this event, such as top-spinning games, arrow shooting contests, singing and dancing, bullfighting, and courtship games. The distinctive and long Hmong qeej (a mouth organ, called a khaen in the Lao language), is a popular instrument performance, with skilled players able to dance and do acrobatics while maintaining their melody.
Young men and women wear colorful interpretations of traditional clothing, in the hopes of attracting a life partner. Visitors are welcome to attend and can partake in photo booths with traditional clothes, play games, and watch local performances.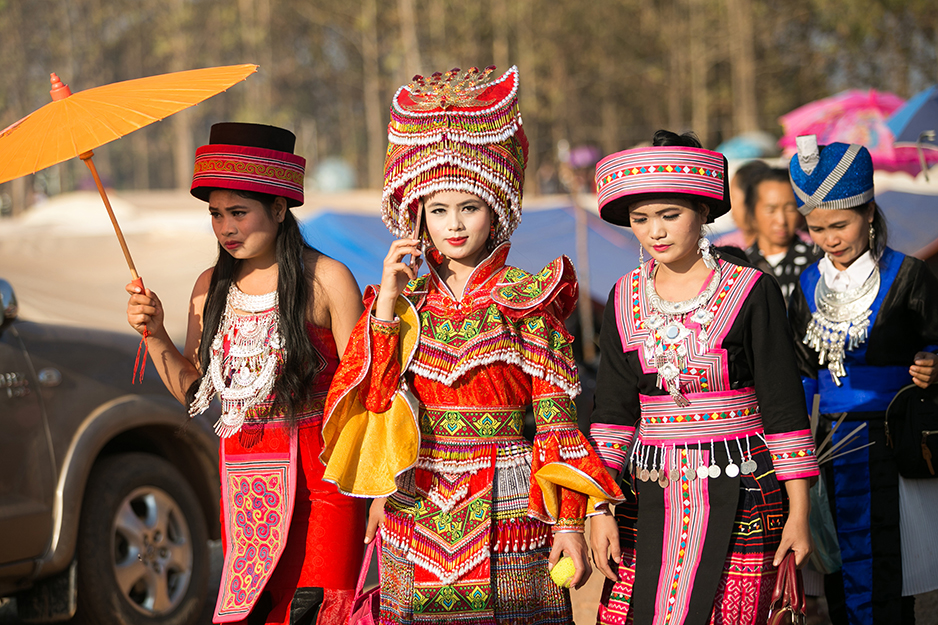 1. Hmong women are well known for their deft embroidery and batik textiles. For Hmong batik, hemp cloth is etched with beeswax, then dyed with indigo. The beeswax is then boiled off revealing a pattern in white. This cloth would be used to make skirts of the Mong Njua sub-group. Each group has its own traditional costume. Nowadays, traditional clothing is worn only on special occasions like wedding ceremonies and the New Year.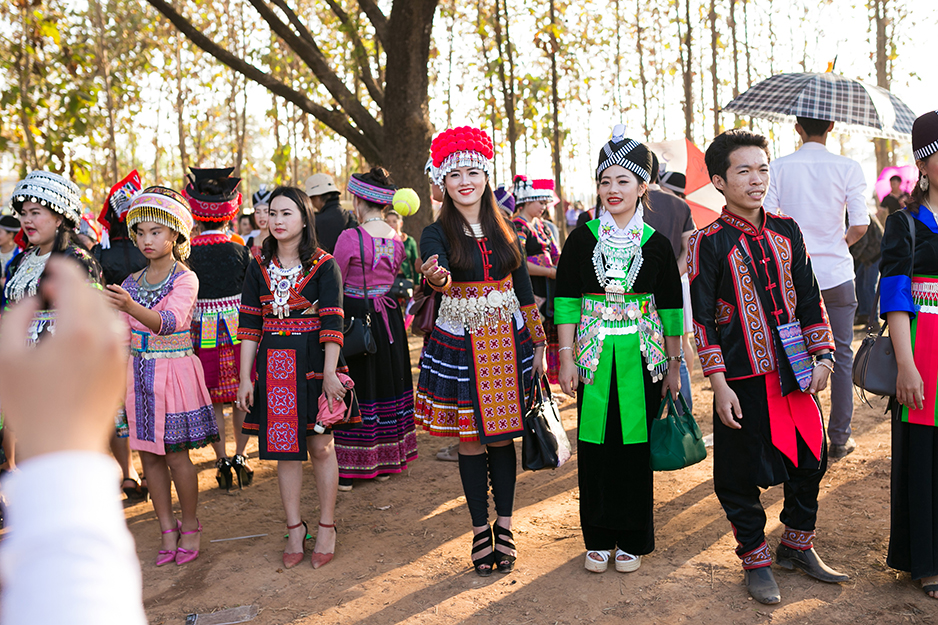 2. The ball-throwing game is played between boys and girls. When one person drops the ball, then he or she must give a gift or trinket to the other player.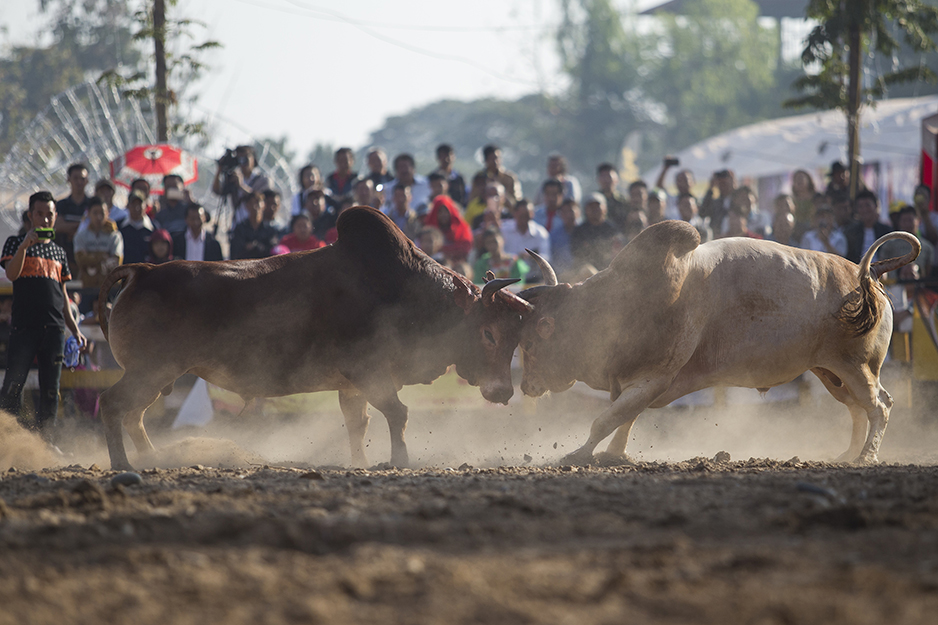 3. In some parts of the country, traditional non-lethal bullfights are also held, as spectators cheer and place bets.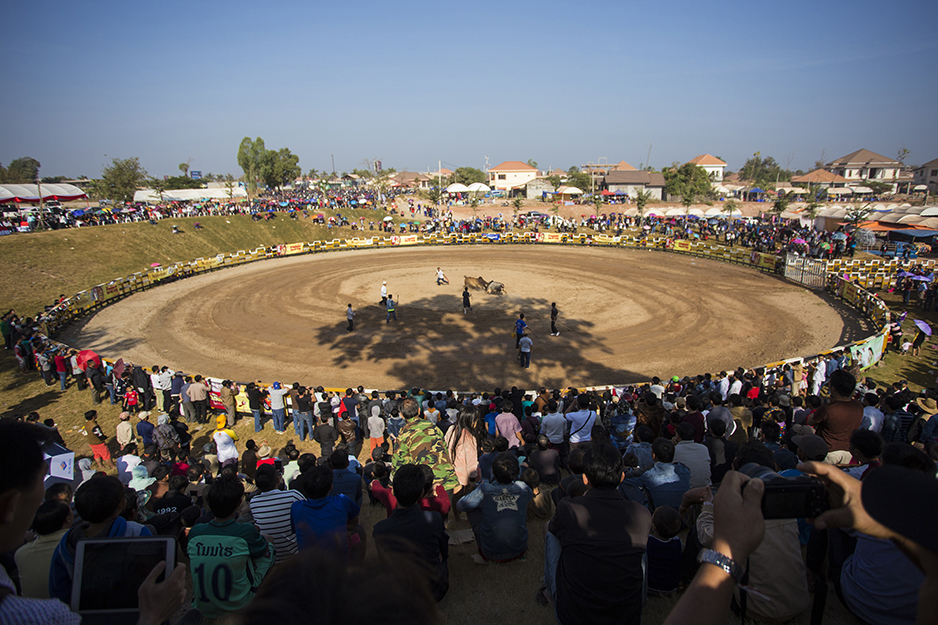 4. The bullfighting ring is attended by large crowds who partake in this and other events during the entire Hmong New Year celebration.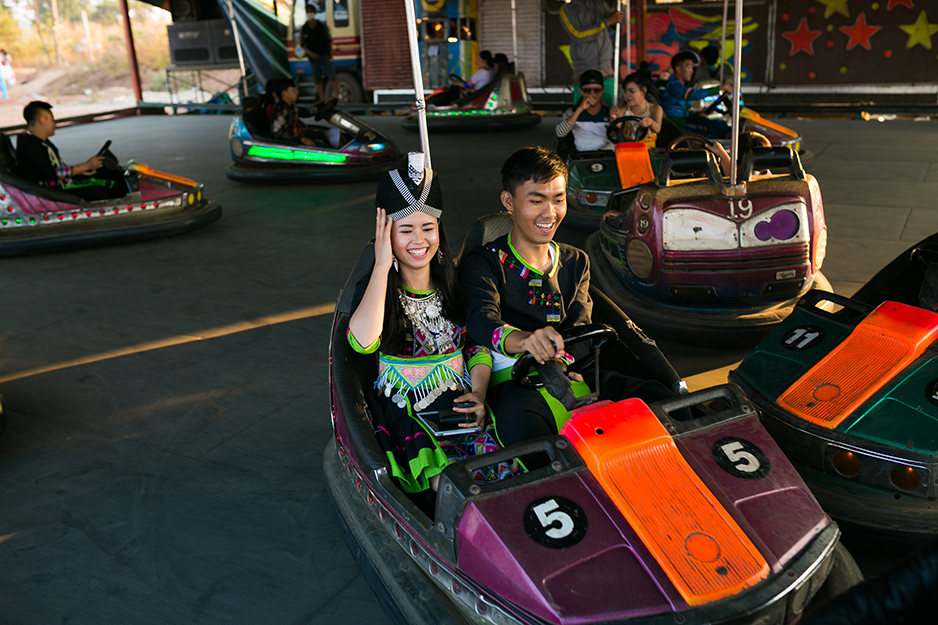 5. More modern amusements are also available, like Ferris wheels and bumper cars.
MORE INFO
To learn more about the Hmong new year and the ethnic groups of Laos, visit the Traditional Arts and Ethnology Centre in Luang Prabang 
or visit taeclaos.org
Text BY Tara Gujadhur
PHOTOGRAPHS BY Phoonsab Thevongsa