A weekend getaway is closer than you think.
An afternoon dip in clear waters. Evenings by the campfire toasting marshmallows. Stargazing from the canopy of a fantastic treehouse. Waking up to a bright sunrise reflected over a vast lake. Nostalgic yet?
Just an hour's drive from Vientiane, the Lao Lake House is a sanctuary set among the picturesque blue waters of the Nam Houm Reservoir. Though not so far from town, the estate is located down a winding dirt track, with nothing but water and farmland on either side.
This untouched and pristine setting captured the hearts of Australian couple Sandra Pike and Charlie Nicholls several years ago. So much so, in fact, that the retirees moved to Laos with the aim of spending their days peacefully by the lake – but some people just can't sit still.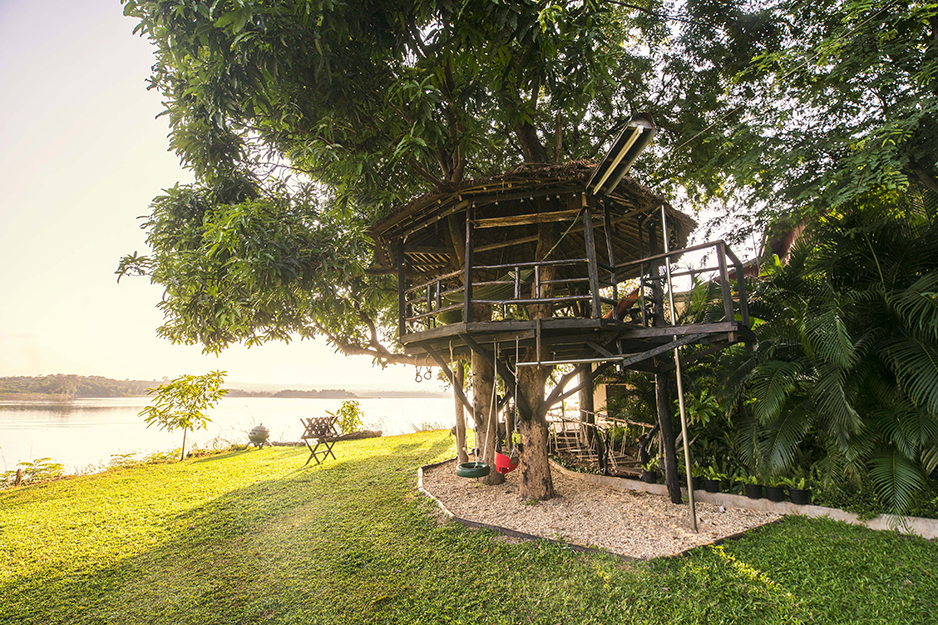 "We first lived in the original house that was at the site when we took over. Then we built a home of our own," says Sandra. "And then instead of tearing the old house down, we thought, hey, people could stay here!"
Their rambling stilted house sits perched on the edge of the Nam Houm Lake as if a stately old Queenslander from Northern Australia was somehow plonked in the middle of Laos. Just next-door is the accommodation, six spacious rooms that sleep up to thirteen guests, including a family suite with connecting doors and a shared bathroom.
All the rooms overlook the central swimming pool amid the lakeside setting, surrounded by tall palm trees and lush greenery. Well-placed hammocks make for cozy reading spots, while a fairytale treehouse built right into a big old tree provides a breathtaking view (and is a huge hit with kids).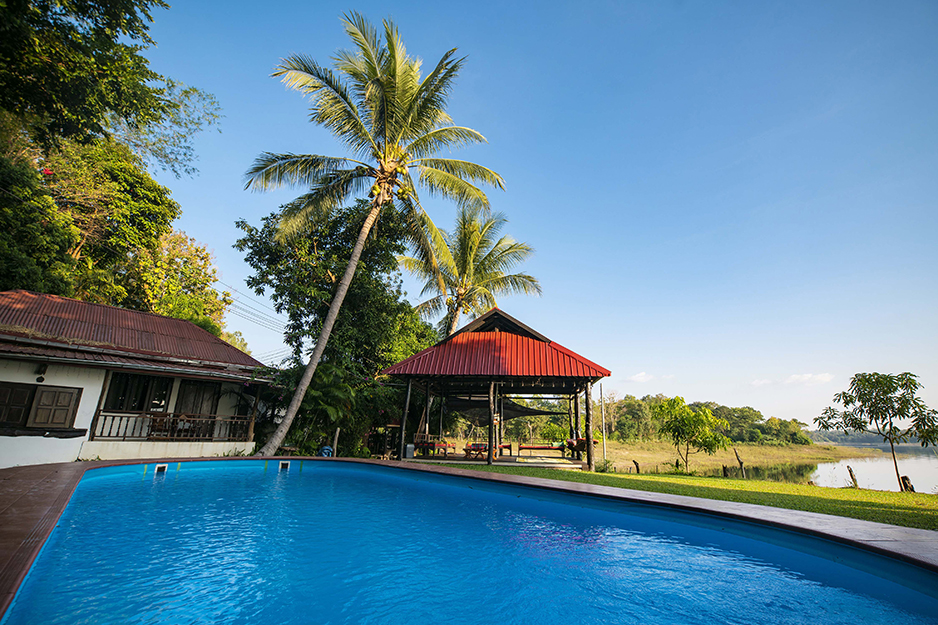 Sandra makes it quite clear that the Lake House isn't a hotel, and it's not a guesthouse. It's not even really a resort. Instead, she prefers to call it a self-contained homestay where service arrangements are flexible. The number of beds in the rooms can be adjusted to cater for larger groups, and kitchen utensils are provided for guests to prepare their own food.
"By day, guests can relax in a hammock or take a walk around the local area. They can dip in the pool or the lake itself. At night the stars shine in the sky like paint on a black canvas," says Sandra, clearly still enamored herself. 
The Lao Lake House is open year-round, making it an ideal place for a romantic weekend, a family getaway, or a company retreat. Dogs are always welcome to accompany guests, and early reservations are encouraged. 
GETTING THERE
Take 13N road towards Vang Vieng. At the 30km mark, turn left towards Namhoum Reservoir. Pass the new China Rail Station, go through Angnamhoum Village and take first dirt road left after the dam wall.
Text BY Cameron Darke
PHOTOGRAPHS BY Phoonsab Thevongsa