Pakse town is the major trade and transportation hub of Southern Laos. This capital city of Champasak Province sits at the confluence of the Mekong and Sedone Rivers. Once you are here, wander around a little and you'll soon discover why Pakse is something of a melting pot of the different tastes, cultures, and heritages of Southern Laos.
If you are curious about local food, Ms. Ngoc's cooking class is the best place to dive into the culinary traditions of Southern Laos. Ms. Ngoc will teach you how to prepare typical local food such as chicken soup, papaya salad, sticky rice, and much more. The cooking class consists of three main courses and a dessert. Enjoy your self-cooked meal on her terrace, overlooking a lovely pond at Xuanmai Garden Resort. You can also stay overnight at her guesthouse, which is located 5 kilometers outside of town. Tourists don't need to worry about getting there though, Ms. Ngoc offers a pick-up at their Xuanmai restaurant in town. After mastering your Lao cooking skills, you can still come back and learn more, as Ms. Ngoc also offers Thai and Vietnamese cooking courses.
Wandering around in the center of town, you'll soon discover old French colonial buildings, a Vietnamese quarter, Buddhist and Chinese temples, and a Catholic church. One structure with quite an interesting history is the Champasak Palace Hotel, which was originally constructed to be a palace for Chao Boun Oum, the last Prince of Champasak. The palace began construction in 1969 and has six main floors in a combination of French colonial and Lao style, with a total of 1,900 doors and windows sculpted in astonishing southern Laotian style. The palace was nicknamed the "Thousand-room Pavilion." In 2013, Champasak Palace was renovated with its former charms intact and is still open for business as a downtown hotel.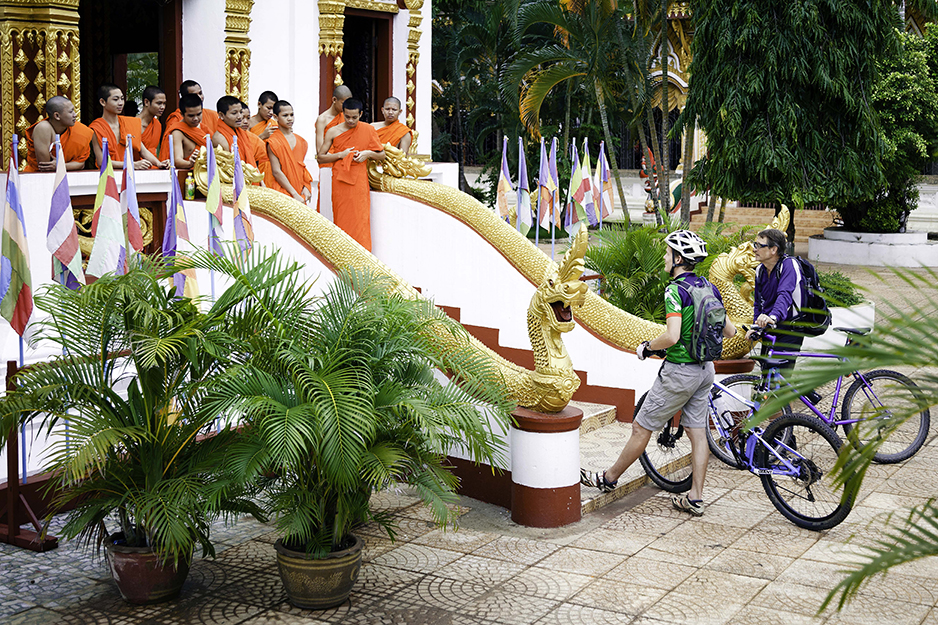 Located conveniently next to the Sedone River, the magnificent Wat Luang Buddhist temple stuns its visitors with beautiful paintings and is considered one of the top attractions in Pakse. Inside are valuable artifacts and several funerary reliquaries, the largest one holding the ashes of a former Prime Minister from pre-revolutionary times. You will also get the chance to see many monks, who are studying at the school next to the temple. 
Beat the heat with some ice-blended drinks at 124 Thaluang Coffee. The rustic ambiance is unlike any other coffee house in town. A local favorite for Lao specialty coffee, be sure to get your caffeine fix here, plus some handmade souvenirs as well.
Just a short walk from 124 Thaluang is Vida Bakery Café. They offer a smorgasbord of delicious pastries from fresh croissants to tasty cakes and even doughnuts! Their menu is also the reason why a lot of expats and tourists alike flock to their restaurant during lunchtime. The best part about eating here is that you are supporting the Vida language and vocational school, which aims to improve the education of locals in Pakse as well as in rural regions in Laos.
After a hearty snack, walk it off towards Sop Se Temple. According to a local legend, the spirit
of Grandfather Sop Se resides in the Chinese Sop Se Temple, where he grants the wishes of people who visit him. Situated at the point where the two rivers merge, the temple is an ideal place to watch the sunset.
MORE INFO
To book Ms. Ngoc's cooking class at
Xuanmai Garden Resort, e-mail her at: phetmany.90@live.com 
1. Tourists chat with monks at Wat Luang Temple
2. Champasak Palace Hotel 
3. A banana vendor in the local market
4. Learn to cook at Xuanmai Garden Resort 
5. Sop Se Temple
Don't forget to keep yourself hydrated! It is a good thing that there are a number of water refill stations scattered in Pakse. A collaboration of local businesses and the Southern Laos Marketing Taskforce, this initiative was started
as a way to tackle the plastic problem in the south.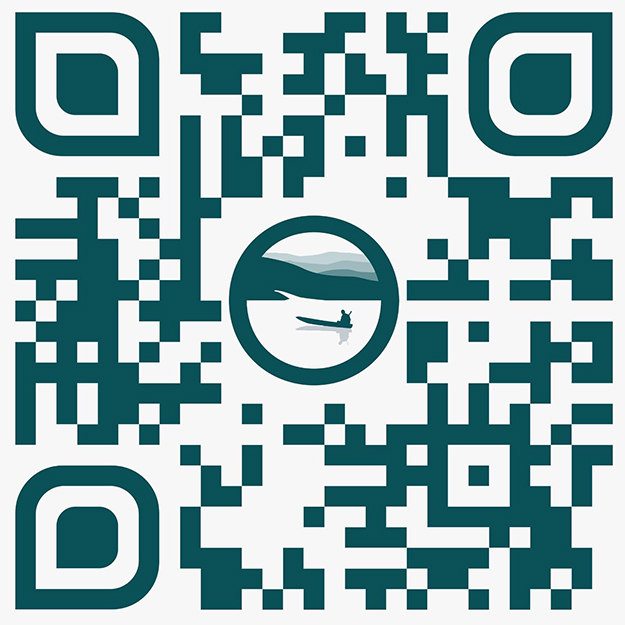 To find these stations and learn more about the RNL initiative, scan the QR code and contribute to an environmentally friendly future for Southern Laos. 
Text BY Joël Riedo &  Thouy Phetsavanh
PHOTOGRAPHS BY Swisscontact / Bart Verweij