Luang Prabang's newest address for the ultimate in luxury.
Swaddled in lush plants and flowers and straddling a burbling brook, Rosewood Luang Prabang is a romantic sanctuary for those seeking escape and seclusion after walking the city's UNESCO-protected villas and temples.
Climbing up a hillside, beyond the Nam Dong River, 23 rooms including riverside villas, pool suites, and luxury tents are discovered off herringbone brick walkways stitched together with wooden bridges. There's a sense of discovery among the trees – like wandering a maze – although with no sense of being truly lost, just a fresh-air meander through the pale-pink hibiscus-flecked gardens.
Riverside villas and pool suites overlooking the cool flow below have been fashioned in homage to the 19th-century French stalwarts of the Mekong Expedition, the men of the Indochina civil service, and Laos' long gone Royal Family. Each room a curated wunderkammer: vintage trunks, butterfly nets, desks, botanical prints, framed maps, books, with taut white bed linens, and stencilled bathrooms. Higher up the jungly hill, six safari-style luxury tents, celebrating a handful of hilltribes, tower over the gardens like an explorer's retreat.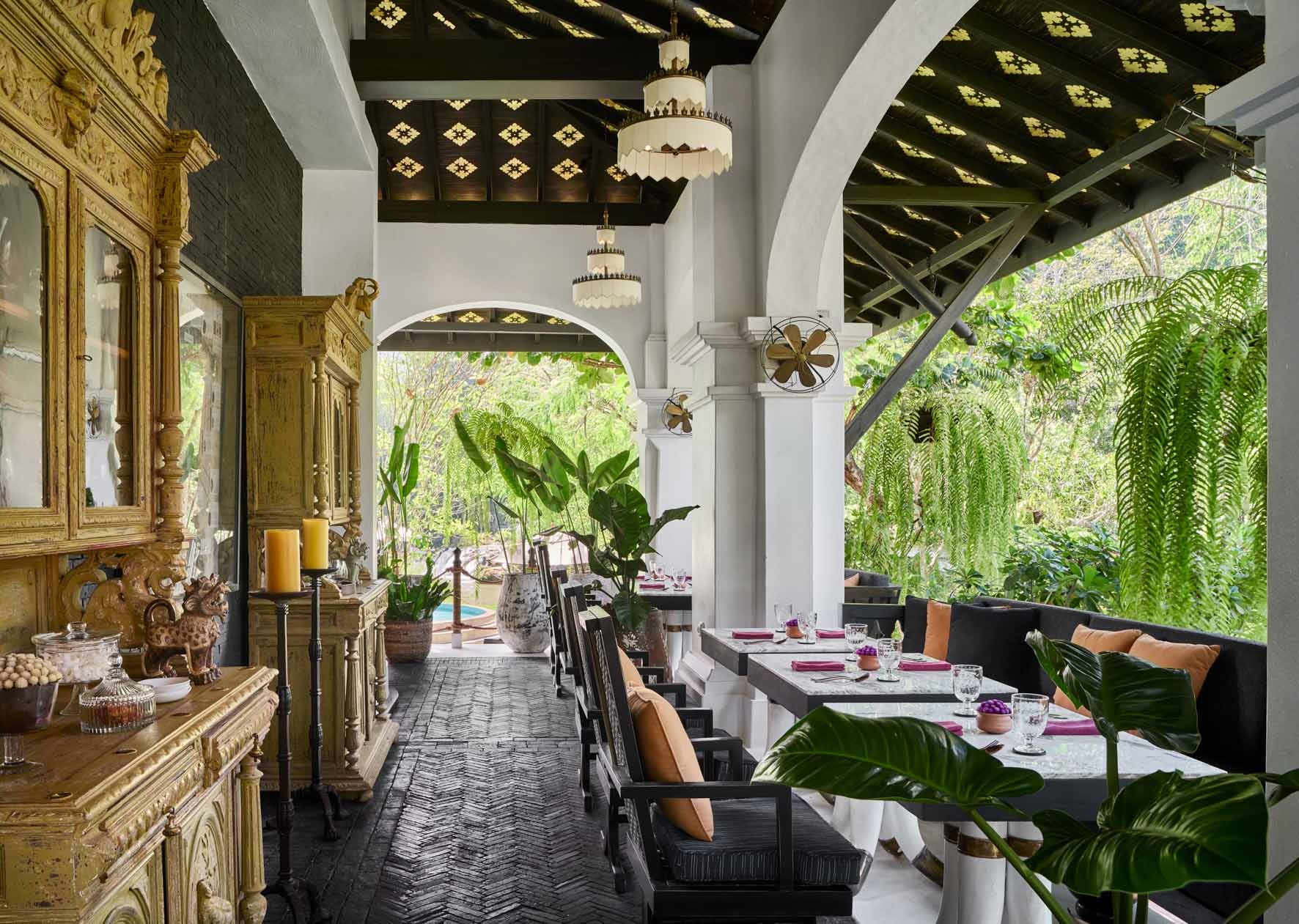 Bangkok-based American architect and designer Bill Bensley has crafted a luxurious cocoon in the heights – tangerine silk lanterns dangle over a turquoise velvet headboard, crowned by an exquisite tasselled Lisu headdress in pinks, royal blue, mustard and emerald green, and jewel-toned cushions brighten the white bed linens. Carved elephant figures, a framed Lisu minority embroidered blouse, and a vintage brass blade fan evoke seriously smart jungle living; golden stencilling on turquoise walls brings to mind the dazzling mosaics found in Luang Prabang's Royal Palace. No need to roll down the tent window panes for privacy in these sky-hugging hideaways: sink into the roll top bathtub underneath the gorgeous teardrop shaped mirror at night with an own-brand Vintage Negroni, or simply wake from your slumber with sunrise views across the hills, and the odd golden stupa piercing the distant view beyond.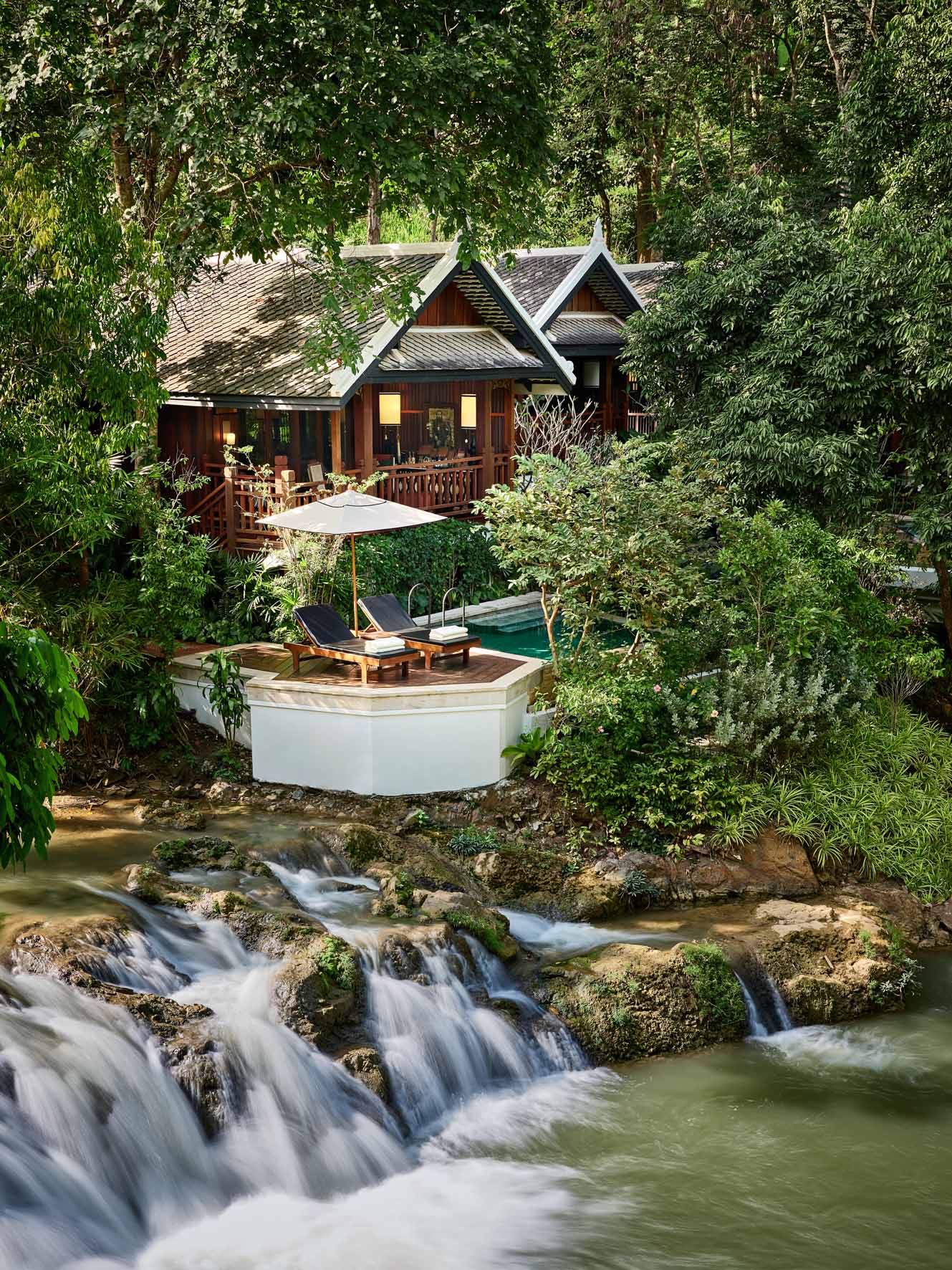 You'll need to leave the room sometimes, but the menus crafted by French-born chef Sébastien Rubis, sourcing local and organic food in Laos since 2001, are more than tempting, and served on custom-made china (cute elephant motifs on white plates) in the highly stylized dining room. Think marble tables, white elephant ornaments, studded leather mustard colored chairs, and a roaring fire. Sébastien's focus at Rosewood is on Luang Prabang royal cuisine, made and served in a traditional way: intensely fragrant Goi Paa – minced river fish with banana flower and galangal; Phanaeng Kai, a chicken coconut curry; and tantalisingly textured Or Lam Ngoua, a dish of braised water buffalo, bitter leaves, eggplant, and sakhan, a local pepperwood. Light bites such as buffalo burger and Beerlao battered fish are perfect for lunch.
Overindulgence in the cuisine required nothing more energetic than a wander over to the Sense Spa where a hot poultice of camphor, Vietnamese coriander, white butterfly bush, crinum lily, and Lao rice eased my back muscles while I watched the chirpy brook skim over stones and slip past ferns through a glass pane in the floor below. My view of the natural world was as relaxing as the treatment itself.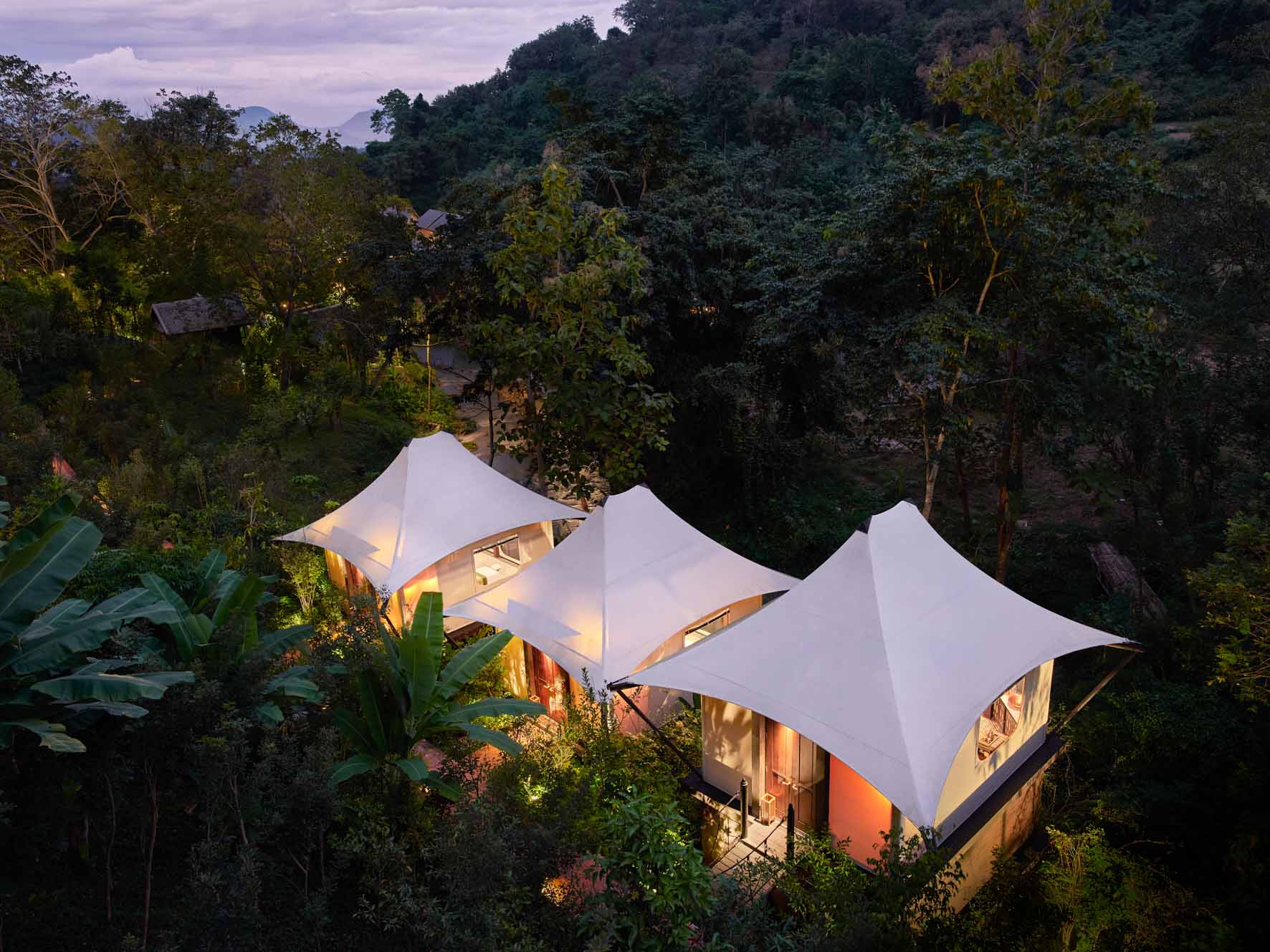 Of course you can visit traditional villages with a guide, mountain bike, or bathe in the area's twenty waterfalls, or even receive meditation classes from charming former Buddhist monk Sommaiy, or step it up on a walk with an elephant, or an ultralight scenic glide over the golden spires of Luang Prabang. I chose not to. My kind of adventure was simple – listening to the tinkle of the river while peering over the 200 miniature wooden pachyderms which appear to be walking over the Elephant Bridge Bar, and chatting to Sommaiy, in the soft glow of lanterns in the garden, while he slow toasted marshmallows over the burning coals of the fire pit.
GETTING THERE
Lao Airlines flies to Luang Prabang from Vientiane, Bangkok, Hanoi, Siem Reap, and Chiang Mai. 
For hotel reservations: rosewoodhotels.com/en/luang-prabang
Text BY Claire Boobbyer
PHOTOGRAPHS BY Rosewood Luang Prabang