No matter the season, now is always the perfect time to visit Hanoi to savour the range of fresh and fantastically affordable local flavours that are the pride of Vietnam's capital and her people.
Known for its rich and varied cultures and cuisines, it's no secret that South-East Asia is a paradise for foodies, with flavours, ingredients and preparation methods in incredible array and abundance. Savvy travellers and lovers of regional cuisine know that while many of the most refined gourmet dishes served in the rarefied atmosphere and haute cuisine of storied restaurants, hotels and boutique accommodations are to be found and delighted in, the most popular and altogether delicious signature dishes of the region can be best enjoyed at street level while seated shoulder to shoulder with the people of all ages and walks of life who, together, make each city tick. Indeed, it is often these dishes and the people who enjoy them that can really give each country, city and province its own unique and authentic flavour.
When it comes to enjoying street food at an affordable price, few places can beat the old quarter of the Vietnamese capital Hanoi.The ancient heart of an increasingly modern metropolis is a fine destination for food lovers. Like its peers throughout the region, the city has seen significant development in recent years with new and fancy shopping, accommodation and dining options abounding. While similar changes elsewhere have seen street food and vendors increasingly relocated off main thoroughfares as part of the changing face of urban life, sidewalks and open shopfronts of the old quarter of Hanoi continue to provide a space for a stool and a delicious bite to eat along with some great people-watching opportunities.
And the people of this beating heart of the ancient city are more than pleased to share their fare with locals and visitors alike on street corners and sidewalks, open cafes and roadside vendors, confident in the lasting appeal of time-honoured flavours without feeling the need for too much window dressing. Wherever you cast an eye around the old town, a dazzling array of food is served up on the footpaths, from funky cafes that open up onto the street, as well as patios with a view or curious courtyards. Lanes and alleyways are transformed into dining hot-spots serving up some of the most delicious fare imaginable at prices that are incredibly affordable.
The delicious street-side dining in Hanoi compares most favourably in terms of value for money with that found in any capital worldwide. With a dizzying range on offer, many shops and vendors focus on a signature dish, rather than trying to be all things to all people.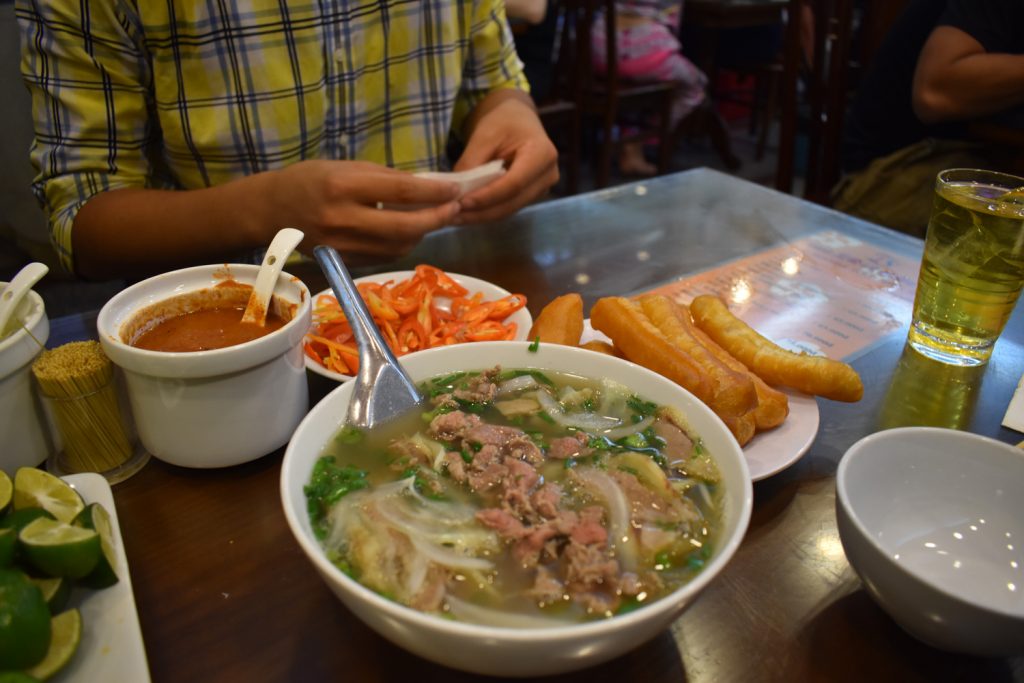 Needless to say, noodles and broths feature prominently, and extend well beyond the ever-famous pho. Other offerings include Bun Rieu (rice noodles in tomato broth), Bun Moc (noodle with mushroom and pork meatball), Bun Bo (beef noodle also associated with the former Royal capital of Hue), Bún cá (fish noodle), banh canh (noodles with crab meat), Bun Thang (Rice Vermicelli with Chicken, Egg, Pork), Mien Xao Luon (Glass Noodles with Deep-Fried Eel), and Bun Cha (noodle and grilled pork).
The latter was famously celebrated by then-US President Barack Obama and world-famous chef Anthony Bourdain, who, in 2016, sat down on simple stools to savour the dish at the increasingly famous Bun Cha Huong Lien restaurant. It's now attracting more and more visitors anxious to see what the fuss is all about. But while a meal at the restaurant takes one off the street, the simple decor of this local favourite keeps the focus firmly on the delicious food, attracting a constant stream of locals and visitors.
In fact, except for the appearance of strategically placed pictures of Obama – after enjoying his meal and extolling the values of the signature dish – it appears little has changed in the year since. If you go, get the 'Obama Combo', including noodles, pork, a fried seafood roll and a bottle of Bia Hanoi (Hanoi Beer) for just 85,000VND ($US3.75 at time of publication).
Once you've had your temporary fill of its myriad noodle offerings, Hanoi's still have more to offer. Famous dishes include Cha Ca (Turmeric Fish with Dill), Banh cuon (Rolled Cake), Banh Goi (Fried Dumplings), Nom Bo Kho (Beef and papaya salad), Goi Cuon (fresh summer rolls) and the ever-popular Banh Mi (Vietnamese sandwich).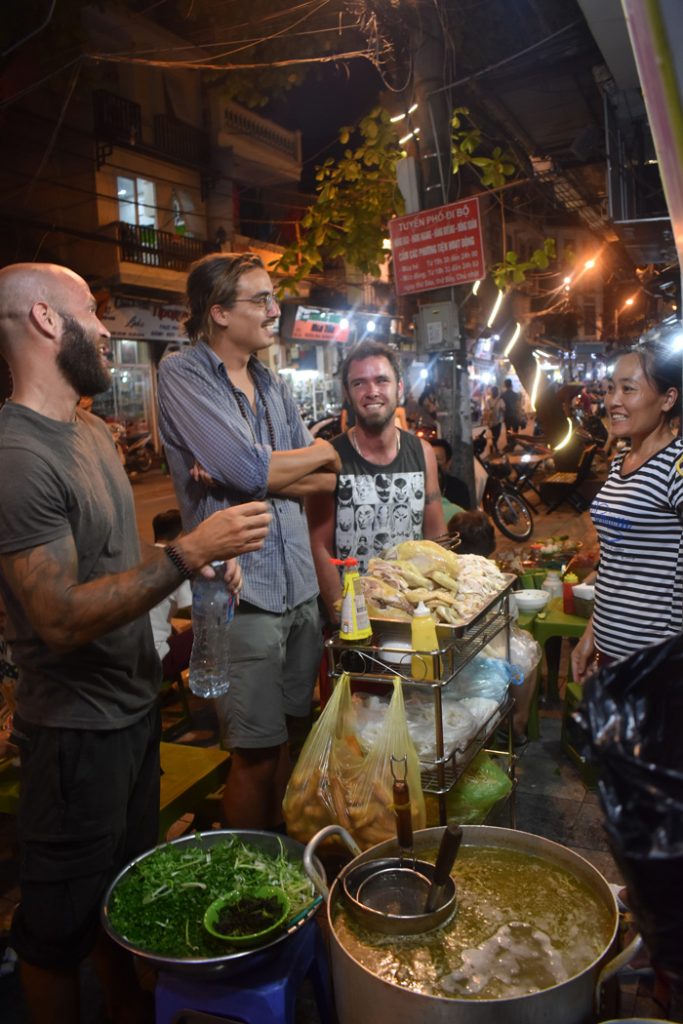 The first dish boasts its very own street along which vendors treat diners with delicious fish. A good place to grab a banh mi is streetside Banh Mi 25. Grab a takeaway or a stool in the dining room boasting a cheerful and popular dining room with view onto the street.
As anywhere, dessert are an essential experience. Hanoi locals (and many visitors) enjoy Chè, (sweet soup) a combination of sweet pudding, jelly bits, dried fruits and ice that makes a cool, sweet and refreshing pick-me-up.
Speaking of re-energisation, the Hanoi experience would hardly be complete without a refreshing beverage or two. For a healthy choice, consider a juice at Juice 'n Joy with its balcony shaded by an ancient tree whose trunk emerges from the nearby Ly Trieu Quoc Su Pagoda and Buddhist temple, with a view of the distinctive St Joseph's Cathedral.
Of course, every trip should include the famous Vietnamese-style coffee with its trademark mix of robusta strength suspended on an even thicker layer of condensed-milk sweetness. But Hanoi also boasts the curious-yet-delicious Ca Phe Trung, with a sweet creamy egg foam floating on top of the caffeinated brew below. Try it at one of the cafes that line the street sides of the old quarter, or from a perch with a view of Hoan Kiem lake, such as the atmospheric Cafe Pho Co with its patio, courtyard and shrine (as well as an enormous and rather friendly pet cat).
When it comes to eating and drinking your way around the old quarter of Hanoi, leading yourself solo or in a couple or small group is manageable and fun with a bit of research. Alternatively, consider a tour from the student-run Hanoi Free Walking Tours, which gives you the chance to join a guide who can take you to places you might well have difficulty finding on your own through the 3-hour Hanoi Street food Experience.
What is certain is that whichever way you decide to turn, Hanoi's old quarter continues to provide plenty of surprises, people-watching and delicious cuisine aplenty, all for the right price.
Words and photos: Steven Cleary