Many travellers are surprised to find that Vang Vieng, the tourist hotspot and stop-off town on the way from Vientiane to Luang Prabang, is visually spectacular. The party scene, which once made the town's reputation, has died down in recent years, and many of the riverside bars and grubby stalls have disappeared. The attention of visitors can now refocus on the spectacular limestone mountains, lush green rice paddies and crisp air.
When hotelier Stéphane Vigié sent out a call for photography of the area for a national competition and eventual exhibition, he wasn't altogether surprised to receive a veritable flood of entries from all over the country, some 400 in all. What did surprise him, when the entries began pouring in, was their quality, especially those from young Lao photographers – exactly the people he wanted to support.
Indeed, his intention behind the competition and show has been two-fold.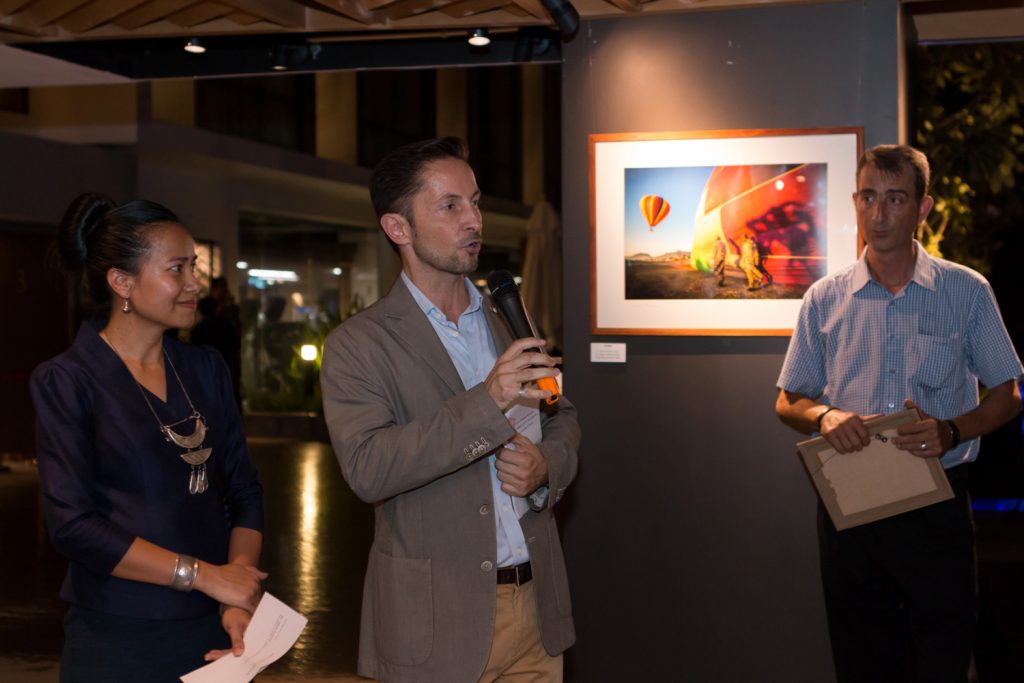 "My first objective was to promote what I like to call the good side of Vang Vieng," he says. "I feel that the media, when they are talking about Vang Vieng, are almost exclusively focusing on its development challenges. They lose sight of what really makes Vang Vieng a special place: gorgeous landscapes but also a very interesting history, many ethnic communities and captivating legends."
Vigié has long been on a mission to highlight Laos' artistic heritage and visual culture. Today, he is the co-owner of the town's most stylish hotel, Riverside Boutique Resort, but he first came to Laos to work as Deputy Resident Representative of the United Nations Development Program, advising on the fight against poverty and inequalities. He quickly realized that many local people understood relatively little about the country's cultural heritage, let alone the rest of the world.
He opted to stay in the country, and, through his hotel, promote Laos' rich cultural history. The hotel has regular shows and exhibitions, and the rooms are themed with specific ethnic décor.
Vigié's second objective when he launched the competition was to support local artists, specifically photographers. "I wanted to try and give visibility to some good young Lao photographers," he says, adding that he's noticed over the years that whenever there was a call for professional photography in the country, it was foreigners who answered it, rather than locals.
Knowing in advance that many prospective entrants, especially the younger ones, would need support, Vigié had organised sponsorship for three separate groups of photographers to travel to the town and immerse themselves in the area.
And, from the quality and diversity of many of the entries, this initiative paid off. From frank and haunting portraits of local residents to startling natural landscape shots, the images on show demonstrate that Vang Vieng has a hold on anyone who visits, even locals who have been travelling through the area their entire lives.
The 24 entries that make up the exhibition, which is showing through August in Vientiane and Vang Vieng, were selected by an international jury of professional photographers, artists and journalists. In a rapidly developing society, many young people – hooked on screens and social media – are nevertheless seeing the world with fresh new eyes. It's time, says Vigié, to see the world, through this new gaze.
"We were thrilled to receive so many great images," he says.
"We really hope that this exhibition will help raise awareness about the beauty of Vang Vieng, and also the need to protect and preserve its unique landscapes and traditions."
facebook.com/stunningvangvieng