At the end of a long, dusty red road in Bolikhamxay Province stands a ticket booth, a turnstile, and fleet of electric buses. Festive local music plays from hanging speakers, and groups of visitors mill about among lush garden beds, taking selfies with exotic seasonal flowers and organic vegetables.
It's a setup more common in Singapore or Bangkok than in central Laos, but the Phutawen Sunflower Farm has made great strides in just a few years. Aiming to draw attention to organic farming and attract more tourists to lesser known regions of the country, the farm is one of a string of tourist sites listed by Bolikhamxay Province under the Ministry of Information, Culture, and Tourism's Laos: Simply Beautiful campaign.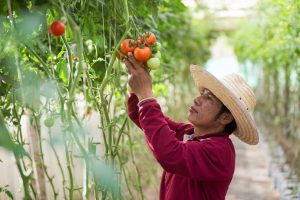 Founded by Dalounny Douangpaseuth, the Phutawen Farm seeks to showcase the possibilities of organic farming, and educate local people about domestic agriculture.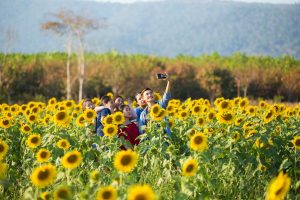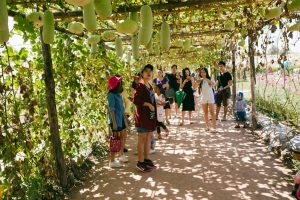 "If people grow just a few varieties of fruits and vegetables in their home gardens, they can ensure their families are fed all year round," says Dalounny.
"We also assist in training the people in the local area, and maintain a rotating staff at our farm. We train them up so that they have the skills to find work elsewhere, and then take on a new group," she says.
The farm site, some twenty hectares, produces fruits and vegetables, organic honey farmed by local beekeepers, pigs, cattle, and various other crops. But it is the sunflowers that have captured the public's attention, and brought local people flocking to the farm. And although they can only be grown during a small window from January to March each year, the sunflowers make a dramatic display, grown en masse in one of the farm's larger fields.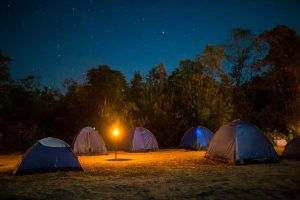 "Young Lao people have spread the word about our farm through social media. They love to take photos with the sunflowers. It's a very popular activity, especially on weekends," says Dalounny.
While visibly stunning, the sunflowers also make a nutritious silage crop. The stems and leaves of the plants are used to make high-protein animal feed, while the seeds are collected, dried, and sold as a snack. Sunflower seeds are famous for their health benefits, being rich in B vitamins, Vitamin E, and essential fatty acids.
Meanwhile, Phutawen continues to grow and expand its range of activities.  Visitors to the farm can now stay overnight at a secluded campsite, collect their own organic produce, or even take a ride on the farm's very own dromedary camel. A special ethnic minority market has even been set up on site, so visitors can also sample some of the region's ethnic fare.