Venture off the beaten path into the nature and culture of Savannakhet.
Sometimes the best things are found where you least expect them. Savannakhet is the most populous province in Laos, yet also one of the least explored, as tourists seldom stray from the pleasant and scenic downtown area of the city. On a recent visit, I was advised to get out and see the real Savannakhet on the Champhone Circuit. To find out what I was missing, I acquired some transport and headed out of town.
Champhone District is quite flat and agrarian. It is marked by the Xe Champhone River which flows from mountains in the north down into the Xe Bang Hiang and onward into the Mekong. My first stop along this route was to admire the wide Soui Reservoir, jokingly called "the ocean of Savannakhet" which contains water for use in the area. It is a charming lake and popular spot on weekends for local people who flock to restaurants on the lakeside and enjoy fresh catches of fish and shellfish. 
Driving on a few kilometers, the driver stops. "Monkeys!" he exclaims. We have arrived in Dong Ling – "Monkey Forest". These rare animals live in a forest believed to be sacred by local people, so they are given free rein. Local shops must protect themselves with metal grating, or the cheeky monkeys will steal things and disappear into the forest. I bought a few bunches of bananas and tried to make friends. They were shy at first, but as more and more monkeys approached, I became uneasy and tossed the bunch at them, before jumping back into the van.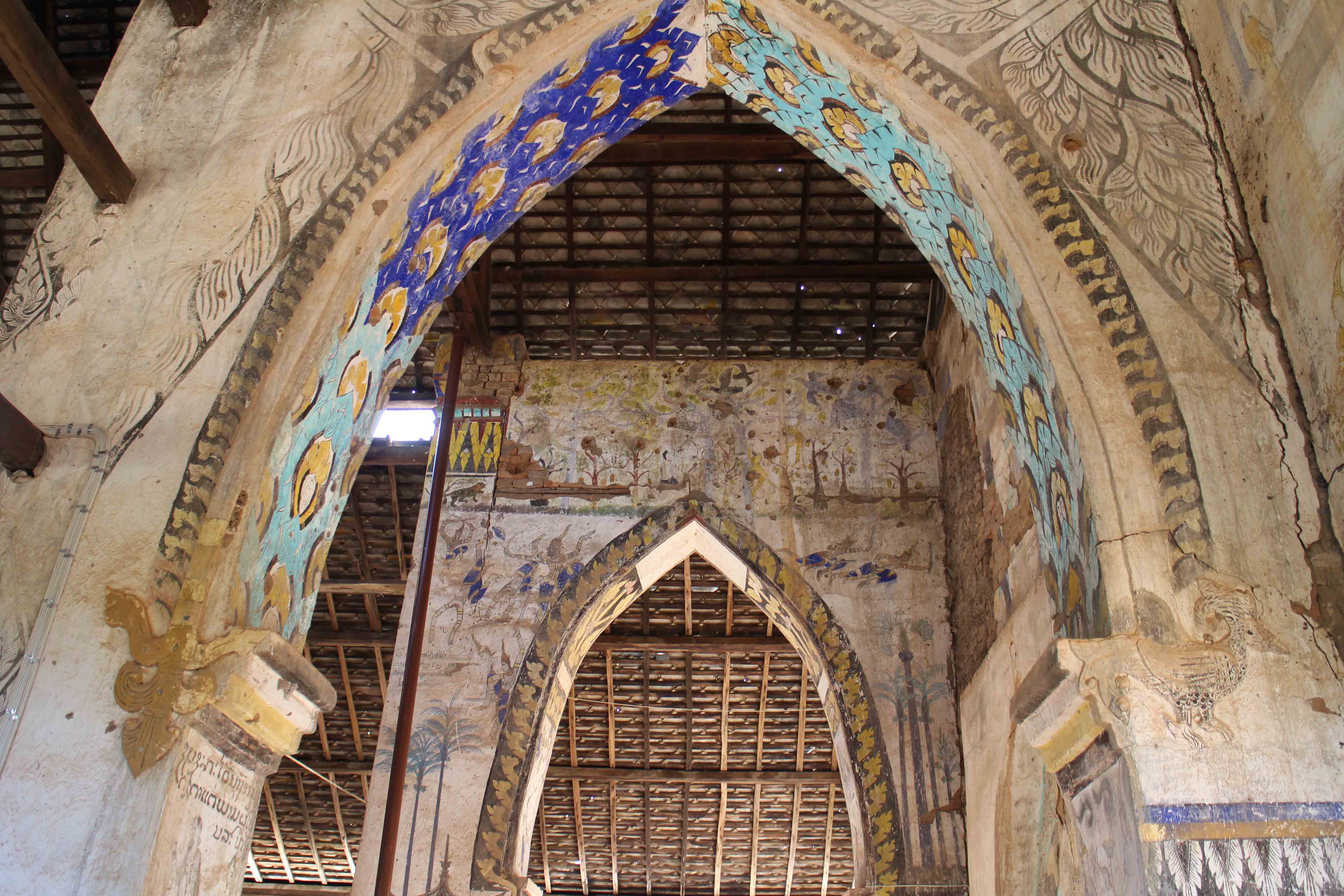 Crossing the Xe Champhone River and on to the next village, we came across a real marvel of Lao architecture, Wat Ban Lam Chan. This ancient temple in Lam Chan Village is quite famous for its incredibly tall stilted Ho Tay Pidok library. Traditionally temple manuscripts were etched into palm leaves and bound together into books. As insects love to eat these leaves, libraries were often built on stilts in ponds, so they would be protected from pests. Sadly, many of these grand wooden structures have been lost and this is one of the few remaining. The manuscripts stored here are of such good quality that they are still regularly studied by academics.
Our next stop was another fascinating natural attraction in Don Daeng Village, a lake with sacred softshell turtles! The villagers nearby believe that anyone who disturbs these animals will mysteriously fall sick or die. Visitors often bring traditional Lao snacks to feed the turtles and avoid any bad luck. Local children nearby have a special way of calling the turtles to the surface to get a snack and are happy to help bring them up. A few children followed me and one of them called out in Lao. A turtle appeared, grabbed the food I offered, and then disappeared back into the murky depths. There is also a small Buddhist shrine built in the middle of the lake, but due to local beliefs, only men are allowed inside.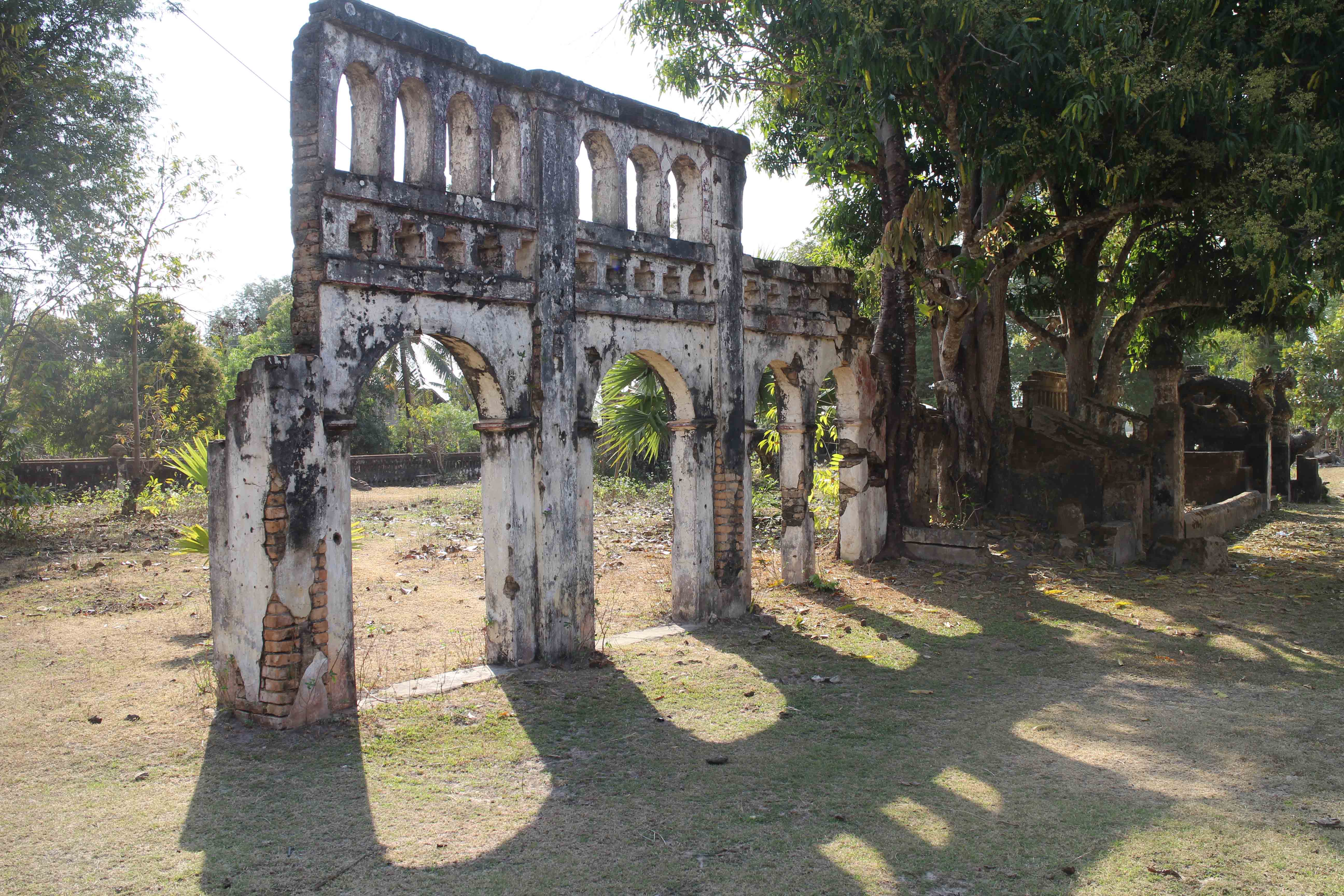 Just a few kilometers north is a striking piece of Lao-Indochinese architecture stained by modern history and one of my favorite stops on this route. In Taleo Village stand the remnants of an old abandoned temple, Wat Taleo Kao. Built about a century ago, the temple was the target of American bombs in 1969 and many of the structures in the temple grounds did not survive. Thankfully, one building remains and houses a trove of folk art paintings on its walls, telling local legends and stories of the Buddha's life. Temples are not made like this anymore, as Lao people prefer more modern styles of art on their walls, so seeing this one in its original state was quite a treat, if it were not for the sad reason it was abandoned.
The Champhone Circuit really opened up this section of Laos and showed me a great diversity of fascinating historical and natural places. Visitors to the area should look beyond the city center – get out and see the real charms of Savannakhet!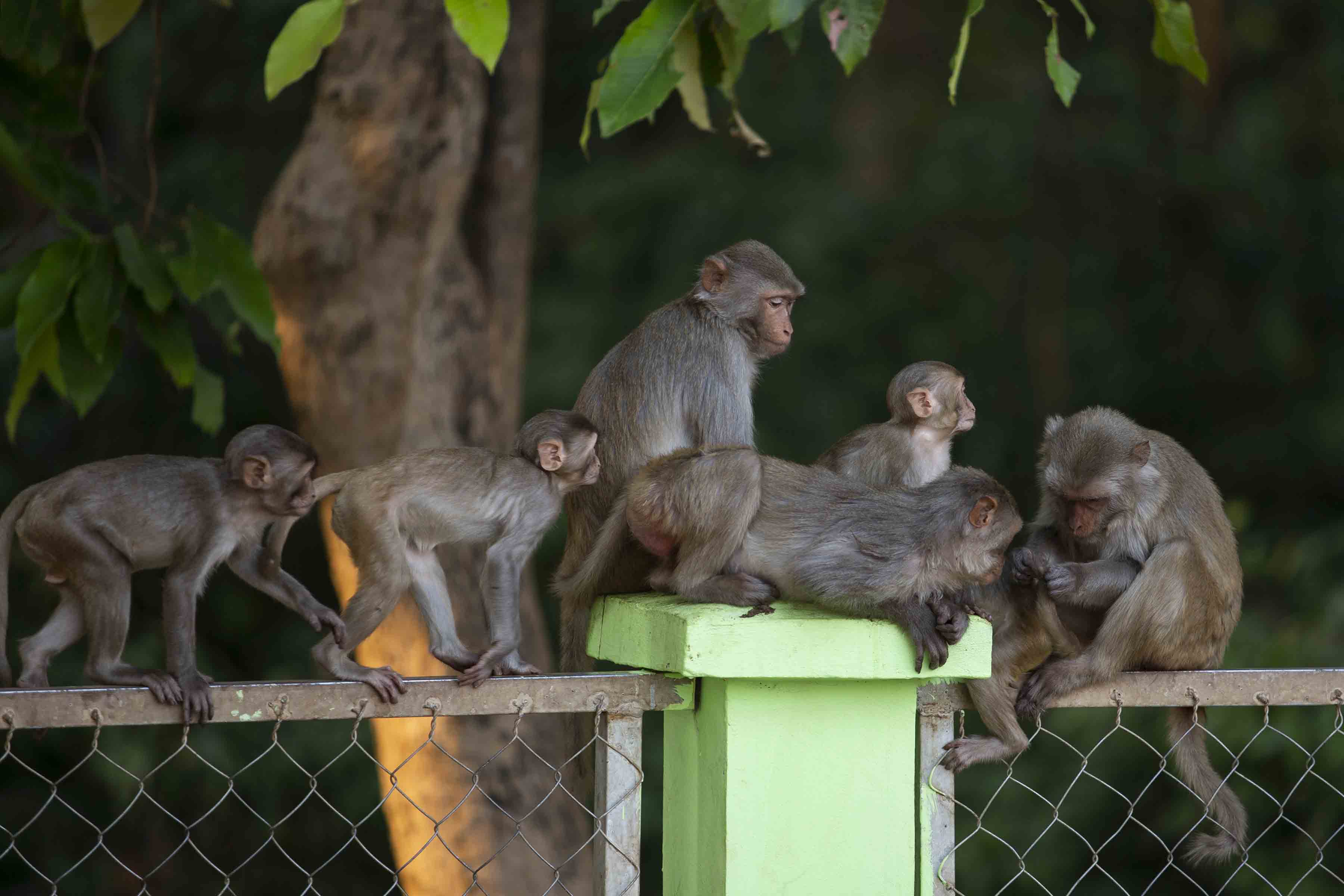 GETTING THERE
Champhone District is located about 45 kilometers southeast of Savannakhet's downtown area and road conditions can be quite rugged and dusty,
so transport with high clearance is recommended.
Lao Airlines has regular flights to Savannakhet from Pakse, Bangkok, and Vientiane.
Text BY Jason Rolan
PHOTOGRAPHS BY Phoonsab Thevongsa  / Jason Rolan