Savannakhet Province plays its own siren song with ancient Buddhist libraries, remnants of French Colonial times and a significant stupa holding relics of the Buddha. Sitting just to the east of Savannakhet town, Xe Champhone District has monkeys with attitude and skulking crocs.
Crocodile Lake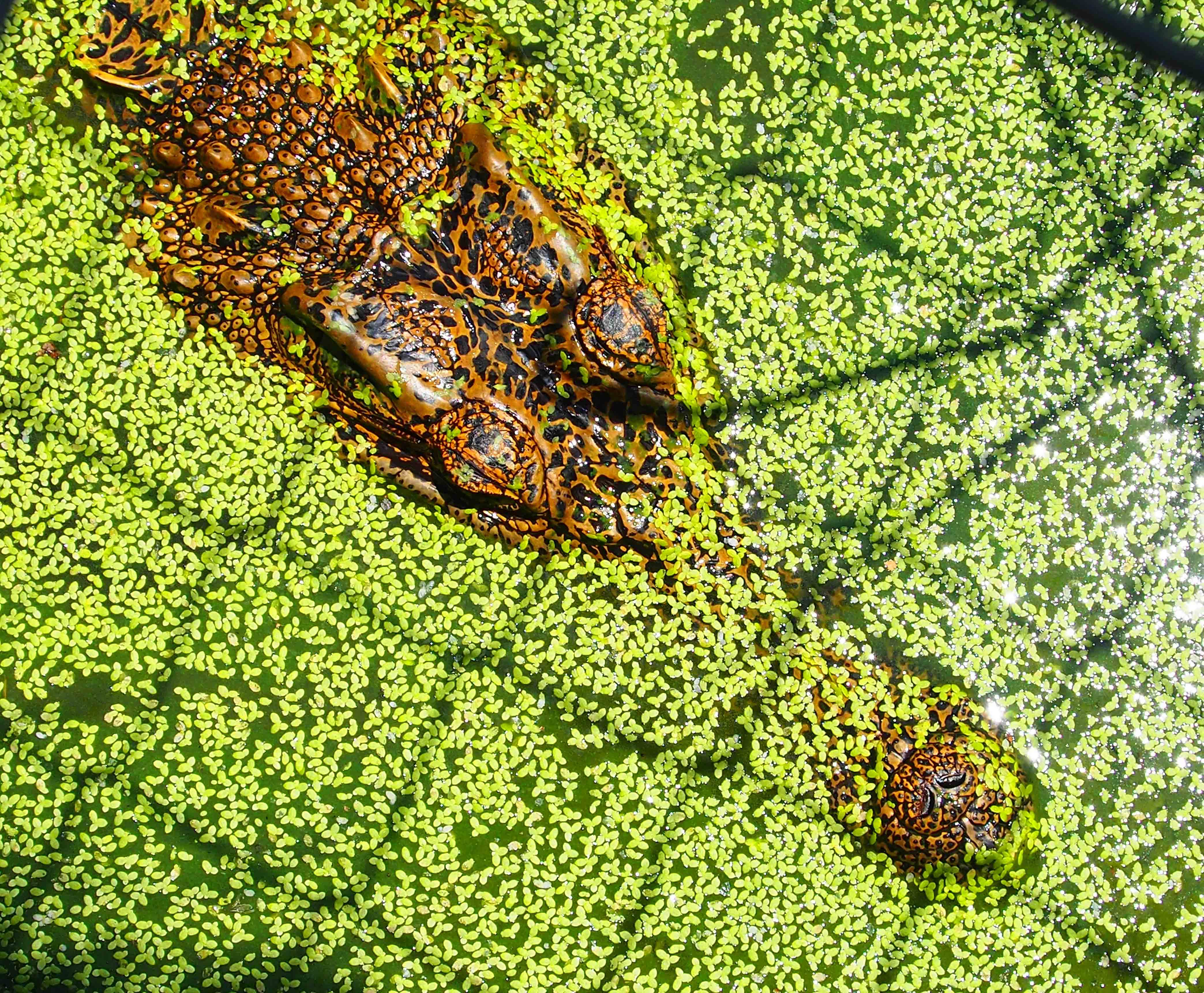 Siamese crocodiles are critically endangered. Hunted for food and for their skins, their numbers dwindled. They are small and would disappoint Crocodile Dundee, being shy and solitary. He would have nothing to fight.
Laos has some of the largest remaining communities of Siamese crocodiles. Your visit will help locals know that they are valuable and make sure the species survives. Some villagers in Savannakhet particularly around the Nong Boua (Crocodile Lake) believe in crocodile spirits and ghosts.
A community conservation program has created crocodile conservation zones, trained villagers and officials to monitor crocodile populations using their phones with a GPS, and patrol the conservation area and nests regularly. The result? More crocodiles.
A breeding house is found in Ban Tansoum in the temple grounds near the Lake. But it is more interesting to head to the open Beung Saiyan, Boua Thong, and Xe Champhone Wetlands, one of two Ramsar sites in the country. Please show respect and allow elders to accompany you.
Ho Taypidok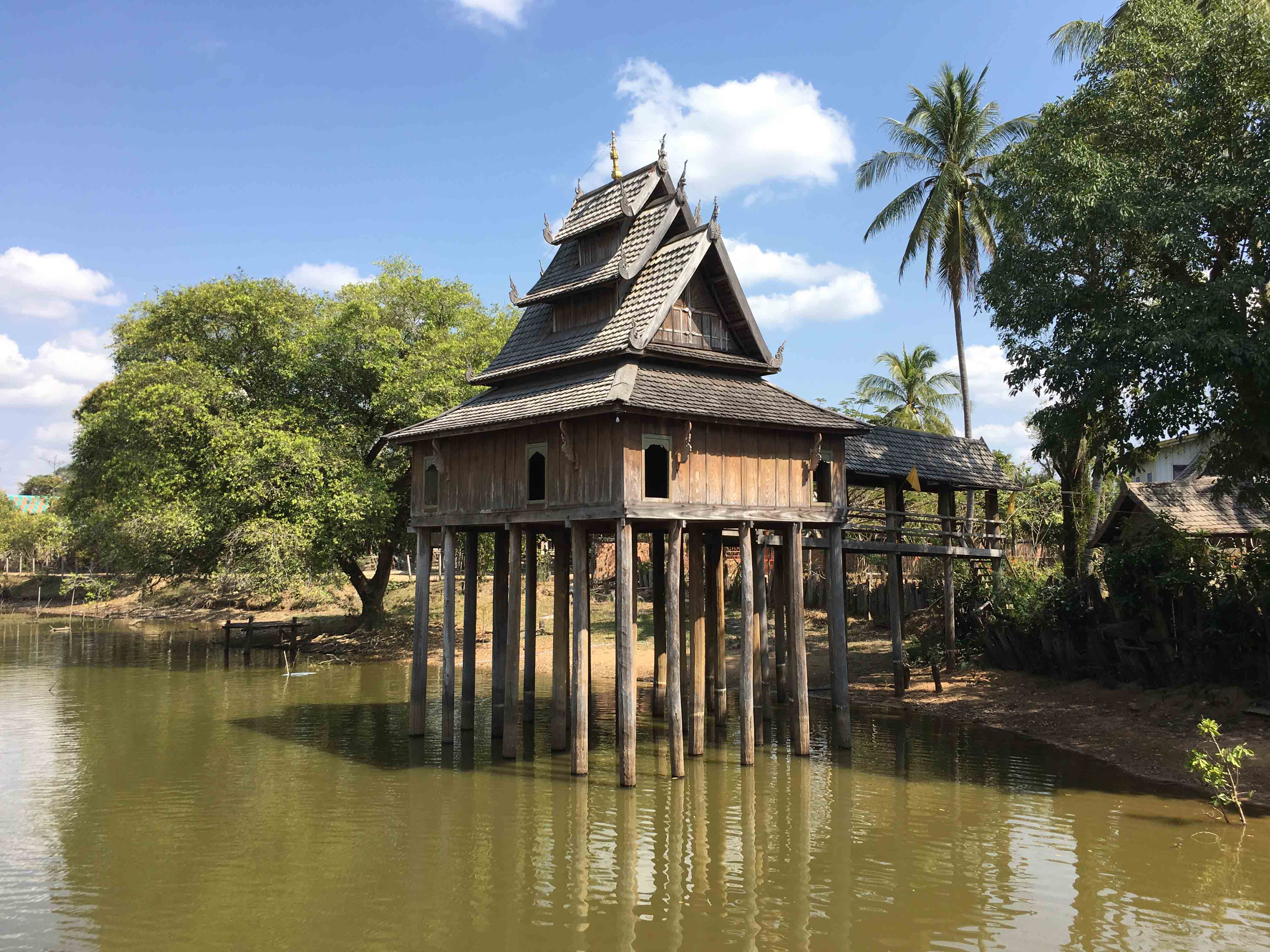 From the Monkey Forest it's a short trip to Wat Nong Lam Chan and its famous Ho Taypidok, a beautiful 17th century Buddhist library and document repository. The collection of old wooden temples are classically peaceful and simply beautiful. The day we arrived, a monk was busy with a hydraulic jack repairing the tail lights of a Toyota pickup. The ancient meets the modern.
It was, so the story goes, built over water to keep the termites from the ancient books, written in a variety of scripts on palm leaves and stored in silk bags inside the multi-tiered pagoda. The custodian, who was obviously proud of the collection, said that while around 2,900 of the 4000 or so scripts were kept in the library for the public to see, the abbot kept others in a private library elsewhere on the temple grounds.
Note that the temple is a very sacred space so you are expected to leave your shoes at the gate, and if possible wear Lao dress which means a sinh (traditional skirt) for women. To enter the library one buys a ticket which comes with an offering platter and a pha bieng (scarf worn across the body by both men and women for ceremonies). It is customary to bow three times in respect of the books and their significance, even if you haven't read one in years.  
Dong Ling Monkey Forest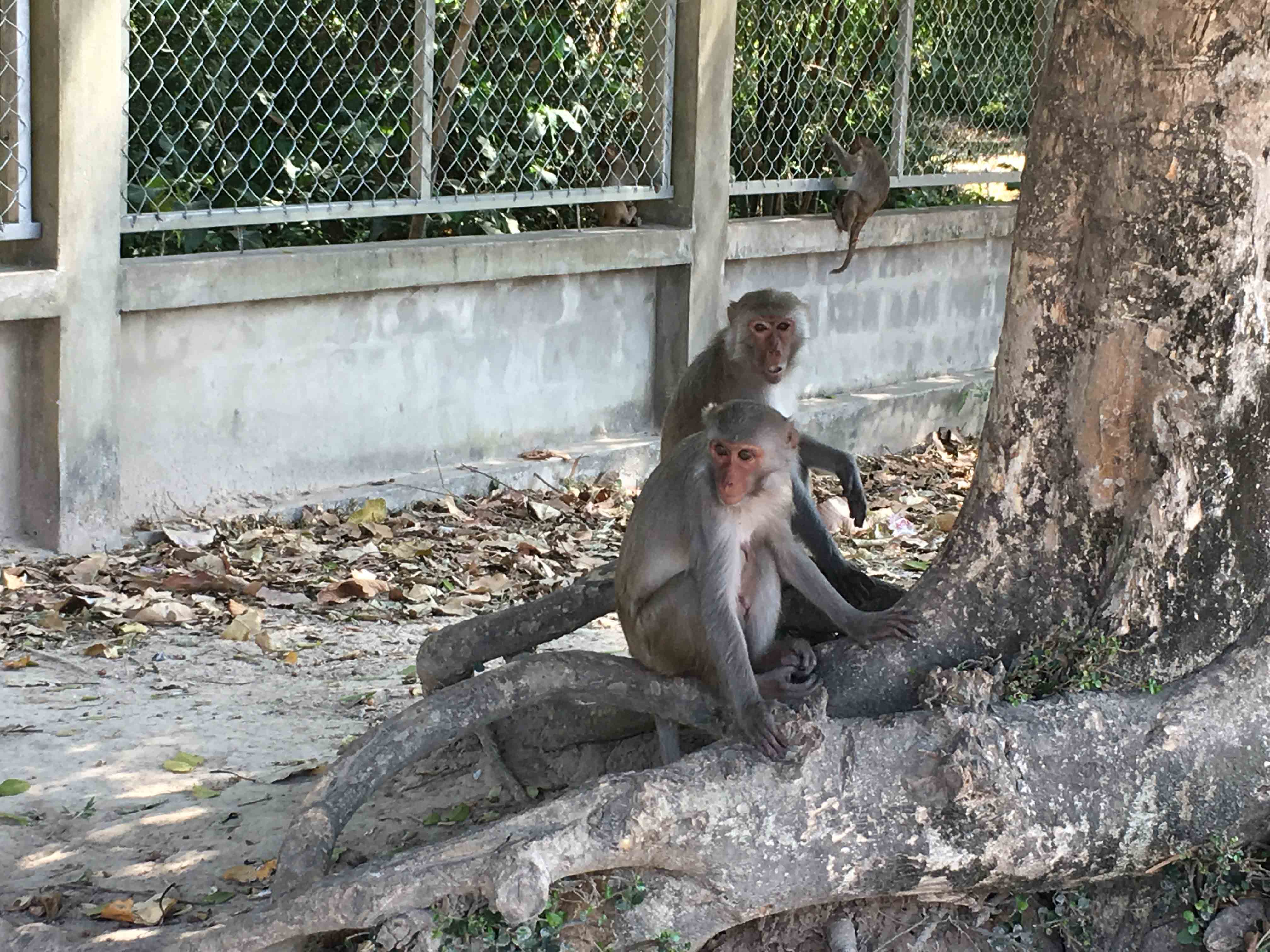 Hang onto your hat, literally. The Monkey Forest and temple known as Dong Ling is the place to get up close and chatty with monkeys. The temple is set in a sacred forest located in Ban Dong Meuang. Most of the monkeys (macaques) are used to people stalking with insouciance along the temple walls. In fact some are downright cheeky. I watched as one stole a packet of crisps from one family and happily sat on a tree branch munching them while the children cried below. Another took possession of a parked car. Others stay in the confines of the temple and are fed by the monks.
Getting there:
Lao Airlines flies four times weekly to Savannakhet. Xe Champhone
district lies 50 km east of Savannakhet city on Rte 9W.
Private transport and a good map is advised
Text by: MELODY KEMP
Photographs by: MELODY KEMP & JASON ROLAN