EAT
Le Panorama, Pakse Hotel
Le Panorama serves an excellent variety of Western and Laos dishes,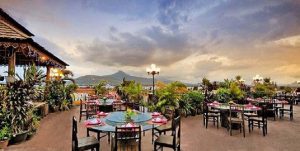 as well as quality cocktails and wines. There is an excellent view of the city, the surrounding mountains, and the Mekong River. Happy Hour is from 5pm until 6pm, which is perfect whilst enjoying a majestic sunset. Highly recommend the shrimp cakes with red chutney and the beef steak with mushroom sauce.
Champasak Grand Hotel
Champasak Grand Hotel has recently introduced a fantastic all you can eat buffet lunch. From 11am until 3pm and for as little as 70,000kip per person you may enjoy Salmon steaks, marinated Duck Breat, Pork ribs, Thai Green curry, salads, soups, tapas, and a variety of fruits and desserts.
Dok Mai Lao Trattoria Italiana
Dok Mai is a well established and delicious Italian restaurant in central Pakse. They have a fantastic selection of Italian pasta dishes, cheese and cold meat platters, pizzas, and homemade ice creams. Ask the waiter to show you through to the 'secret garden' where you can relax in a quiet and comfortable environment with some excellent wine and starters.
Anjolie's desserts and coffee
Anjolie's is excellent for those with a sweet tooth and coffee lovers. Their Ice cream and dessert menu is exceptional quality and value. Open from 9am until 10pm you may enjoy treats from the favourite Mango and sweet sticky rice, the very tasty chocolate fondue set, or an excellent variety of fresh hot and iced coffees from the famous Boloven coffee farms.
DRINK
Pizer bar
Pizer is a must visit if you would like a great night whilst in Pakse. From 8pm they have a very talented live music band from Laos and Thailand that play a great mixture of Asian and Western songs. Pizer has a great variety of Beers, Cocktails, Wines, and Spirits, and the service is excellent. Pizer also has a good variety of local dishes available from Steamed fish to the very tasty BBQ Beef kebabs.
Seb's Bar
Seb's is a new Western bar to Pakse located in central Tha Luang. Seb's is the first bar to offer a variety of Western entertainment from live sports, music, darts, and bar games. Seb's offers a great selection of quality Burgers and western food, as well as a good variety of cocktails, beers, wines, ciders, and spirits. Great place to meet local expats and tourists. Open mic is also available to anyone wanting to get involved!
Modern HiTech Club
Modern HiTech is one of the best late night spots in the city. Located at KM4 and open late Modern HiTech has a clean and fun environment for those wanting a late drink and a dance. The Thai and Laos DJ's play a great variety of Asian and Western dance music. Enjoy your own private table with a Beer Laos or the ultimate Jonnie Walker whiskey sets!
SEE & DO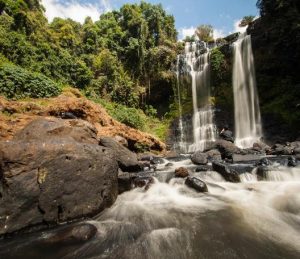 To fully enjoy and experience the rich culture, ancient history, and natural beauty that Champasak Province has to offer in 48 hours, our team recommends the following itinerary…
7.30am enjoy a breakfast of local noodle soups, salads, and freshly made French pastries and baguettes.
8.30am make your way by either a hired car or minivan to the magnificent Boloven Plateau, where you can witness and enjoy the tallest and most spectacular waterfalls in South East Asia. Take Route E16 to Paksong (straight on at the intersection at kilometer 21 of Route 13E when coming from Pakse).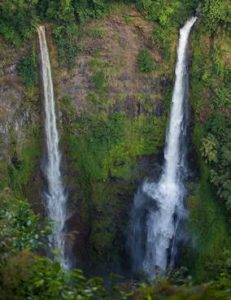 10am Tad Fane is the tallest waterfall in South East Asia, and a picturesque twin set of waterfalls spilling 200 meters down into a deep gorge. There are beautiful flora and fauna along the paths towards an excellent view point and café, and if you're feeling brave you can enjoy the exciting new Zip Line experience over the falls. Entrance fee 10,00kip.
11am Tad Yuang is a beautiful twin waterfall where visitors can swim at the bottom pool, relax at the top, and enjoy following a natural stone path to lookouts along the middle. There is a quaint café at the entrance of the falls where you can enjoy a fresh cup of Boloven coffee before leaving. Entrance fee 10,00kip.
12pm begin making your way down the mountains along E16 back towards Pakse stopping at the local farmer's markets to enjoy fresh fruits, local snacks, and cold drinks. When arriving at the intersection at kilometer 21, take the left towards Champasak village and Wat Phu.
2pm Wat Phou, Champasak, UNESCO World Heritage site. Wat Phu (meaning 'mountain temple'), is situated on a hillside and offers stunning views over the surrounding land and Mekong River. Visitors who appreciate art and history will be amazed by the magnificent workmanship in this ruined Khmer temple complex in the form of temple pillars, barays, lintels, pediments, terrace, courtyard, walls, doorways, sanctuary, shrine, library and palaces.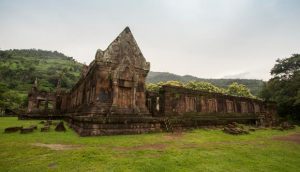 There is also a natural spring at the top that is believed by locals to emit holy water. Wat Phu is considered one of the oldest archaeological sites in Laos. One temple in the site was constructed around the 5th century and most buildings found in the complex are from the 11th to 13th centuries. Among many of the outstanding carvings there are the Indra, the Hindu god of war, storms, and rainfall, riding a three-headed elephant and Vishnu riding on a garuda, an eagle. Wat Phu has been an active temple for Buddhist religious practice for quite some time as Buddhism replaced Hinduism in Laos in the mid 13th century. There is an altar at the front section of its sanctuary featuring four large Buddha images with more Buddha carvings around the ruins. Allow at least 2 hours to explore this magnificent complex before making your way to Phu Salao temple. Entrance fee 55,000 kip per person.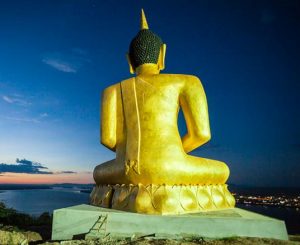 5pm Phu Salao. Located high on Salao Hill, the impressive Phu Salao, Golden Buddha offers a breathtaking panoramic view of the Mekong River, Pakse City, the Boloven Mountains, and Friendship Bridge. A perfect way to end a brilliant day, explore the complex, take in the incredible views, then relax in front of the Giant Golden Buddha Statue and enjoy a majestic sun set over the Mekong River. Entrance is free.
7.30 AM Enjoy a breakfast of local noodle soups, salads, and freshly made French pastries and baguettes.
8.30 AM Start heading south along route 13 toward the tranquil and beautiful Si Phan Don (4000 Islands) archipelago and Khone Phapheng Falls, the largest waterfall in South East Asia.
10.30 AM Arrive at Nakasang port village and arrange a boat to Hua Det (Northern tip of Don Det island. Tickets cost 15,000 kip per person). There, you can hire a bicycle (10,000 kip) or motorbike (80,000 kip) for a few hours and explore the authentic and peaceful villages, the beautiful views of the Mekong river, the islands, and the Cambodian mountains. Head along the sunrise side of Don Det Island until you get to the old French bridge to Don Khone Island.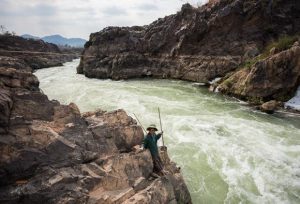 12.30 PM Li Phi Waterfall at Don Khone is a very peaceful area where you can enjoy a freshly prepared lunch of Mekong fish, sticky rice, and salad while enjoying the gorgeous falls and countryside. Entrance fee 35,000 kip per person.
1.30 PM Head to the very southern point of Laos, Hang Khone (Southern Don Khone Island). There you can hire a boat to explore the waters between Laos and Cambodia. Do your best to soak in the scenery as you try to spot
the rare fresh water Irrawaddy dolphin and the local wildlife. 60,000 kip for a 1 hour boat.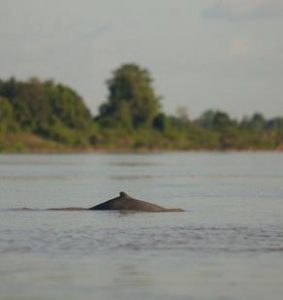 3 PM Make your way to Don Khone village where you can organise a boat back to Nakasang port village. Once in Nakasang, travel back to route 13 and head further south about 20 minutes along to Khone Phapheng Falls. Locals often refer to Khone Phapheng Waterfall as the "jewel" or the "pearl" of the Mekong, as it is South-East Asia's largest waterfall. Millions of litres of water descend over a set of cascades making it one of the most spectacular sites in Southern Laos. Once you arrive at Khone Phapheng take your time to explore and read the local history about the falls and the Manikoth tree. There is a free transport service available to take you to the most magnificent view point
of Kon Phapheng. Relax, enjoy a fresh local coffee and snacks, and listen to the awesome roar of the falls. Entrance fee 55,000 kip per person.
4.30 PM Slowly head North straight along route 13 towards Pakse and enjoy the simply beautiful countryside of Champasak.