Recently, a group of Lao photographers embarked on a very ambitious adventure on motorbikes and in 4WD vehicles from Vientiane to Don Khon and back over a very difficult route during the rainy season. The aim was to highlight domestic travel within southern Laos in a new and ambitious way while showcasing truly unseen destinations.
Originally planned to cover Vientiane Capital, Xaysomboun, Xieng Khouang, Bolikhamxay, Khammouan, Savannakhet, Salavan, Sekong, Attapeu, and Champasak provinces, the plan had to be revised due to some travel restrictions. The entire route spanned 9 days, 9 provinces, and a whopping 2,999km. Enjoy these photos and be inspired to make your own adventure in Laos!
Day 1 : 220km Vientiane to Xaysomboun
On the first day, we reached Meuang Anouvong to a splendid sunset over the grassy mountains of Phou Houa Lon. We cooked dinner and set up our tents, while the moon shone overhead like a huge spotlight.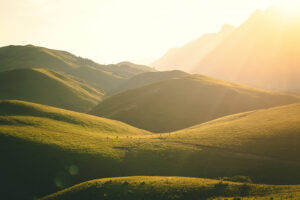 Day 2 : 130km Xaysomboun to Xieng Khouang
After waking up early, we traveled to the stunning ChaoAnouvong Cave, where the revolutionary king was captured. The cave itself isn't so deep, but the mountains in this area are very steep and beautiful to look at.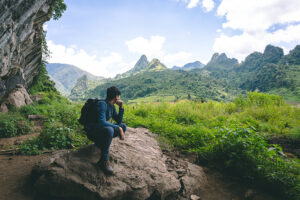 Nearby we also drove to a beautiful area called Vang Nam Khiaw with a stream with a jagged cliff, before continuing along some very rough road past some waterfalls to our next camping spot in Meuang Khoun, Xieng Khouang.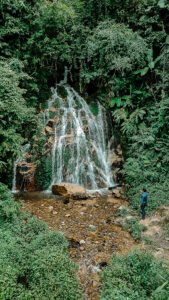 Day 3 : 350km Meuang Khoun to Nakai (Khammouane)
Today was a long day past Meuang Mork to Nakai. The road was like driving down a rocky river in the dry season, but we passed Phou Sam Xoun, which stands 2,100 m above sea level, along with excellent views and cool weather.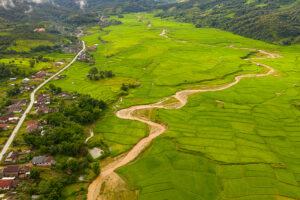 The road improved once we reached Route 8 and then saw familiar sites like the Nakai reservoir and the famous ghost ship that now sits grounded on the shore.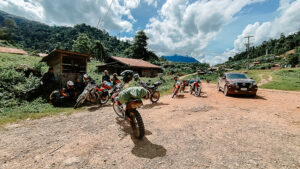 Day 4 : 460km Nakai (Khammouane) to Phou Pha Souk cave (Salavan)
Today was an extremely long day of driving, covering 420 km from Nakai to a campsite near the Phou Pha Souk cave complex in Salavan. We didn't get to take many photos today, as we had so much driving to do. We didn't arrive until after nightfall.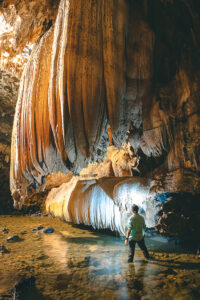 Day 5 : 90km Salavan to Sekong (Kaleum District)
Waking up early, we visited the spectacular caves and saw the brilliant rock formations created over many centuries. There was also time for a quick visit to the dazzling stilted library at Wat Kang in Salavan.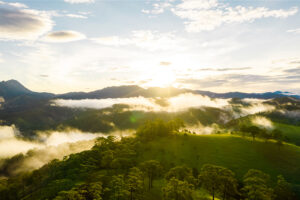 Day 6 : 150km Sekong (Kaleum District) to Mystic Mountain Coffee (Pakxong, Champasak)
Today was a nice drive up the Bolaven Plateau to the Mystic Mountain Coffee plantation. The area was once a volcano, so the soil is full of minerals that are perfect for coffee cultivation. The views are quite nice too!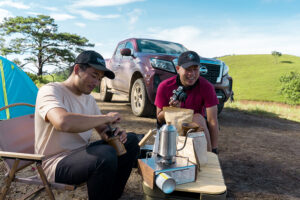 Day 7 : 60km Mystic Mountain Coffee (Pakxong, Champasak) to Attapeu border checkpoint
We had planned to camp near waterfalls in Attapeu, but due to their lockdown, we had to change plans. Instead, we explored a bit deeper on the Bolaven Plateau and visited some impressive waterfalls before camping again for the night.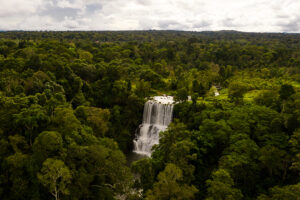 Day 8&9 : On the last two days, we explored more waterfalls and sites on the Bolaven Plateau before driving back all the way back to Vientiane. It was an amazing ride through places I had never been before. We will definitely have to plan more trips like this in the future. It's a great way to explore Laos!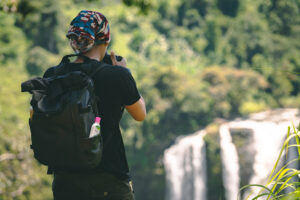 Text & PHOTOGRAPHS BY Phoonsab Thevongsa