There's something going down in Vientiane's cocktail scene.
When it comes to finding your passion, there's something for everyone. For the owners of Belle J,
that something is cocktails. This calling has led them to open a bar in Vientiane, one that has a different ambiance to other night spots in town.
Food and drink, prepared with high-quality ingredients, is a perfect mix with the refined tastes of the owners, creating the relaxed environment that is at the core of the entire Belle J concept.
The name, Belle J, is from the French, belle journée or 'beautiful day'. The logo is the image of a traditional jar, the kind that could be used to store precious items. The family believes that it represents the accumulation of wealth.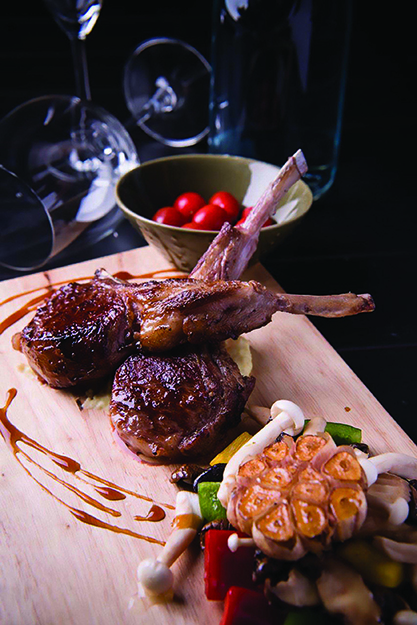 Belle J's ground floor serves breakfast and lunch, while in the evenings, the upstairs opens as a lounge. The breakfast and lunch menus comprise mainly Asian favorites, such as pho in a tom yum broth and pad Thai. These can be finished off with healthy fruit smoothies and coffee, or delectable cakes to end the meal on a sweet note. In the evenings, the upper floor opens into a chill-out space where you can enjoy the relaxed ambiance with your friends, with hip hop and R&B tracks. This kind of atmosphere is unlike any other in Vientiane. 
But while Belle J's décor is top notch and the ingredients used in the food and drinks are all of superior quality, the prices are more reasonable than you would expect in a place of this caliber.
Each floor of the building is decorated differently. The ground floor is tastefully bright, colorful, and modern. The walls are painted with lotus motifs, which are flowers prized by the owners. The upper floor is shaded in bold tones, adorned in lights that change colors depending on the mood of the evening. There are also many spots perfect for taking photos with friends. The centerpiece of the upper floor is a large white horse, which is also another symbol of this restaurant, prominently displayed in the center of the room.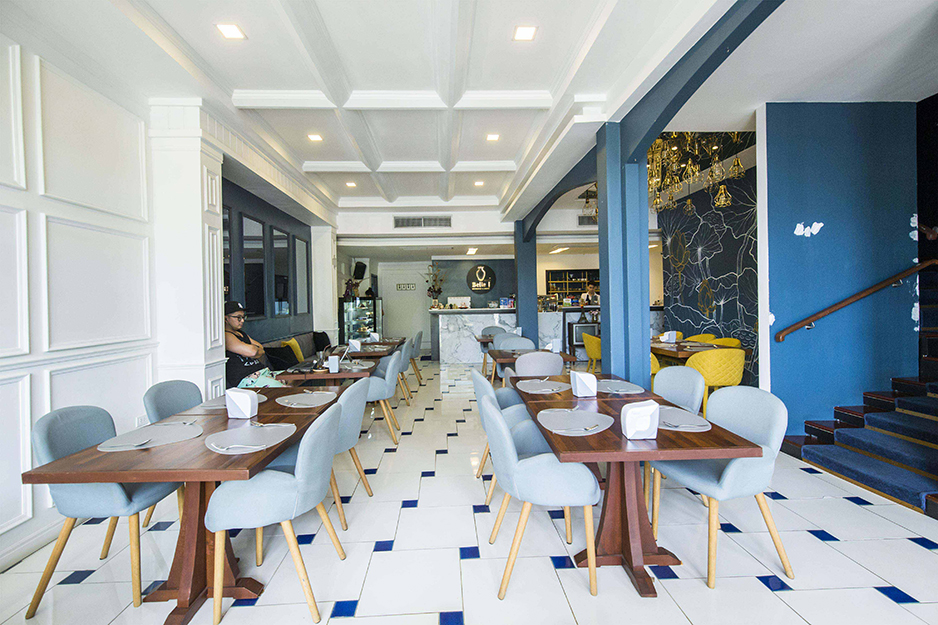 Shots are the most popular drink at Belle J. The premier shot here is the Galaxy Shot, which, apart from being delicious and potent, looks a bit like the Milky Way. It has inspired a saying, "Let this shot lead the way". The ingredients are chosen primarily for their quality, and many of the alcohols are imported, as the owners want clients to enjoy the finest things. The owaners are also behind the innovative cocktails that will inspire you to come back and try more. 
"Our cocktail menu is not static, but continues to develop to inspire our guests," says the owner.
MORE INFO
Belle J is on Souphanouvong Road in Vientiane.
It is open daily. The ground floor is open
from 10am – 5 pm.
The upstairs lounge is open from 7pm – 1am.
Text BY Duangtavanh Oudomchith
PHOTOGRAPHS BY belle j / Phoonsab Thevongsa