The Bolaven Plateau is an adventurer's paradise! Literally translated as "Home of the Laven," the name honors the Laven ethnic group which was once more predominant here. 'Doing the Bolaven Loop' is a popular tourist activity all year round and it's easy to see why. The area is rich with coffee plantations, glorious waterfalls, quaint little cafes and restaurants, botanical gardens, and farms – all easily accessible by either car or motorbike.
There are two main routes. The bigger loop is around 320 km and includes more challenging routes through Sekong and Attapeu provinces, while the more famous smaller loop is around 200 km and can be easily done road-trip-style by car. Don't forget to bring raincoats with you as the Bolaven weather is notorious for being unpredictable.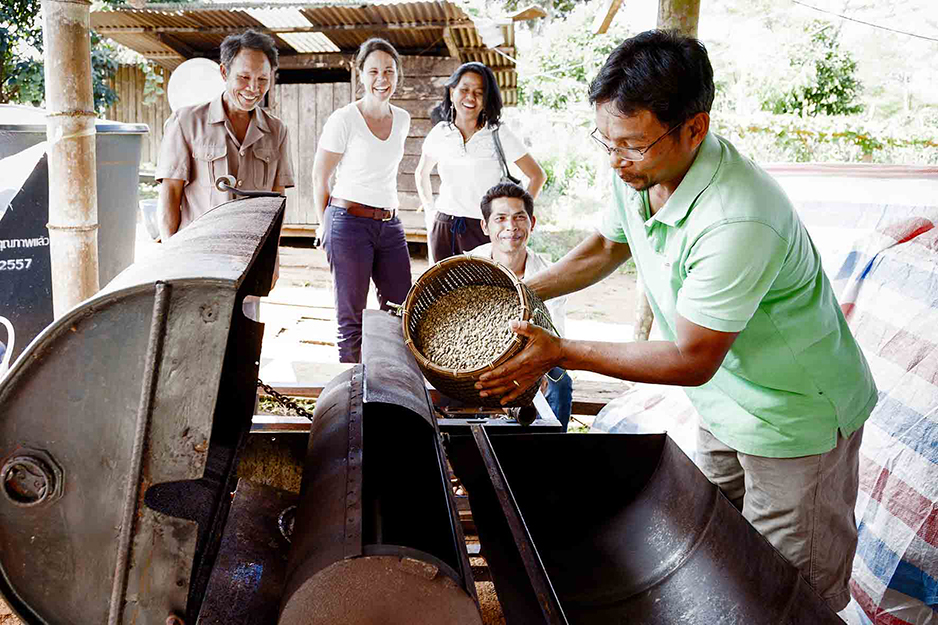 Weekend itinerary for the small Bolaven Loop by car
Around 40km from Pakse
A good way to start any  road-trip is a strong cup of coffee. Halfway to Paksong, Lak40 Café serves an exquisite café latte and homegrown tea. A small family-run business, they recently established a bigger café to serve more customers. You can also take a walk around their backyard farm where they process their own products, if you're lucky you might even spot a cacao tree or two!
What about brunch? There are some good options around here. E-tu Garden is known for its homemade yogurt and Sabaidee Valley serves good proper food (in Laos that means rice and a viand).
Now, time for an adventure! Seeing Tad Fane is a reward in itself. Fly At Tad Fane is currently the highest zipline in Laos. This unique venue allows visitors to zipline, enjoy a coffee (offers a bit more kick than the caffeine!), or lie in a hammock 220 meters over the stunning twin cascade waterfalls of Tad Fane. Take things down a notch and walk the steps towards the hut of Tad Yeuang (also spelled Gneuang or Yuang) for an epic selfie.
Paksong town (KM50)
Be still my caffeinated heart. From the new Jing Jhai café at the entrance of Paksong town to Paksong Highland a little bit further, there is no shortage of coffee in this part of the plateau. If you want
to turn this into a longer trip, book a jeep tour of Khamsone's Mystic Mountain Coffee plantation.
Grab a bite to eat or try their famous soft-serve ice cream at Yamamoto café. Take your selfie game to another level by borrowing a kimono here and taking a picture at their flower garden or strawberry field (be sure to check if it's the right season!).
Thateng district (KM80)
Drive a bit further to see the sprawling grounds of Sinouk Coffee Resort and to experience a tranquil dining experience at their restaurant overlooking the natural pool. Right across is the newly built Thateng Farm, good for families with small children or dogs. Look for hotel accommodation around this area or the neighboring Paksong town.
Tad Lo (KM86) turning point
Just seeing the three waterfalls here: Tad Lo, Tad Hang, and Tad Soung; already makes the ride worthwhile. A favorite of the backpackers here is Fandee Guesthouse, where basic wooden bungalows are as cheap as they get – the restaurant is even well-rated! If you want to stay longer here at Salavan, I encourage you to visit Fandee Adventure park for a "ziplines and jungle bridges" extravaganza!
If you need an even more relaxing time, go see Captain Hook for his coffee tour. English might be a challenge without his younger brother there, but Hook can impress you with his Dutch words for sure.
Ban Lao Ngam (KM70)
Right at the border of Salavan and Sekong provinces, you can stop by the Katou textile village for authentic souvenirs. Visit www.southern-laos.com for more information about the Bolaven Plateau's many ethnic groups and their textiles. Stop by Vieng's for a caffeine fix and a glimpse of the simple Katou village life.
KM33
Getting closer to Pakse again, visit Tad Pha Suam or Tad Champee for a quick nature trek and dip in its cool waters.
Pakse town
When you reach the end of your weekend journey, get that rewarding cocktail for your weary soul at the rooftop bar of Pakse Hotel or Residence Sisouk, which both have the best views of the town. For an excellent sunset over the Mekong, go to Mekong Paradise Hotel or Sala Gang Khong restaurant. Remember to always be a responsible traveler wherever you go!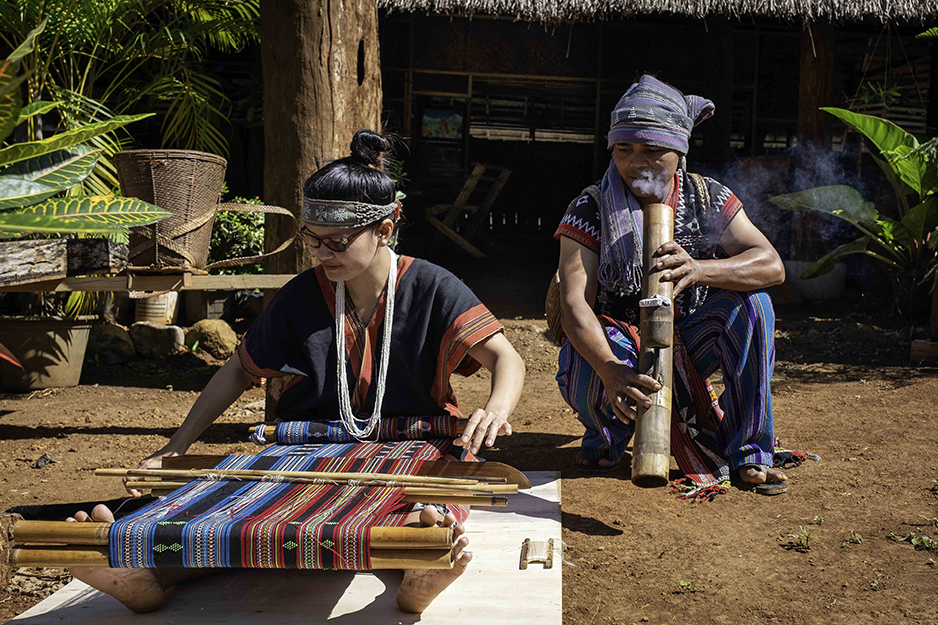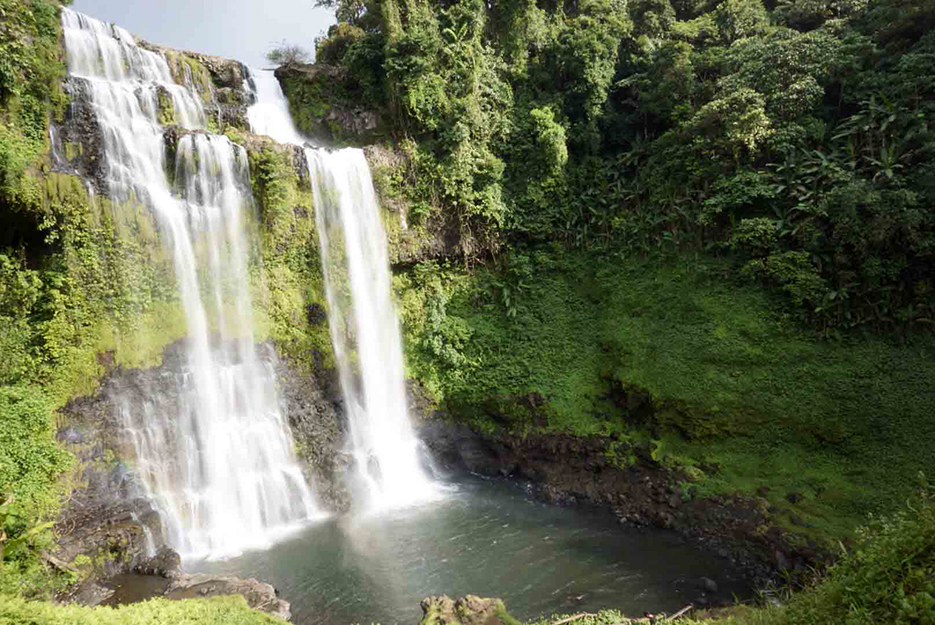 GETTING THERE
Lao Airlines has daily flights to Pakse from Vientiane.
MORE INFO
Please visit:
southern-laos.com
for more information about the Bolaven Plateau's many
ethnic groups and their textiles.
Text BY Dyan Barutzki
PHOTOGRAPHS BY Swisscontact / Bart Verweij