Buffalo ice cream and cheese are new highlights in Luang Prabang.
Mooching buffalo, sunk hoof- deep in a bright green paddy field, are an iconic image of Laos. We all photograph these plodding creatures when we see them on our travels, but a close encounter is rare.
A revolutionary buffalo farm, outside of Luang Prabang, lets you get up close and personal and I found it weirdly interesting to come face to face with Bubalis bubalis and her kin.
Laos Buffalo Dairy, found on the way to Kouang Si Falls, offers everything from a half-day immersion, down to just licking lemongrass buffalo ice cream at a roadside stall.
I signed up for a half-day experience and came away with a degree after a masterclass in buffalo care and breeding, cooking class, and chance to round up buffalo with a village chief.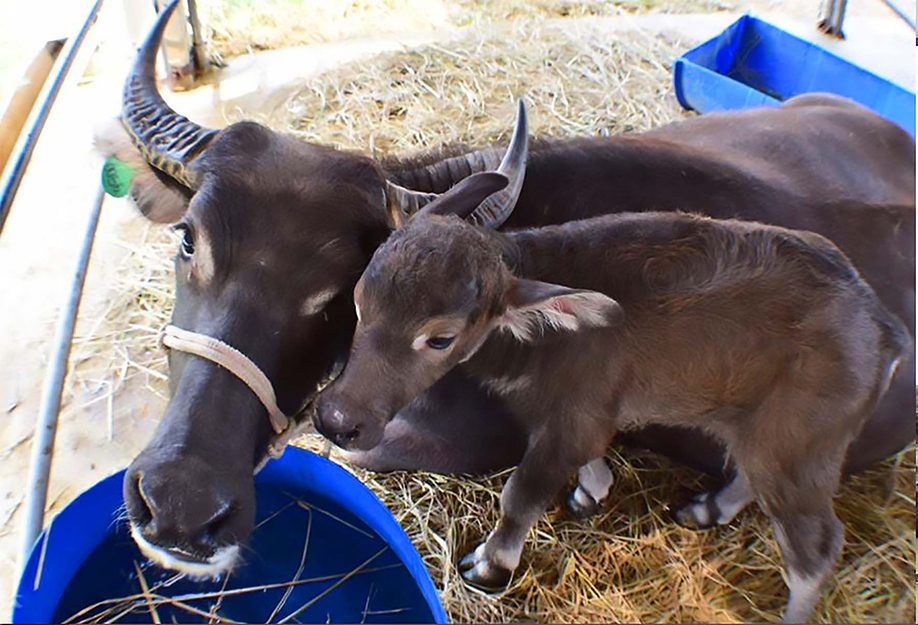 Over a lunch of crunchy greens and a smorgasbord of buffalo cheeses, I got the low down on water buffalo and the project from Susie Martin, co-founder of the dairy. Susie, and husband Steve McWhirter, first came to Laos on holiday and were baffled by news that buffalo were only used for meat and farming. Where were the milking stations, they asked? The Australian couple sold their home and moved to rugged northern Laos with their family in tow. Susie's previous career, as a corporate executive in Singapore, means all those organizational skills have now been channeled into farming: the place is run like a well-oiled machine, and I could have licked the floor of the uber-sparkling kitchen.
My head buzzed with farm facts: females are rented from farmers when they are 8 months pregnant (gestation is 10 months) for US$100, vaccinated, and quarantined for one month. When one has her calf, she is milked for about six months. Inbreeding, due to a lack of males (exported to China for meat), has weakened Lao stock. Susie located two male Murrah buffalo donated by the Chinese government to Laos who were put into action, so to speak, to boost genes and produce cross-breeds who yield more milk: a cross-bred buffalo will produce 25%–50% more milk than its single-origin mum. Once the milking has finished and the female is pregnant again she and her calf are returned to the farmer. Coming back to the farm again when they are 8 months pregnant and the circle continues.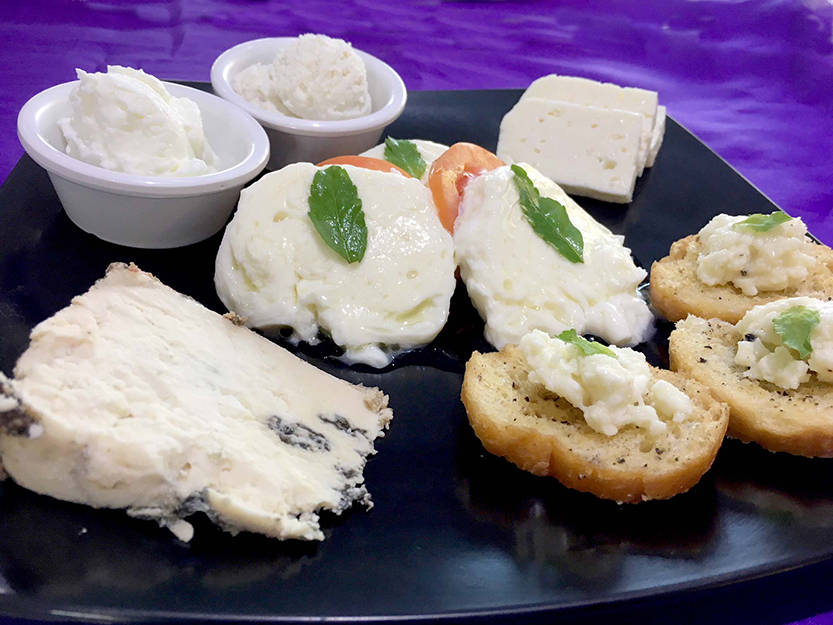 Costa Rican farm consultant Monica Montero collects me from the café and takes me to a yard where I attempt to milk Oulai. I don't quite get the knack of the yank and pummel motion and I manage just a few squirts into the bucket. I was sure the buffalo gave me a withering look. Monica then introduces me to Chinese donation bull number one, Ferdinand, a great big beast who appears to hobble. Ferdinand, it turns out, fell during a sexual liaison, dislocated his hip, developed an abscess and is assigned medical retirement, leaving companion Fabio's sexual performance at the forefront.
Ferdinand is hanging with child star Sophia, the first cross-breed baby, now just over a year old;  and she is dallying with pregnant companion Lola. I wash them down with a hose. Buffalos make a strange sound – it's a digital-sounding stream, a cross between a pig and a cow, somehow. I then cozy up with Lola, an Instagram star. Buffalos look cute but when it's cheek to cheek contact, the horn, wet nose, and whiskers are a little overwhelming.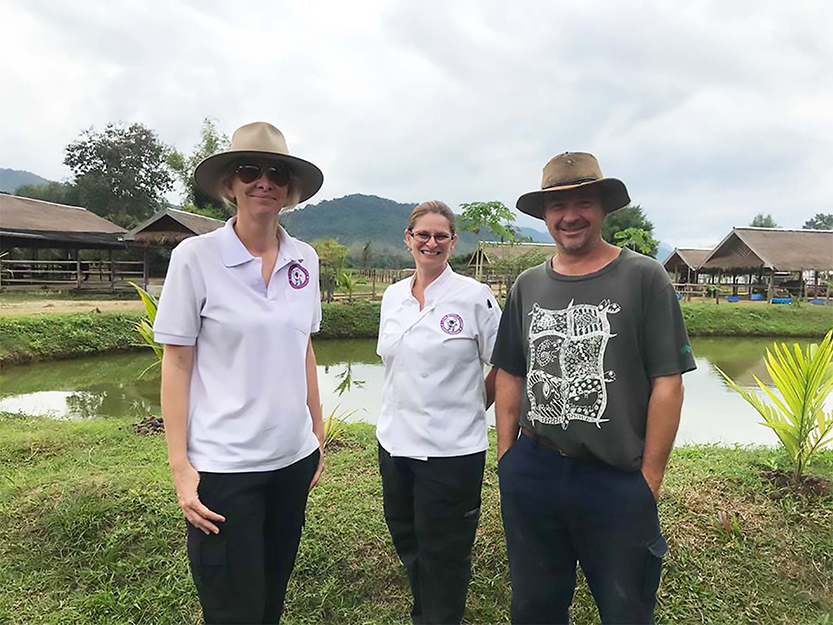 When playtime was over, for me at least, I was put to work in the kitchen. American chef, and dairy co-founder, Rachel O'Shea is in charge of the café, ice cream, and cheese. While my eye was drawn to fragrant ricotta donuts, Rachel charges me with mozzarella making. Like many folks, I imagine, I've eaten a lot of this fine cheese over the years but hadn't given much thought to how it's made. How to get huge dollops of gloopy white cheese into something approximating a smooth sphere? I had no idea that it takes some work to get a classic-looking mozzarella ball. Well, one that would be acceptable on a restaurant plate. The knack is to keep kneading the cheese back into itself. Rachel considered my snow-white balls – with a few off-circle angles – pretty good for a first-timer. I was keen, too, to taste the ice cream – black sesame, and lemongrass  – but there was more work to do before dessert.
I donned a special jumpsuit and toured the milking pen and maternity area where mums and babies were all settling down into late afternoon slumber and was asked to feed months' old Mick who looked up at me with gooey young animal eyes.
Still no sign of ice cream, I went off to the fields on a tractor just before sunset for one of the highlights of my tour. Village chief Mr. Somlit was trying to round up his buffalos. Half of his eight-strong herd are at the farm, and I learn that Sophia is his. He's very happy with the rental program, he says and wants to rent out two or three more.
The buffalos are reluctant to budge. Sinking into a mud pond, they use their tails to slosh water over their heads and backs and emit deep sighs as they look for space to submerge among their fellow beasts. Somlit tries to lasso them out of the pond; they evade him, ignoring his pleas. Then suddenly he makes a buffalo sound, and cries 'go' in Lao to the muddy cluster and they obediently get up, knowing rice straw is for dinner at the home yard. When I get back to HQ, I'm happy to report scoops of creamy vanilla and caramel ice cream were waiting for me.
GETTING THERE
Laos Buffalo Dairy is located about 22 km southwest of Luang Prabang on the road to Kouang Si Falls. 
MORE INFO
The farm offers three tour options: The exclusive Farm & Production Facility Tour plus Cooking Class, Guided Mini-Farm Tour with Dessert Package, and the Mini Farm Tour.
Text BY Claire Boobbyer
PHOTOGRAPHS BY Phoonsab Thevongsa / Laos Buffalo Dairy