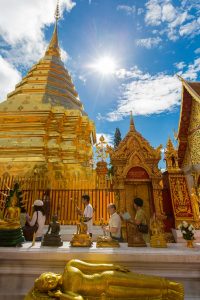 Mention Chiang Mai and many travellers conjure up an image of a peaceful historic city encircled by mountains where life proceeds at a more sedate pace than elsewhere in Thailand, not least because for years it was known as the 'Rose of the North'.
It is no wonder then that most fi rst-time visitors are surprised when they arrive in a burgeoning city with a population that exceeds one million people in the metropolitan area. Yes, Chiang Mai enjoys an impressive mountain backdrop, its streets and moats are tree-lined, it is home to numerous ancient temples and bustling fresh food markets, and there is a certain easygoing charm to northern Thai people but in recent years the city has undergone rapid expansion and shaken off the last remnants of its backpacker image, re-emerging as the new capital of Lanna chic and a destination for cultured travellers.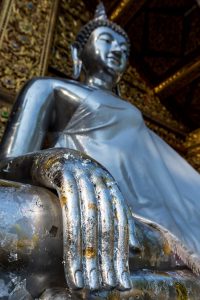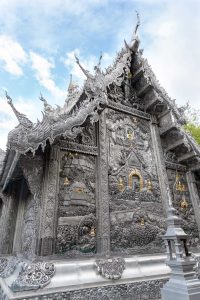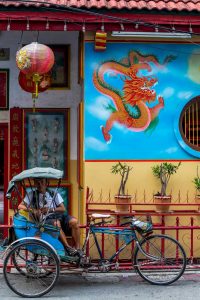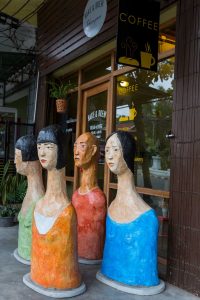 Today's Chiang Mai is renowned for unique hotels, trendy boutiques full of high-quality products created by talented local artisans, and riverside restaurants where diners can enjoy distinctive northern cuisine under the stars. Despite the welcome makeover, Chiang Mai's fascinating history is still a major attraction. Down the narrow winding lanes of the historic district within the boundaries of the old city wall there is pleasure to be found uncovering gems, such as the city's oldest temple, Wat Chiang Man, or making a pilgrimage to the most famous temple of all, Wat Phra That Doi Suthep, which crowns the 1,676-m Suthep mountain and offers panoramic views of the city below.
ART FOR ART'S SAKE
MAIIAM Contemporary Art Museum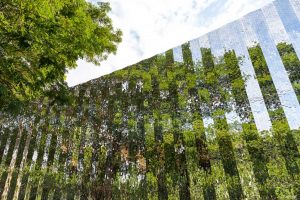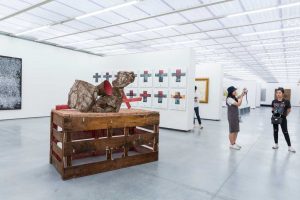 One of the newest attractions that has confi rmed Chiang Mai's reputation as the "Capital of Creativity" is MAIIAM Contemporary Art Museum. Housed in a former industrial unit on Sankamphaeng Road, the building's façade glitters with thousands of mirrored tiles. The museum, houses the personal collection of Jean Michel Beurdeley and his late wife Patsri Bunnag, has tapped into a hunger for contemporary art in Thailand.
In the fi rst six months, 18,000 came to the museum to see what is undoubtedly the country's most important collection of contemporary art, and includes works by internationally renowned Thai artists, Apichatpong Weerasethakul and Kamin Lertchaiprasert. The museum also plays host to talks and workshops, as well as changing exhibitions.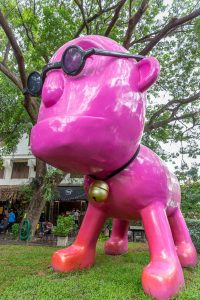 iBerry Chiang Mai
iBerry Chiang Mai is an ice cream and dessert restaurant set in a large shady garden. Trendy décor, a relaxed atmosphere, and, yes, a 10-metre high pink dog-man wearing sunglasses on the lawn, attract a youthful crowd.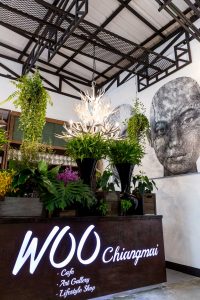 Woo Chiangmai
Across town on Charoenrat Road, Woo, a beautiful café, art gallery and lifestyle shop draws the fashionable Bangkok crowd when they come to town. Here you can relax with an iced coffee, have a light lunch or dinner then browse the boutique for unique arts and crafts.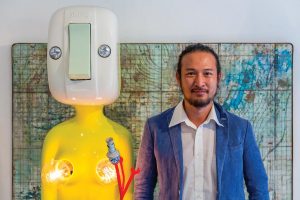 SeeScape
Many other galleries and art-inspired venues are centred in the Nimmanhaemin Road area. These include Gallery SeeScape, a gallery-cum-coffee shop set up by artist, Torlarp Larpjareonsook to encourage interaction with the city's creative community.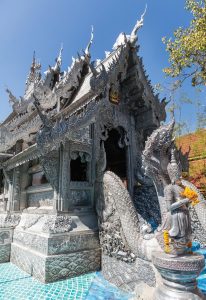 RICH TRADITIONS
Wat Sri Suphan
Yet fashionable Chiang Mai is not all about contemporary art; the roots of its rich traditions can still be found within the city. In the Wua Lai district, skilled artisans produce exquisite silverwork using techniques that are thought to have been introduced by Burmese and Shan craftsmen during the 13th century. The crowning achievement of Wua Lai craftsmen and women is Wat Sri Suphan, an exquisite temple which includes a silver ubosot or ordination hall.
Clay Studio Coffee
In Chiang Mai's old quarter, the Clay Studio Coffee in the Garden is a hidden gem where you can enjoy a coffee or a light meal in a tropical setting. The overgrown tropical garden is full of terracotta images depicting Buddha and other deities, and there is a studio just across the road where you can see the craftsmen at work.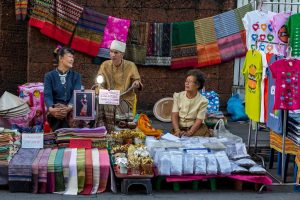 Walking Streets
For crafts, fashions and gifts, a visit to one of Chiang Mai's popular 'Walking Streets' is essential. Every weekend they attract hordes of shoppers who come to browse, buy local products and eat at the vibrant pavement markets from about 4 p.m. until 10 p.m. when the areas are pedestrianized. On Saturday evenings, Wua Lai Road is lined with vendors and on Sunday the Tae Pae Gate area and Ratchadamneon Road pull in the crowds.
CULINARY ART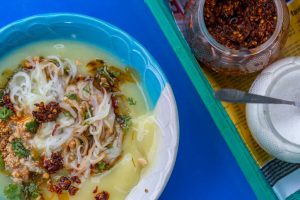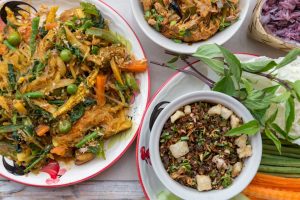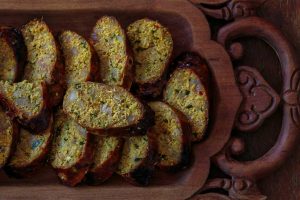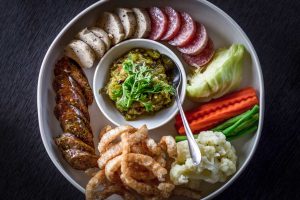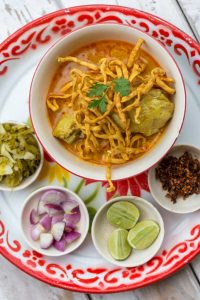 Khao Soi Lam Duan Fahham
Chiang Mai is also renowned for its culinary arts. Whereas the cuisine of Thailand's northeast has found popularity throughout the country, northern food is less common outside the region. However, it is a big hit with Thai visitors and few leave without bags full of local delicacies.
Of all the wonderfully exotic foods in northern Thailand khao soi is the most famous. In fact, a local adage even goes as far as to say that you haven't really been to Chiang Mai unless you have eaten the local khao soi. The dish is a rich coconut milk curry soup containing either pork or chicken and ladled over a nest of egg noodles. Arguably one of the best (and people will argue about it), can be had at Khao Soi Lam Duan Fahham on Faham Road.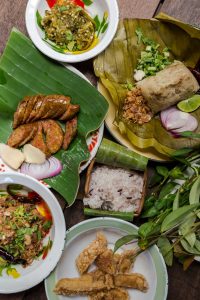 Labkai Nimma
Other local delights include sai oua, a local pork sausage often served in restaurants as 'Chiang Mai hors d'oeuvres' along with northern classics, such as nahm prik num, a roasted chilli dip, khairb moo, crispy pig skin and nahm prik ong, a delicious pork and tomato dish. While in the Nimmanhaemin Road area discovering the art galleries, stop for lunch or dinner at Labkai Nimman run by the delightful Kai. There's a feast of regional dishes including, of course,
lab kai, a chicken salad.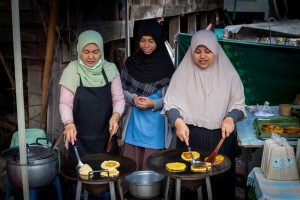 Chinese Muslim Market
To discover the ethic and culinary diversity of Chiang Mai, rise early on a Friday morning and head to Kad Chin Haw. It is Chiang Mai's least known but most fascinating Chinese Muslim market. Held every Friday morning from 6 a.m. to midday, this bustling little market has an array of unusual fresh produce, as well as delicious Haw Chinese, Shan and hill tribe foods.
Text & Photos by:  Mick SHIPPEN