Follow a wasp to an underground world
Sometimes in life, one mundane task leads to something really spectacular. Over 100 years ago in the misty mountains of rural Oudomxay Province, a Khmu villager named Chuang went hunting in the forest. He caught a wasp and tied a small piece of cotton thread onto its leg so that he could follow it to its hive full of larvae. When he reached the hive, he made an even larger discovery – a massive cave. The land nearby was well-suited for agriculture, so he convinced his village to relocate to this area. They called the cave "Chom Ong" which is Khmu for "follow a wasp."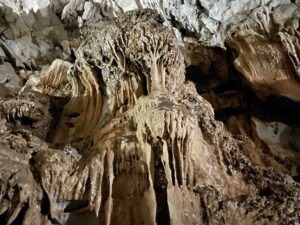 Villagers would only enter the cave to collect guano or hunt for bats, and so Chom Ong Cave remained relatively unexplored. In 2009, an international group of scientists embarked on a project to determine the length of the cave. They hiked, camped, and explored over 16 km of caverns, which turned out to be the longest cave system in Northern Laos! Since then, facilities have been upgraded and the first 800 meters of the cave have been paved and tastefully illuminated with electric lights.
Recently, through financial support from the Asian Development Bank, a 60 km loop road was paved connecting Oudomxay town to Chom Ong Cave and then on to Route 13. Visitors can now visit easily as they pass from Luang Namtha, or on a day trip from Oudomxay.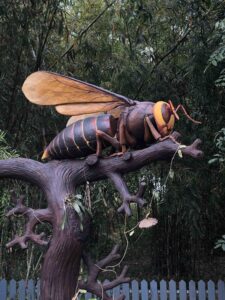 To provide interpretation, protect the natural environment, and ensure the safety of the tourists, one can only enter on a guided tour. Guides are available at the park entrance and give a great introduction to the pristine formations along the path, as well as point out bat colonies roosting high in the cavern ceiling.
One can easily spot stalactites, stalagmites, and draperies, but there are also some unusual shapes rich in meaning for local people. In one spot, a rock resembling a snake, or a naga serpent guardian of the underworld, pokes its head out of the ground. A few other rocks looked like a hermit meditating and a white stupa. Another formation resembles the trunk of an elephant – an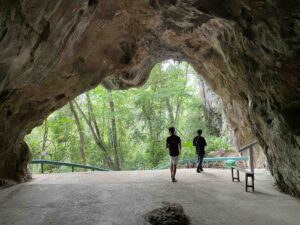 There are several guided tours available. The easiest course simply traverses the paved illuminated path near the entrance and back and takes about an hour. Intrepid spelunkers can opt for a longer 2 day/1 night adventure requiring flashlights and camping inside the cave during the 16 km hike to the other side. These longer tours should be booked in advance with the Tourism Information Office in Oudomxay town. This office can also assist with transport to the cave.
And now, over a century later, Chuang's simple quest for food lead to a new home for his village and the discovery of one of Laos' longest caves which will draw more adventurers for centuries to come.
GETTING THERE
Lao Airlines has daily flights between Vientiane and Oudomxay. Chom Ong Cave is about 45 km to the east of the city.
Text & PHOTOGRAPHS BY Jason Rolan