Xieng Khouang's tourist sites are a microcosm of Lao history
Northeastern Laos is home to the Xieng Khouang Plateau, an area that has borne witness to (and the brunt of) the ambitions of various peoples who have dominated the area. History blends here in a juxtaposition of the ancient and the modern; in the glorious and tragic.
Visiting the area, journey through the many layers of the past from prehistoric times to the modern era. The story of Xieng Khouang is also the story of Laos. A still-unknown ancient people created the impressive stone jars as early as 1200 BCE, which UNESCO recently declared a World Heritage Site. Further study is underway, working to shed light on this mysterious civilization. Several thousand years later the Phouan people entered the region from the north. Adopting Buddhism, they built beautiful temples and stupas around the area.
In the late 1880s, bandits fleeing unrest in China descended south wreaking havoc throughout the land. Many temples were desecrated and looted for their precious gold. This gave France an opportunity to step in and include Laos as part of its new protectorate: Indochina.
A few decades later, Laos' new independence was destabilized by the Cold War and Xieng Khouang was heavily bombed. Now, the country is embarking on a new peaceful trajectory of renewal and renovation. Visit Xieng Khouang and fall in love with its many layers.
1. The huge Buddha statue of Wat Thong Hai Hin looks over Phonsavan city.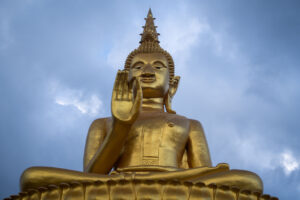 2. A cluster of stone jars that are over 2000 years old.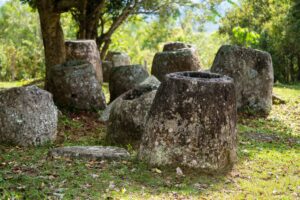 3. Foun Stupa is one of the main landmarks in the old royal capital of Meuang Khoun.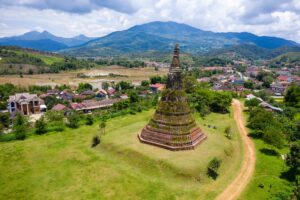 1. Bomb craters still mark the Xieng Khouang Plateau.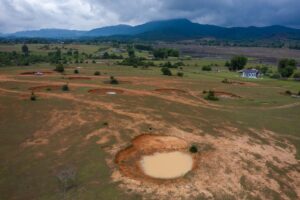 2. Diffused bombs are used in creative ways, like in this fence.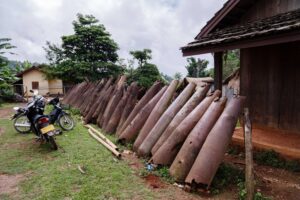 3. Spoons made from scrap metal from old bombs.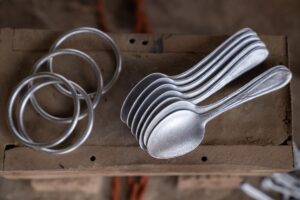 4. A memorial statue marks a wartime tragedy at Tham Piou cave.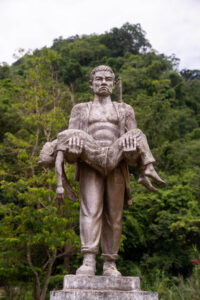 5. Inside Tham Piou cave where hundreds of Lao civilians were killed by an American bomb.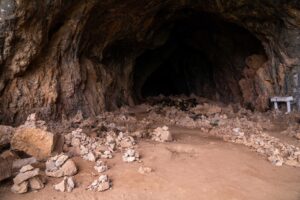 GETTING THERE
Lao Airlines has frequent flights from Vientiane to Xieng Khouang.
Text BY Jason Rolan
PHOTOGRAPHS BY Phoonsab Thevongsa