There is grandeur in this view of life… and that, whilst this planet has gone cycling on according to the fixed law of gravity, from so simple a beginning, endless forms most beautiful and most wonderful have been, and are being, evolved. (Charles Darwin)
Darwin would doubtlessly revisit these observations if he visited the botanical gardens in Luang Prabang (Pha Tad Ke), themselves evolving from a wilderness at the base of a limestone hill into a stunningly designed verdant environment.
Visiting four years ago, we whizzed by the indistinct muddy river, landing with a gang of young minority farmers keen to learn composting and cultivation techniques, oblivious to the horticulture staff waving frantically and ineffectively as we passed. The embryonic gardens then comprised a collection of compost heaps, teaching spaces and chaotic fledgling nurseries. How things have changed.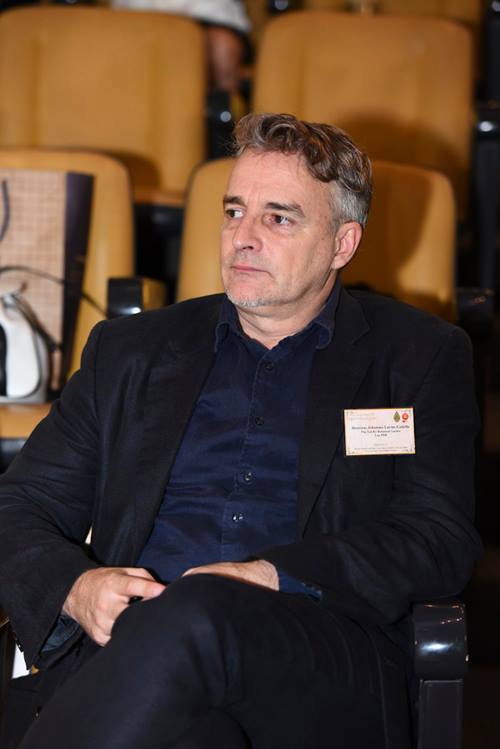 Teaching is central to the Garden's ethos. School and village groups learn nutrition and are given seeds to propagate. While primarily an educational and research facility, Pha Tad Ke offers visitors an informative respite from temples and shopping. Not to mention really fabulous food. Darwin's appreciation may explain why an art conservator, a man of creativity and design, was drawn to creating a living art work.
"I finally escaped my life in Europe, travelling for the first time in ages. I came to Luang Prabang and found this land," Rik Gadella, Pha Tad Ke's founder, tells me.
"I am an organiser by nature. I like getting people together, blending the technical and creative, but it's been hard. Even now we are not finished. We need funding for pumps and irrigation, a guesthouse for visiting researchers, to add a specialised orchid nursery…" He sighs, all too aware of the enormity of the task. What he has achieved is all the more remarkable for being largely self-funded.
So, why botany? Bryony Smart, a visiting researcher, leading what might be the first long-term site research study of limestone botany, says, "Plants are everything. Think food, clothes, spices, medicines, building materials. Most of our great discoveries have been around plants and their economic potential."
Laos has some of the last remaining intact areas of limestone karst in the world; vestiges of old sea floors with shell fossils found as high as Phongsaly in the north of the country. It's natural that Pha Tad Ke's speciality is limestone botany. International scientists hope the largely inaccessible karst ecosystems remain intact, and are keen to get in and explore what may be the last of these little known universes.
"It should be a matter of great pride to Laos that they have such exciting scientific frontiers. We predict lot of discoveries," says Smart.
"For instance, being so close to China, we are on the lookout for the critically endangered magnolia grandis. We are afraid this and several other species of magnolias in this region will not survive as the forests are almost gone. We hope to find remnants so we can conserve the species. We have caught the attention of the Queen Sirikit Gardens, Xishuangbanna Gardens in China, the Edinburgh Royal Botanic Gardens and the Singapore Gardens who are helping with research and conservation."
Smart, a tall rangy woman whose voice blends New Zealand with Londoner spice, and her colleague Mr Somdy, agree that science has not been good at communicating with the public. So these gardens give new meaning to informative ethnobotany. Circular consecutive gardens display plants normally used in Laos for human and elephant medicaments, food, flavourings, dyes, and – for those with Lady Macbeth inclinations – poisons. You can take a walk into the golden bamboo cathedrals and hear the sounds of birds and the scurrying of reptiles. Increasingly science is showing us that simply being in the forest is good for our wellbeing. The Japanese call it 'forest bathing'.
Gadella has bigger dreams. "We hope to attract doctoral students to work with Lao botanical staff to foster more research," he says. "I want to host events like writers' and ideas festivals to encourage wider discussions on the environment and its increasing relevance to our changing world."
At the ai​rport, chatty travellers leaving Luang Prabang were dismayed they had missed the gardens. "Damn. I wish we had been told. Now it's too late." Don't make that mistake. It's easy to get there.
Phad Tad Ke is a 10-15 minute boat ride from Luang Prabang. The boat leaves the dedicated pier every hour on the hour. The entrance fee is USD25, including the boat. Note that the Gardens are closed on Wednesday. Phone: 071 261000. Find a map at www.pha-tad-ke.com. The office is at the end of the street, the fourth turnoff to the right after Joma.
Note: It may be hard for the disabled to make it down and up the steep banks. Let the staff know if you need assistance.
Photos: Arounothay Khoungkhakoune