The name "Shangri-La" has evoked a mythical remote mountainous place of peace, happiness, and eternal youth, ever since was first used in the 1933 novel "Lost Horizon" by James Hilton. The name has since become synonymous with paradise or utopia.
While mythical at the time, you can now visit this fabled city in Yunnan, China, as in 2001, the city of Zhongdian was renamed Shangri-La in an effort to promote tourism. Both are places of great beauty and natural wonder located in remote mountain regions, are fairly isolated from the rest of the world, and are inhabited by people who live in peace and harmony with nature.
It's best to discover Shangri-La on an overland journey from Lijiang to fully experience this stunning area of green meadows, sparkling streams, snow-capped mountains, and unique culture.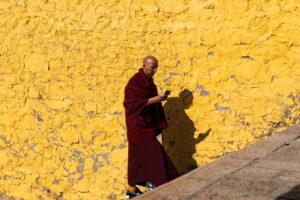 In keeping with Buddhist tenets of change, a Tibetan monk embraces the modern age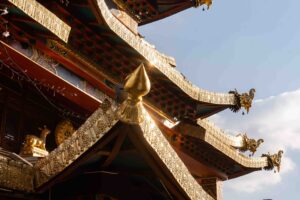 Fine gold ornamentation glistens in the sunlight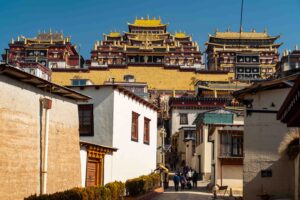 Ganden Sumtsenling Monastery, on the north side of the city, is the largest Tibetan Buddhist monastery in Yunnan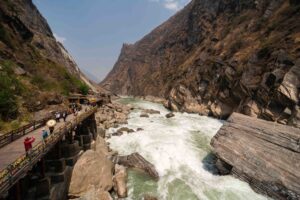 The awe-inspiring Tiger Leaping Gorge
above: The entrance to one of the Tibetan-style monasteries
GETTING THERE
Lao Airlines operates daily flights to Kunming. From there you can transit to Lijiang by air or rail, and then onward to Shangri-La.
Text BY Jason Rolan
PHOTOGRAPHS BY Phoonsab Thevongsa