The Academy builds a bright future for Lao tourism
The Academy Training Hotel and Restaurant is part of Vientiane Province Technical College, offering students of tourism and hospitality programs a unique practical training environment in the heart of beautiful Vang Vieng. Staffed by students, these budding young professionals are overseen by their teachers and an international management team while developing their core skills and preparing to enter the workforce. Developed to provide a "real-world" hotel environment, The Academy provides students with a unique practical training opportunity by interacting and working with actual restaurant and/or hotel customers. Students are prepared to become future hospitality workers, providing the industry with a cohort of well-trained, enthusiastic graduates. At the close of the 2020–2021 academic year, 99 students graduated from the tourism and hospitality programs.
The aspiring young professionals graduated from three different majors, namely Travel Agency and Tour Operations, Hotel Operations, and Restaurant Operations. Depending on their chosen major, students gained specific practical insights at The Academy – for instance, amongst a variety of experiences, future tour operators were given the opportunity to provide recommendations on worthwhile local attractions to clients at the front desk, hotel operations students took care of managing the hotel's meeting room bookings, and restaurant chefs-to-be learned a variety of local and international recipes inside The Academy's state of the art kitchen.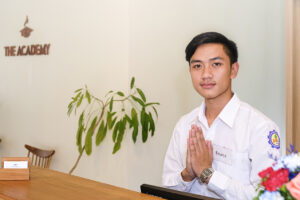 "I still remember my first day here at The Academy, surrounded and astounded by all these new utensils and appliances, when we were shown by the teachers how to make pizza dough and then instructed to give it a try ourselves", Khambai Vongsodsavanh, a freshly minted restaurant operations graduate, recalls enthusiastically. It is this sort of excitement for their chosen professions that The Academy has kindled not only in Khambai, but also her many peers. "Each day and each customer is different – you never know what requests might come your way", reveals Bounta Bounpany, who wants to become a tour operator and manned the front office at The Academy. "But I want to be prepared as best as I can. For example, I spend my free time researching the latest sites and attractions in and around Vang Vieng, so that I can point them out to visitors."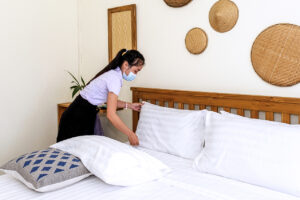 While The Academy will employ some alumni of the college as mentors to new students, many of them are now also looking forward to finding jobs in the tourism and hospitality sector in and around Vang Vieng to become more independent and support their families with their income. Their outlook? Optimistic. 'I think businesses will always be looking for people who are willing to go the extra mile. If you are an excellent professional, businesses will find a way to recruit you'', says Khambai confidently.
For anyone who wants to help shape the next cohort of young Lao tourism professionals, a stay, a meeting, or a meal at The Academy would be one of the best ways to accomplish just that. The hotel, with rooms available from 150,000 LAK per night (incl. breakfast), offers six charming guest bedrooms equipped with a private balcony, bathroom, A/C, LCD TV, WiFi, and complimentary tea/coffee making facilities. The Academy restaurant uses the freshest ingredients to offer delicious international and local cuisine.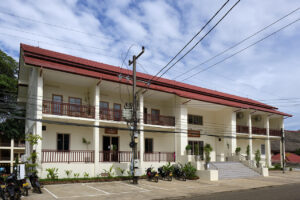 The Academy can also accommodate meetings and events tailored to your needs. With different setups available, meetings can be arranged for a maximum of 50 people and private dining/boardroom meetings for up to 30 people.
The Academy Training Hotel and Restaurant is supported by the Skills for Tourism (LAO/029) Project, co-financed by the Governments of Lao PDR, the Grand Duchy of Luxembourg, and Switzerland, and implemented by the Ministry of Education and Sports of Lao PDR and the Luxembourg Development Cooperation Agency (LuxDev).
MORE INFO
The Academy Training Hotel & Restaurant, Vang Vieng
tel.: +856 30 522 1052, email: theacademytraininghotel@gmail.com
facebook: @TheAcademy.VangVieng
Text & PHOTOGRAPHS BY Skills for Tourism Project (LAO/029)