Champhone District has a fascinating blend of culture, nature, and history
Did you know that Laos' most populous province, Savannakhet, contains a secret area of striking historic temples, giant softshell turtles, freshwater crocodiles, and even a forest full of macaques?
While all of this seems ripped from the pages of an adventure novel, you, too, can visit and explore these unique sites on the Xe Champhone Loop. And, thanks to the work of Tetraktys, a French organization committed to preserving, developing, and promoting natural and cultural sites, this area is now getting the attention it deserves.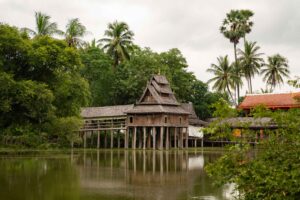 This ancient wooden assembly hall in Ban Nong Lam Chan is a place for monks to chant and is a gathering place for the local village.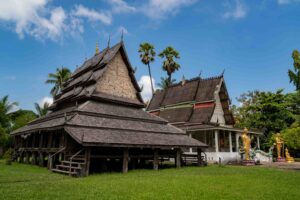 The temple in Ban Nong Lam Chan is famous for its wooden library on stilts. The building's unique construction protects valuable palm leaf manuscripts from being eaten by insects.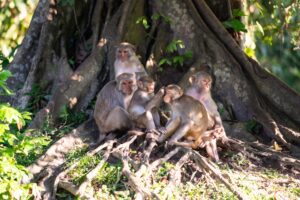 The Monkey Forest is a delight for visitors. There are not many places left where you can see these macaques in their natural habitat. Do exercise caution as they are wild animals!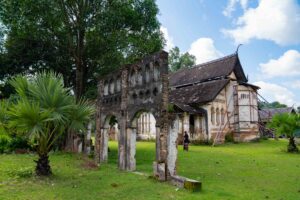 Wat Taleo was built in the early 1900s and follows a very French floor plan. Unfortunately, it was nearly destroyed by bombs during the Indochina War. The main sanctuary was spared, but many of the outer buildings are ruined. Look for unusual cement statuary of deities and a rhinoceros!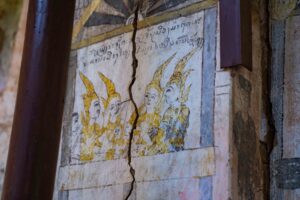 The interior of the sanctuary has incredible original murals in vivid colors. These paintings tell stories of local history and Buddhist fables.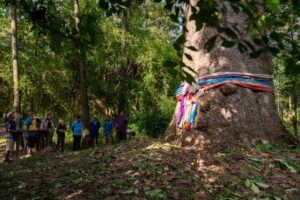 This ancient tree near Wat Taleo is considered sacred by local people. It is also one of the largest in the area!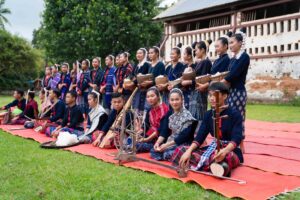 The area is inhabited by the Phou Thai ethnic group, famous for their music and cotton cloth dyed with indigo.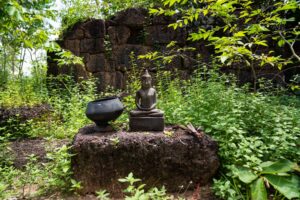 That Kou is a ruined Hindu temple built by the Khmer Empire in the early 1000s AD. Now it has been converted into a Buddhist shrine by locals.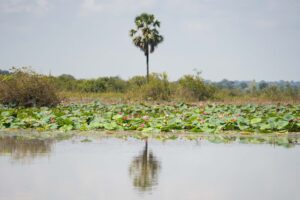 The Nam Soui river was dammed for agricultural purposes and created this large beautiful lake. Now it is a vibrant wetland for birds, fish, and other animals all year round. People in the area enjoy floating restaurants here on the weekends.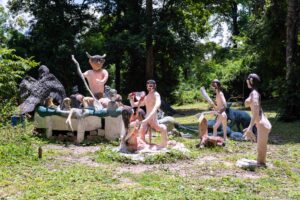 Wat Phou Khor is an unusual temple full of statues that warn visitors of the torments of Buddhist hell. Some statues can be rather gory, but send a strong message.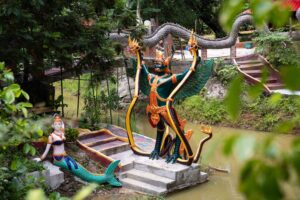 GETTING THERE
Lao Airlines has frequent flights to Savannakhet from Vientiane.
MORE INFORMATION
fb.com/XeChamphoneLoop
Text by: Jason Rolan
Photographs by: Phoonsab Thevongsa