With the cool season upon us, it's time to head north. Lao Airlines daily flights to Luang Namtha make it easy to discover this diminutive town with lots to offer.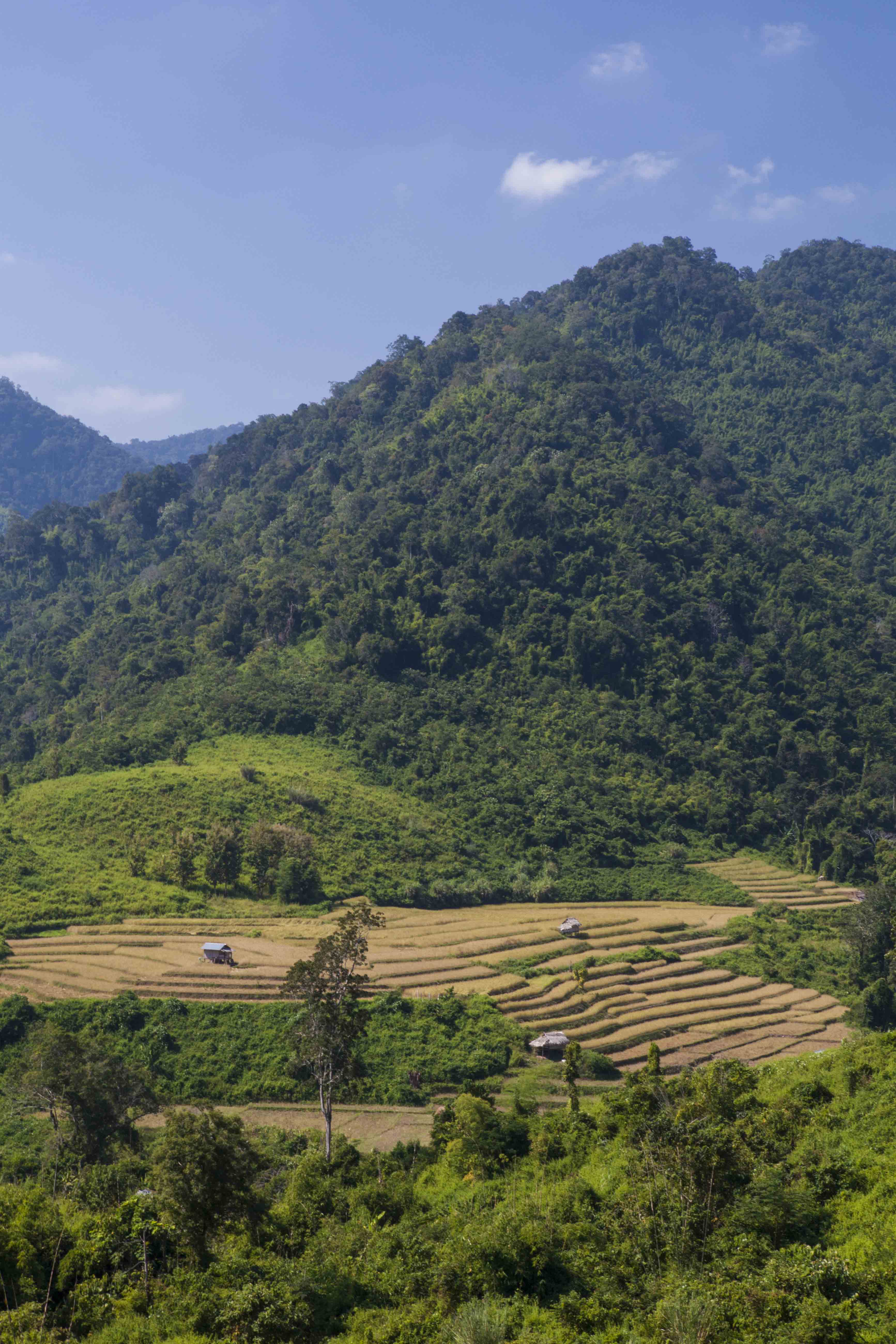 Mountainous northern Laos has long been a haven for eco-tourists, trekkers and cultural travelers who come to enjoy the natural beauty and discover hilltribes. It's also home to incredible agrobiodiversity, colourful markets and distinctive cuisine. To start your trip off on the right foot, check into your hotel or guesthouse and ask for the excellent free guide called Luang Namtha – Life and Nature in Laos. Produced with the support New Zealand and the Lao Ministry of Information, Culture and Tourism, it includes a map of the Luang Namtha Valley Route, a 35 km soft adventure excursion that can be tackled by cyclists or on a scooter, both of which available for rent in the town centre. The route includes sections of tarmac with rust-coloured tracks that stumble through vibrant rice paddies and ramshackle villages. There's plenty of opportunity to stop along the way, not just to take in the beautiful landscape but to connect with local minorities such as the Lanten.
Closely related to the Mien, the Lanten came to Laos from southern China and Vietnam more one hundred years ago. In northern Laos, there are 21 Lanten villages spread across Luang Nam Tha and Oudomxai provinces. One such village on the Luang Namtha Valley Route is Nam Dee. Lanten women can be recognized by their dark indigo clothing decorated with white or pink tassels, and white leggings wrapped from knee to ankle. They pluck their eyebrows and wear their hair up in a distinctive fashion. Lanten are one of the most skilled and productive of the hilltribes in Laos. In Nam Dee you may see them spinning cotton they grew, weaving and dyeing using indigo, and making their own clothing. They also produce paper from mulberry bark and bamboo and are skilled silversmiths.
Eat local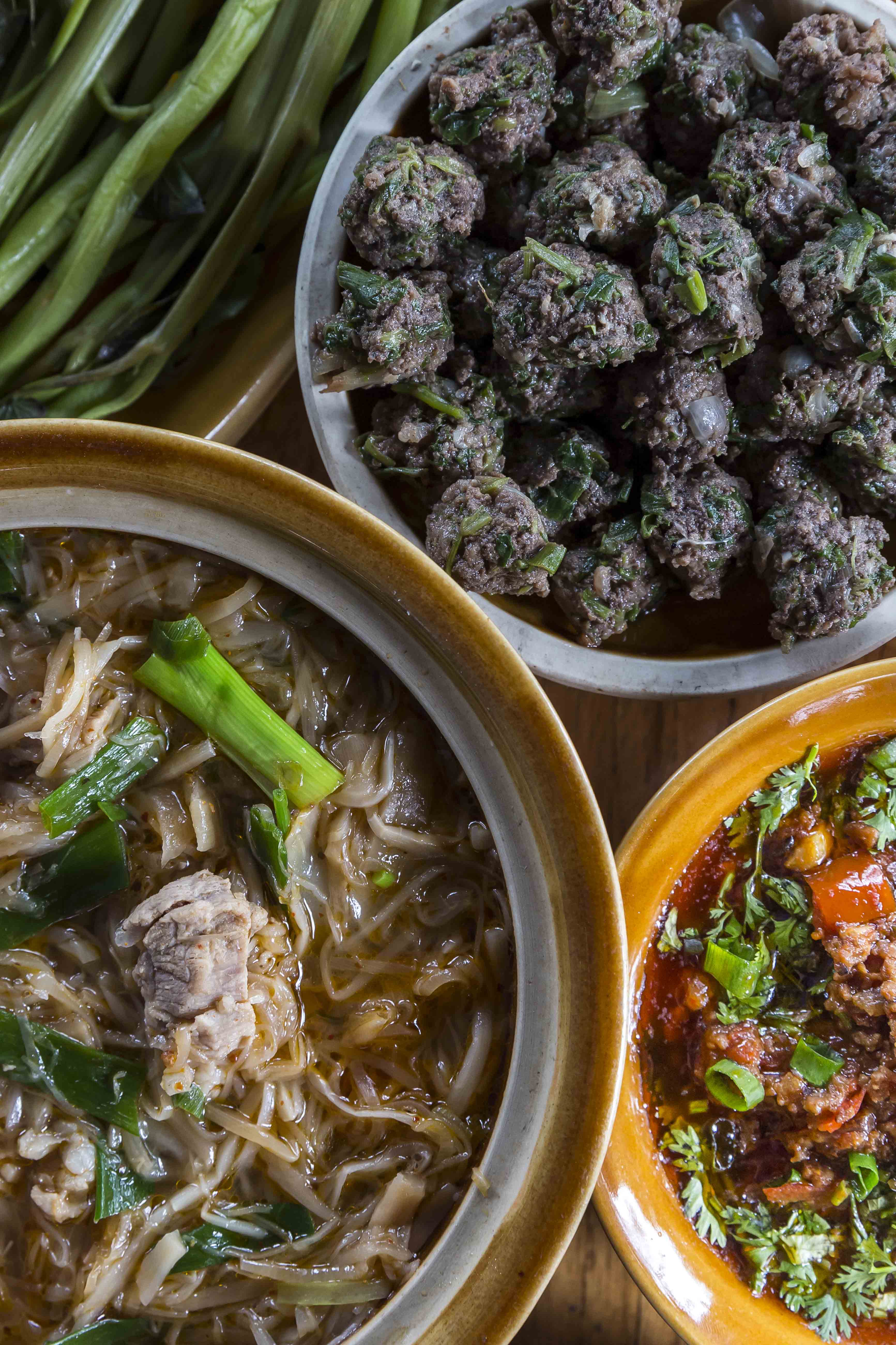 The trail also winds its way through Tai Dam and Hmong villages where you can see rice whisky distillers and weavers at work, and on passed historic temples and stupas before eventually pulling back into the town centre. For adventurous eaters, it's worth timing your ride so that you are arrive at The Boat Landing Guesthouse and Restaurant at lunchtime. This renowned riverside resort was instrumental in putting the distinctive cuisine of the region on the culinary map with the publication of Food from Northern Laos – The Boat Landing Cookbook. Written by Dorothy Culloty and photographed by Kees Sprengers, it was produced in close collaboration with the resort owners and the talented kitchen team. It stands as an important record of ingredients, cooking techniques and recipes from the many ethnic groups in the north. The restaurant serves an array of dishes you are unlikely to find on menus elsewhere such Akha pork balls with sawtooth herb, mint and guava leaves, and nahm prik ong, a punchy tomato and pork dip seasoned with fermented soy beans, along with a local favourite pickled bamboo soup with chicken, and classic northern fare such as aw lam, a delicious vegetable and pork stew thickened with sticky rice and flavoured with pepperwood.
Discover Laos' mega-biodiversity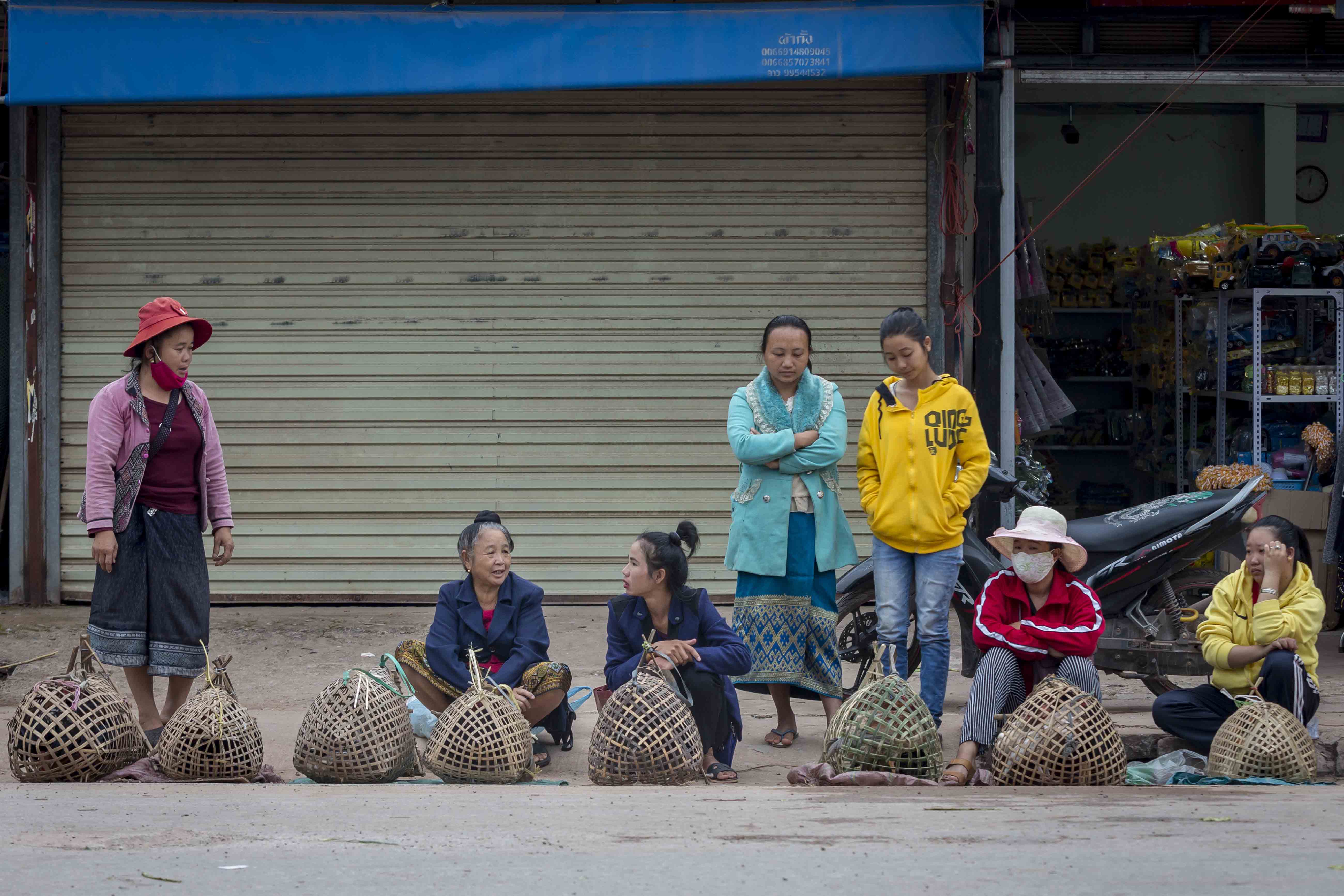 In the heart of Luang Namtha there is a bustling fresh market. You only have to spend a few moments here to realise that Lao is home to an astonishing biodiversity of foraged and cultivated foods, and medicinal plants. Each day, vendors set out beautiful displays of vegetables, fruits, and herbs, many of which are indigenous to Laos. For visitors, it is a fascinating experience but much of it will be unfamiliar. Fortunately, an invaluable online resource called Pha Khao Lao was recently launched. The aims of the initiative are to document and preserve knowledge of Laos' bountiful harvest from field and forest, so it is available for use by researchers, students, local communities, chefs, or those simply curious about the array of ingredients they see in the markets.
According to Pha Khao Lao the country is home to 10,000 native varieties of rice, more than 2,500 edible plants, more than 200 species of fish, over 500 non-timber forest products, 1,500 known medicinal plants, all of which are crucial to the Laos' economy and food security.
Rural areas such as Luang Namtha are particularly rich in unusual yet delicious and nutritious ingredients. One example that visitors may see in the town's market during the cool season is nor boun, a type of rattan gathered by hill tribes in the forest. In order to eat it, ferocious spines have to removed and the outer bark cut away to reveal an edible inner core. It is often used in soups and curries, or pounded with chilis and herbs to make jaew, a Lao dip to accompany rice and steamed vegetables.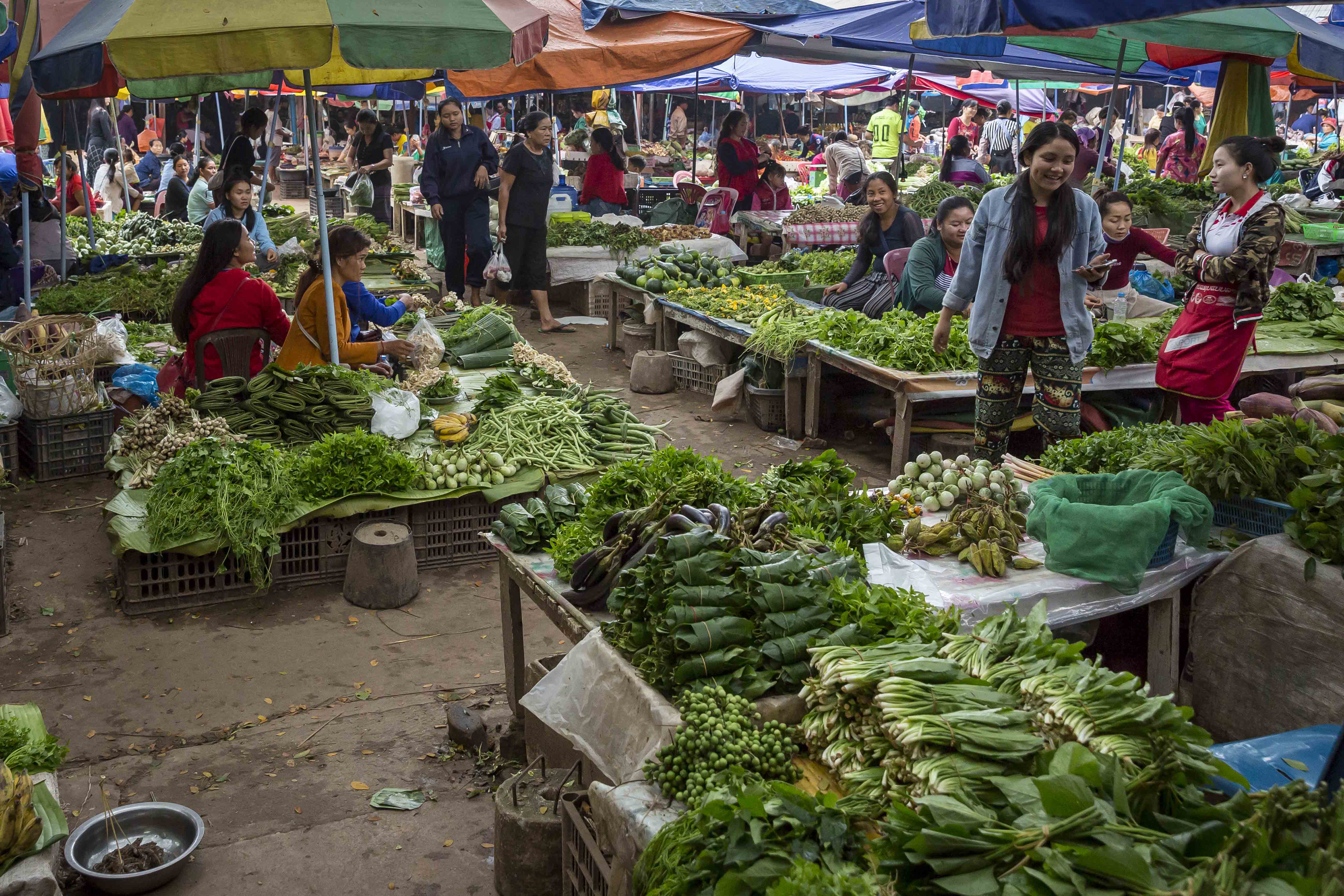 Luang Namtha's daily fresh market is open daily from 6 a.m. – 6 p.m. and is an essential part of any itinerary for travelers hungry for insight into local food culture.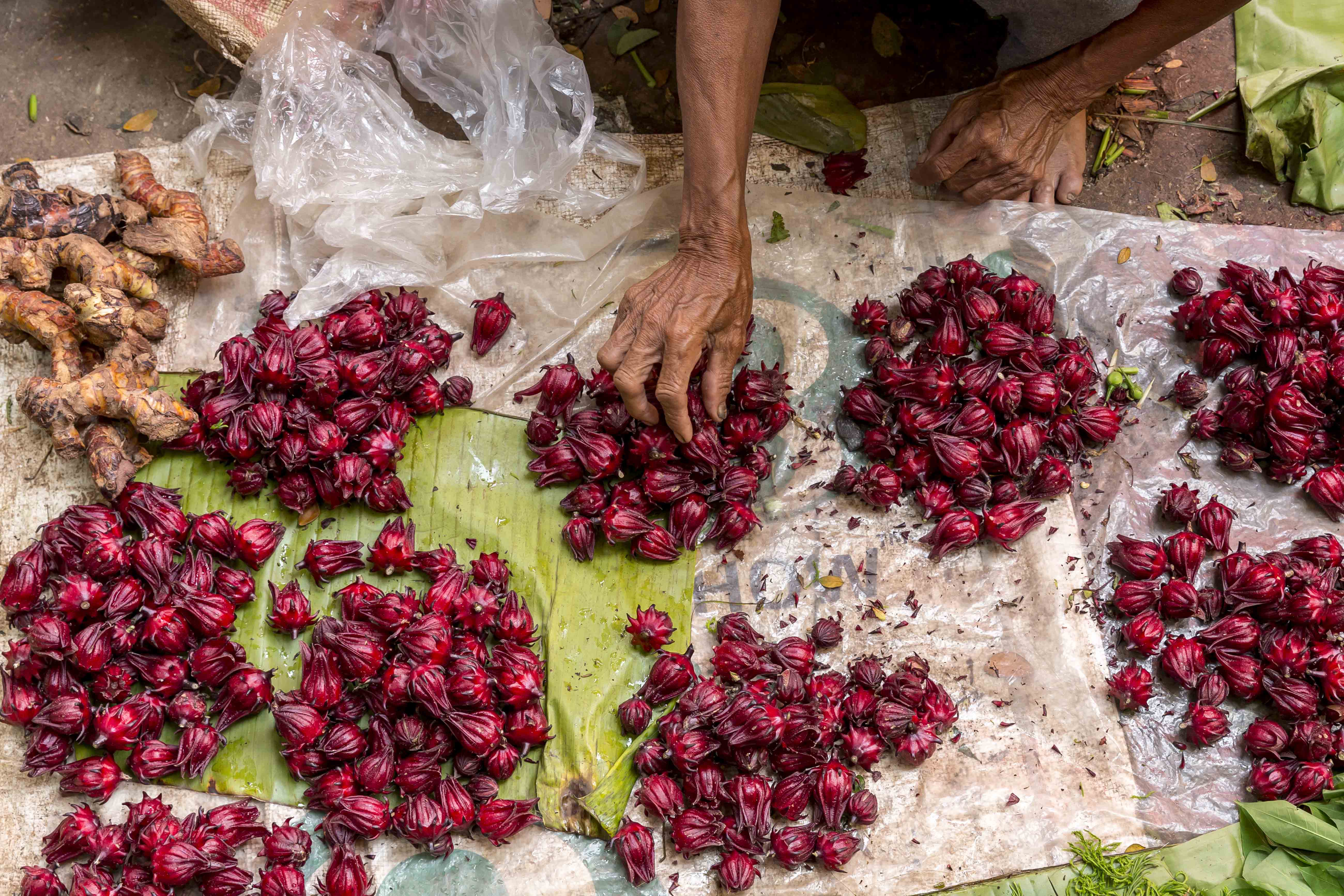 To discover more about Laos' incredible agrobiodiversity visit www.phakhaolao.la
Useful links www.luangnamthatourism.org and www.theboatlanding.com  
Text and photographs by MICK SHIPPEN