Go on an epic Lao jungle safari.
The Nam Et-Phou Louey National Park (NEPL) is located in the three northeastern provinces of Houaphan, Xieng Khouang, and Luang Prabang, and is the largest protected area in the country.
The NEPL is unique in its rich wildlife biodiversity, many of which are endangered, including six wild cat species, dhole, northern white-cheeked gibbon, Phayre's langur, two bear species, binturongs, otters, hornbills, and numerous species of civets and other primates.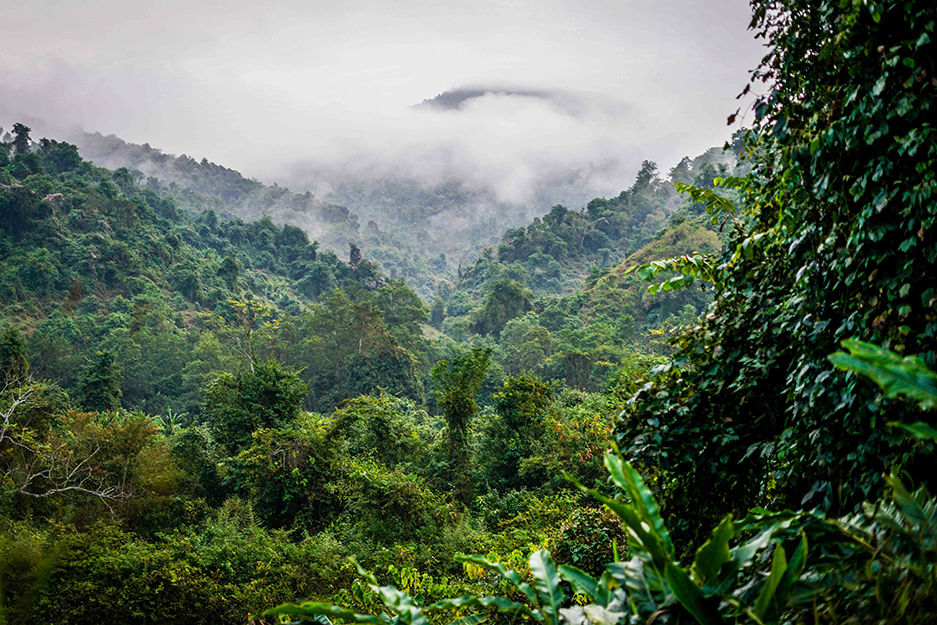 The Wildlife Conservation Society began supporting NEPL's Management Unit in 2003 and has assisted with the development of ecotourism products since 2010. The national park tours are not only one of the few opportunities in Laos to spot wildlife in its natural habitat but are designed to support alternative livelihoods for local people and generate community support for wildlife conservation.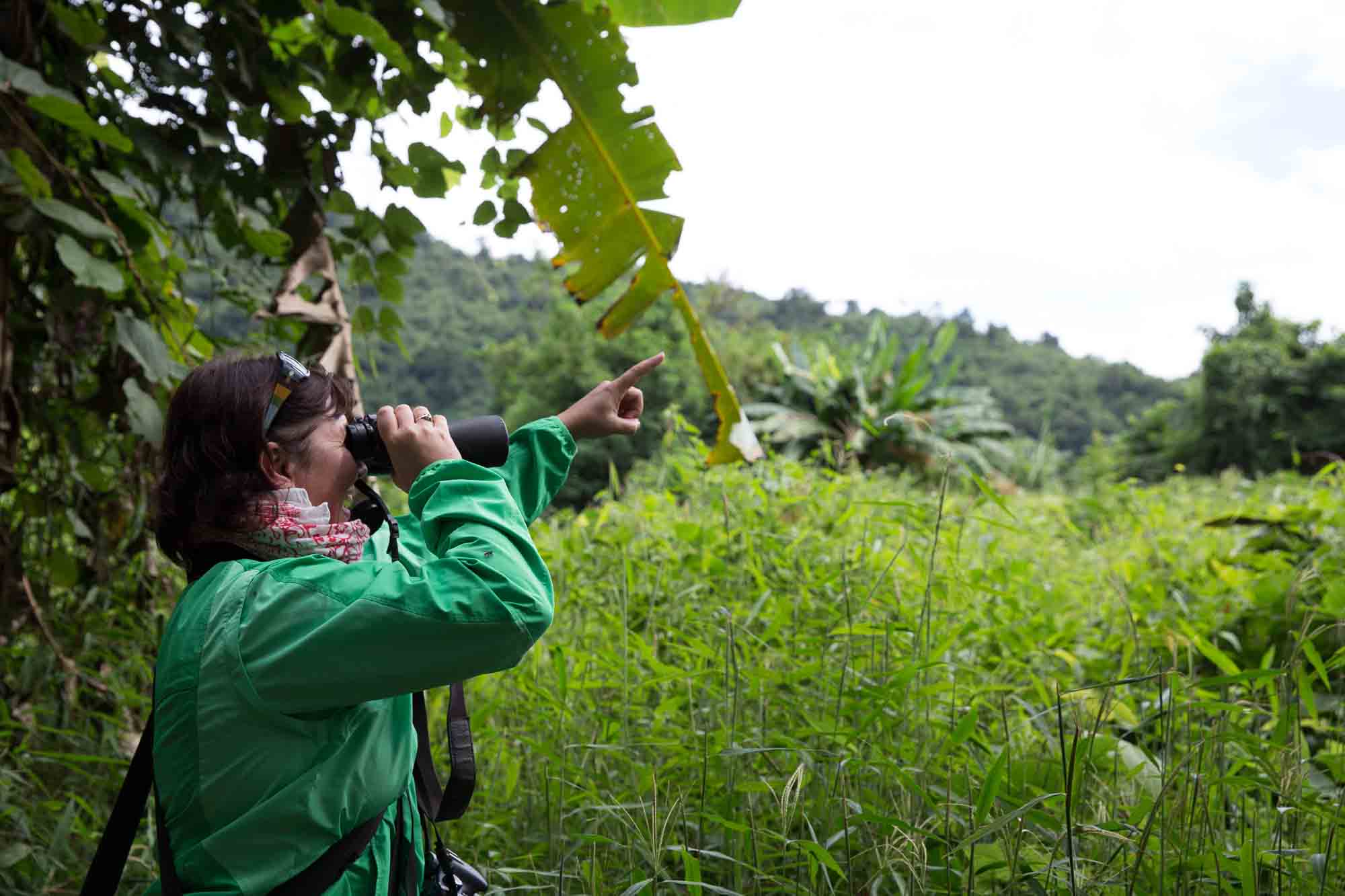 Most of the ecotourism service providers (guides, boatmen, cooks, etc) are from households that formerly relied on poaching and now currently work as wildlife spotters and protectors. To encourage conservation efforts, financial incentives are paid to the local people based on encounters with wildlife by visitors (including direct sightings and indirect observation such as animal calls, footprints, and scat). Greater incentives are provided for sightings of rarer species. All information collected on wildlife sightings and observations during the tours is recorded in a database and is further incorporated into the national park's wildlife-monitoring program.
THE NATIONAL PARK'S WILDLIFE TOURS
The Nam Nern Night Safari
The Nam Nern Night Safari is a 24-hour boat-based wildlife spotting tour. The trip highlight is nighttime wildlife spotlighting, looking for wild and endangered animals such as sambar deer, multiple species of civets, spotted linsang, Asian golden cat, leopard cat, pythons, while the long-tail boats drift down the Nam Nern River. A daytime boat trip upstream offers opportunities for birdwatching, including Blyth's kingfishers, eared pitta, and red-collared woodpecker.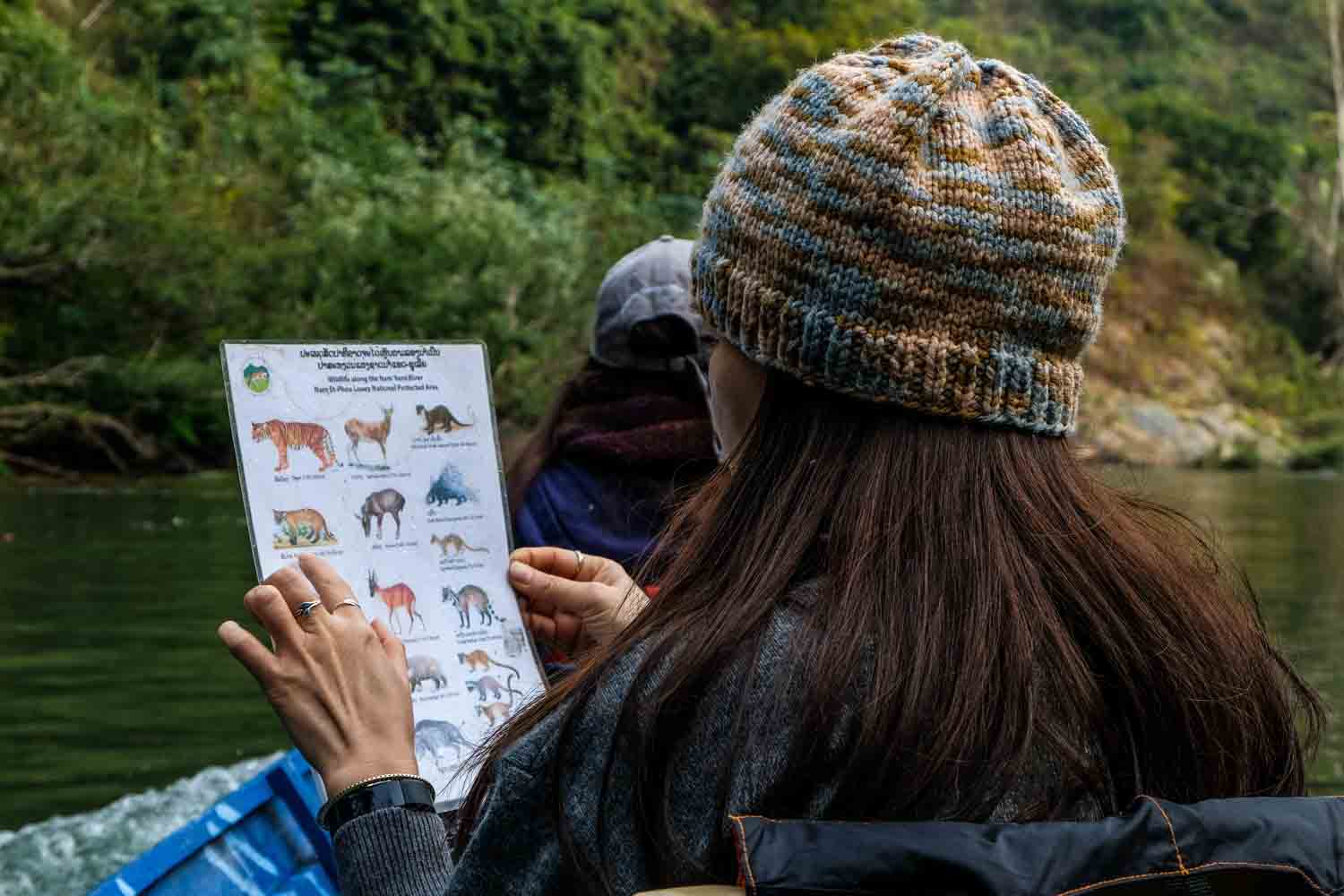 In 2013, the Nam Nern Night Safari won the World Responsible Tourism Award for Best Responsible Wildlife Experience. This year, the Nam Nern Night Safari celebrates its tenth birthday.
Wildlife Conservation Trekking Tours
Following the success of the Night Safari, the national park launched wildlife conservation trekking tours in 2016. These treks range from two to five days and offer a unique opportunity to feel like a field biologist while tracking and identifying wildlife along trails in one of the most important wildlife habitats of the national park.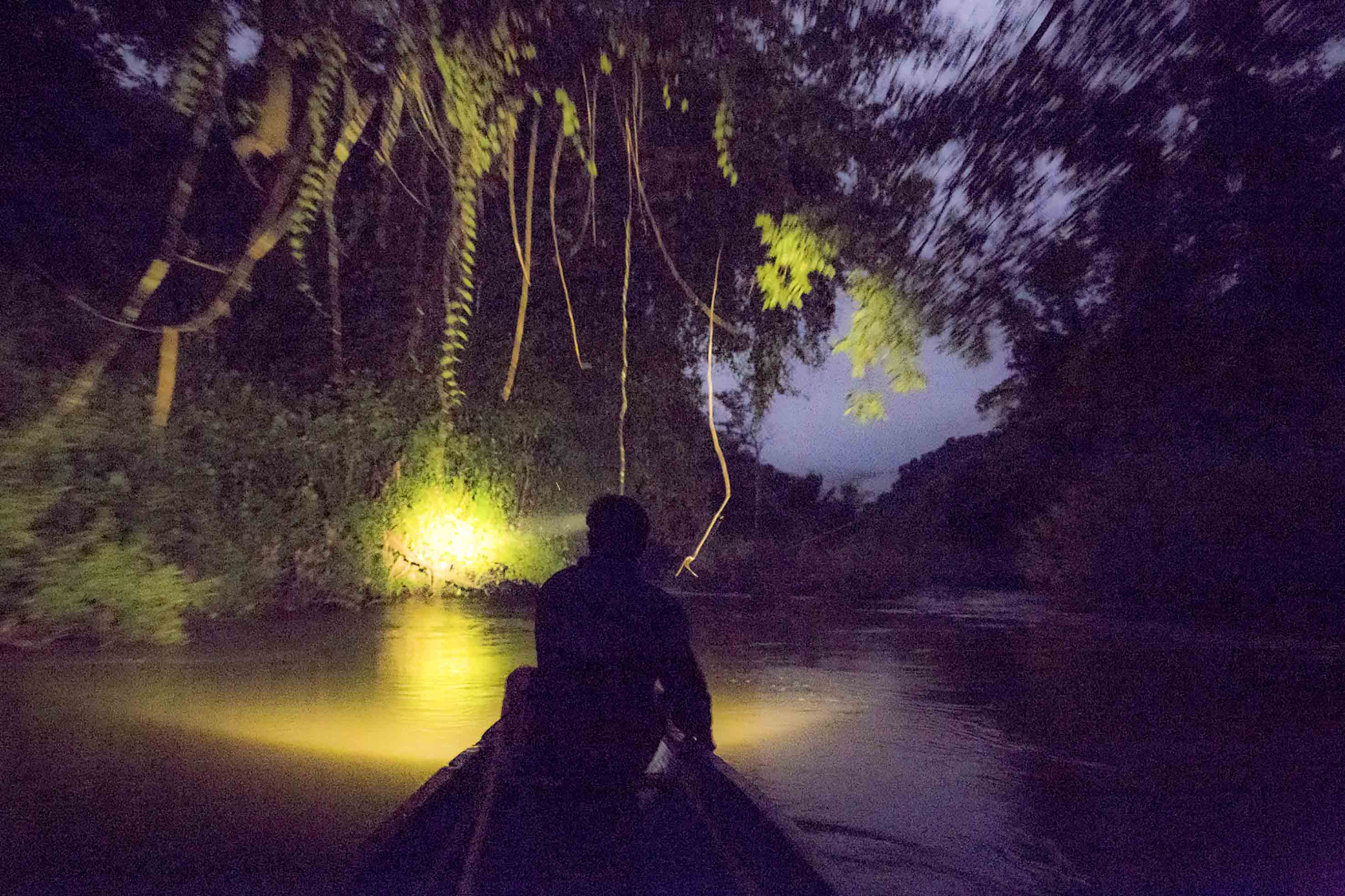 Direct wildlife observations are rare on the trekking tours compared to the Night Safari tour, but lucky visitors can spot various civet species, giant flying squirrels, serow, muntjacs, sambar deer, macaques, and birds including silver pheasants
and hornbills, as well as hear the beautiful morning calls of the critically endangered northern white-cheeked gibbons. Together with the park guide and village wildlife spotter (themselves a former poachers), analyze footprints, scratches, scat, and view camera trap images set along the trail, and you might find evidence of clouded leopard, dhole, or bears.
Challenge yourself on the longer itineraries with a trek up to the summit of Phou Louey the "Forever" Mountain (elevation 2257m) – the highest point of the National Park and the third highest summit in Laos!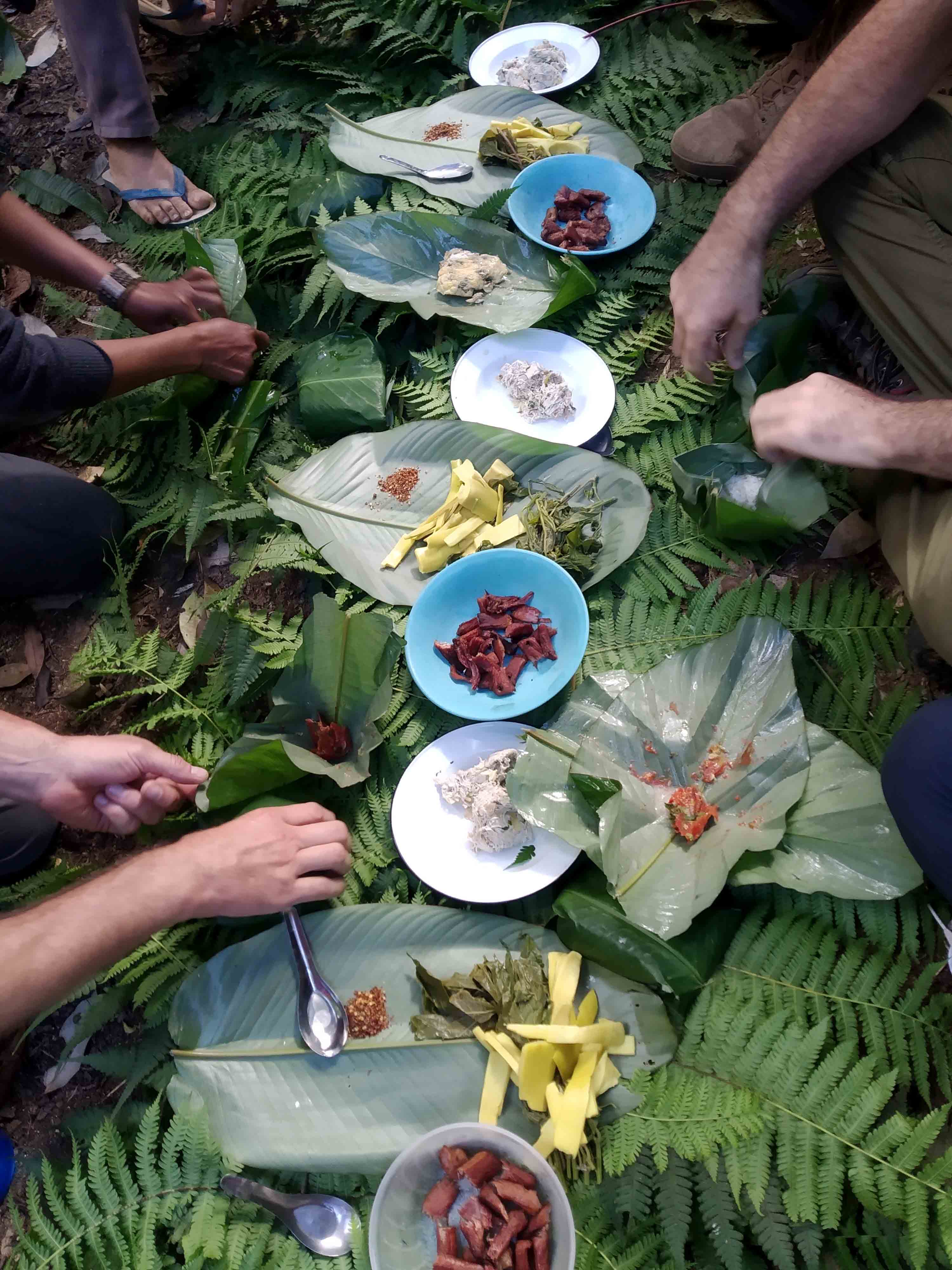 MORE INFO
To learn more about the Nam Et-Phou Louey
National Park please visit namet.org
GETTING THERE
Lao Airlines has regular flights to Xieng Khouang from Vientiane and Luang Prabang. Nam Et-Phou Louey National Park headquarters is in Muang Hiam, a 200km drive north from Xieng Khouang.
Fast facts
• One of the first two national parks and the largest protected area in the Lao PDR
• A rare opportunity to spot wildlife in their natural habitat
• On the Night Safari, the average wildlife sightings per tour have increased from only 4 animals only in 2010 to 10 animals per tour in 2019
• Winner of the Best Responsible Wildlife Tourism Award in 2013 and 2014 at the World Responsible Tourism Awards
• The ecotourism program benefits a total of 26 villages, which represents almost 30% of all villages located in and around the National Park. Ethnic groups represented by these villagers are primarily Khmu and Hmong
Text BY Janina Bikova
PHOTOGRAPHS BY NEPL / WCS Laos / NEPL friends & visitors