Laos' secret jungle retreat
Nam Kat Yorla Pa is a little secret. This jungle retreat, once fairly remote, is only 25 minutes by road from Muang Xai railway station. It's the perfect weekend getaway from Luang Prabang, 45 minutes down the line.
Tucked into tropical forest, the hideaway offers everything from gorgeous pool villas to comfy standard rooms. And an enchanting winding walkway weaves through the lush greenery to all the wooden bungalows overlooking the burbling Nam Kat river.
I arrived, fresh off a morning train. The high-altitude fresh air was a balm. The curated spaces and beautiful design up in the wilds are unexpected. Nam Kat Yorla Pa's lobby is a large spectacular creation fashioned by architects from Vientiane. (The same architects also designed a sister property, Nam Pien Yorla Pa, two hours from Vientiane in the foothills of Phou Khao Khouay National Park.)
The Nam Kat Yorla Pa lobby is striking, and the view took my breath away. The grand entrance hall is lit by an enormous chandelier made from long dangling bamboo tubes. Above the reception, hundreds of slim lengthy cloth pendants hang in a rainbow of colors. It's a dazzling and mesmerizing piece of art. The wide lobby exit frames a view of the teal-green infinity swimming pool resting above the river with the dense forest beyond. With a view like that and the sun shining, I was keen to take a dip.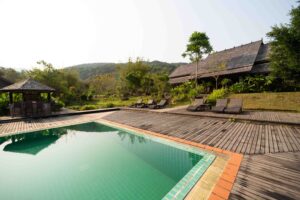 To head to my room after a relaxed swim, I could pass through the fitness and yoga center next to the pool or backtrack a little and walk a small path that arced tiny burbling streams using dainty, humped wooden bridges. I mostly always chose this way as it felt like a meander through fairyland.
Wooden steps flanked by tangled banana plants and orange bird of paradise flowers led me down to a small, roofed gatehouse with saloon doors. Beyond the swing doors were steps up to my bungalow. The bed of my executive room looked out onto the river through floor-to-ceiling sliding glass doors. My private terrace shaded by a sloping roof was perched just above the chunky boulders of the river, the bamboo forest on the far side. My room was spacious and stylish with plenty of bamboo accents – the headboard, lamps, furniture, and the frames of bathroom mirrors.
The resort is set in Khmu country and staff live a short walk away in a reimagined Khmu village of huts on stilts with a path running through it. It's a serene setting focused on rice paddies. Some 50 percent of the staff at Nam Kat Yorla Pa are from the local community; a further 49 percent are from the surrounding Oudomxay province.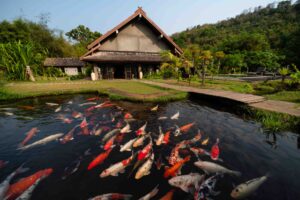 In the hotel's backcountry, a whole host of tours keeps you busy for days. Try ziplining, rock climbing, abseiling, riding an ATV, or visiting waterfalls. The good news is that all these activities begin quite a ride away from the hotel, so the peace of the rooms, pool, and restaurant is never shattered. In fact, it's so peaceful it attracts a party of birds – most of which I'd never set eyes on before in Laos. In fact, if you check the popular birdwatching website ebird.org you'll see the area is a birders' hotspot with a chance to see such beauties as the blue and white Blyth's Paradise Flycatcher or the jewel-like Mrs. Gould's sunbird.
While having an alfresco lunch at the restaurant on a veranda stretching towards the river, I spied a white-capped redstart, perfectly content to hang around. I was more than content to watch it, too. The sun was out, the breeze was minimal, and only the sound of gurgling river water accompanied my meal.
Everything from Lao and Thai food to western grub is available on the extensive restaurant menu. One of my favorite things was scooping up wild honey dripping from a honeycomb laid out at breakfast.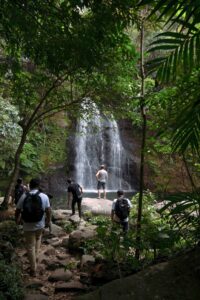 I spent my few days at Nam Kat Yorla Pa walking in sky-high mountains. On my return each day, after long treks to visit Hmong, Khmu, and Akha communities, I sank into my large hot tub for a long bath and booked an oil massage with the resort's on-site masseur. It was all bliss. But here's the thing. At Nam Kat, you can do as much or as little as you like. There's no pressure to take up any of the paid-for 21 high-adrenaline kicks and there's no shame in strolling about, watching the koi carp in the pond, lolling about the sun loungers, and doing very very little.
MORE INFO
visit namkatyorlapa.com
GETTING THERE
Lao Airlines has frequent flights to Luang Prabang from Vientiane, Pakse, Bangkok, Chiang Mai, and Hanoi. Oudomxay is a brief ride from Luang Prabang on the Laos-China Railway.
Text BY Claire Boobbyer
PHOTOGRAPHS BY Phoonsab Thevongsa