For Souphaphone Souannavong, a small space to work in will have long-term rewards.
The life of a freelancer and startup can be a lonely and tough one, especially when you don't even have an office to work from each day. A space to work in – a desk, a chair, and internet connection – is as much about fostering a community as it is about amenities.
Souphaphone 'Nana' Souannavong discovered this pretty quickly when she returned to her hometown of Vientiane after years of studying overseas. Having completed a Masters in Finance in Rochester, New York, she set herself up as a freelancer, to get back into the swing of life in Vientiane. But during her seven months as a freelance consultant, one thing bothered her – she didn't have an office.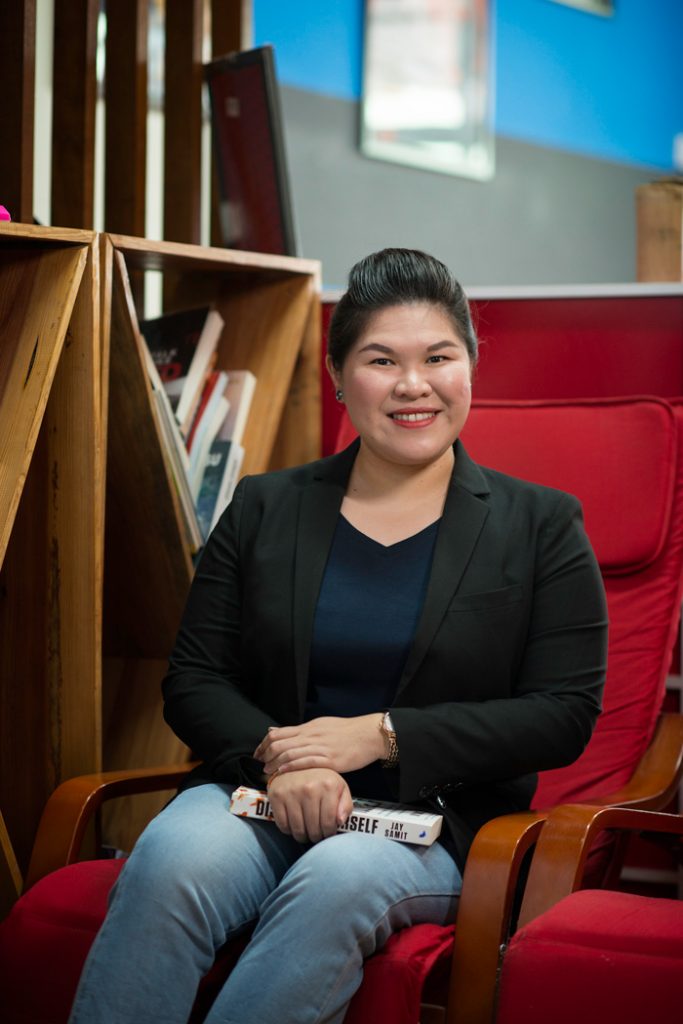 Coffee shops or the house she shared with her big family had to do, and neither was satisfactory. This was back in 2009, and by then, Nana had already started to ponder the possibility of setting up a co-working space in Vientiane – the kind of shared office community that has taken the world by storm over the past decade. But while many of the world's major cities have large and profitable co-work hubs, Nana didn't believe Laos was ready yet.
In the ensuing years, she read about co-working spaces popping up all over the region – Thailand, Vietnam, Indonesia. But it wasn't until she read about a space opening in Myanmar that she really began to take notice.
It's now four years down the track, and Nana is speaking inside what is now an established work hub – Toh-Lao, just off the main riverside road in the centre of Vientiane. The name translates literally as "Lao Table", a concept that speaks to the simplicity of the idea of a co-work space – a place that gives you the basics to work productively. It has already attracted all kinds of tenants – expats on short-term consultancies, foreign freelancers doing visa runs, local businesses needing a registered office space while they get their enterprise off the ground. But it has also become something of an incubator for start-up talent in the tech sector. The space offers both individual desk spaces and private offices, and one of the larger offices upstairs is full to bursting with young programmers, tapping away intensely at computers.
Bizgital, a technology start-up, moved in just 10 months ago with three people. Now, it has 15 staff and counting, and has outgrown its temporary home at Toh-Lao. It's a dilemma Nana is only too happy to be able to solve, with a new space set to open nearby. The company is also a perfect example of why she wanted to set up the space in the first place.
Apart from her personal need for an office and a focused working community, she says she wanted to test a personal theory she had about Laos.
"I wanted to prove something, because Lao people, especially young people, we always have this belief that we don't have entrepreneurs – real minds," she says.
"For example, when you're in college life, you might have some idea of wanting to start your own business, but then when you actually graduate, your parents will say, 'Don't do a business, it's too risky. Do something else, work for the government, work for a big organisation'. So that's why I wanted to check it out, whether this country has hope for start-ups or not."
She also wanted to expand her own career as a financial advisor, and explore what she had been noticing more and more in Laos – the number of investors who were ready to take risks. The country was ready, in other words, for a start-up community, and it was time to, well, start one up. It was a challenge, at first, to get many locals to use the space, much less up-and-coming businesses.
"Lao people probably thought, what is a co-working space, why come to this office with just a chair and a table? What are we going to do here? They don't realise the value of the community here," she says.
She began running free workshops and seminars to spread the word about the possibilities of working in a shared space, without the pressures of renting an exclusive office. She also organised the first Lao chapter of the international event Start-Up Weekend, a kind of intensive pop-up event that's an opportunity to pitch ideas for a start-up and get feedback from a community of mentors and successful businesspeople. This was back in 2014, and more than 50 people signed up, more than half of whom actually took to the stage to pitch their ideas.
Nana's theory was proven, at least in the world of tech start-ups. While she still tries to keep a range of tenants in the original space – foreigners, consultants, local freelancers – her new space will have a more concentrated focus. And while she sees Toh-Lao as a type of incubator – "we make a little idea happen to make a business, but it takes longer because we let them grow organically" – the new space will be an accelerator.
"It's where, when you have an idea, and you have a team of people, you bring them in, you give them a lot of mentors, you put mentors to work with them, to make sure that they can actually go to market and launch their business within three to six months," she says.
Bizgital is the perfect example of a potential tenant for the new – as yet unnamed space – initially a group of "hardcore programmers" unaccustomed to doing business, who have since been matched with an established investor, and have now shifted their model to digital marketing and IT consulting.
Toh-Lao is now part of the wider co-work space ecosystem, partnering with other such spaces in neighbouring countries so that members can access the same space and benefits when moving between countries.
What Nana wants most of all is to find a start-up champion – a person or business committed to growing small businesses and helping ideas flourish.
"That's our immediate goal, and we really hope that with the acceleration program, we can make it happen faster," she says.
But she is realistic about the comparatively slow pace of the market in Laos.
"If we look into the whole eco-system itself, the problem is still with the skills and education, so we hope that in the future we can play some role to have some courses dedicated for start-ups and entrepreneurs, not like subjects they learn in universities and college," she says.
"The way that start-ups think, you have to disrupt the industry, basically you have to be creative and think out of the box. So that's very important, to set the right mindset for them, and I believe it comes from education, it comes from younger age, and we hope to be able to contribute in the long run."
Words: Sally Pryor