Slow down to experience the dreamy pace of island life
When I first visited Si Phan Don, which literally translates to Four Thousand Islands, I had the feeling that the pace of life in the rest of Laos might be a little fast. Here is where I came to understand the true meaning of 'sabai-sabai' or 'taking it easy'. At the southernmost tip of Champasak Province, on the border with Cambodia, the Mekong River expands to its widest breadth, up to 14 kilometres, until it reaches the South China Sea. As the river falls in the dry season hundreds of islands reappear, some no more than just the top of a tree, to unveil an extensive archipelago. In a landlocked country this is as close to an island paradise as you'll get.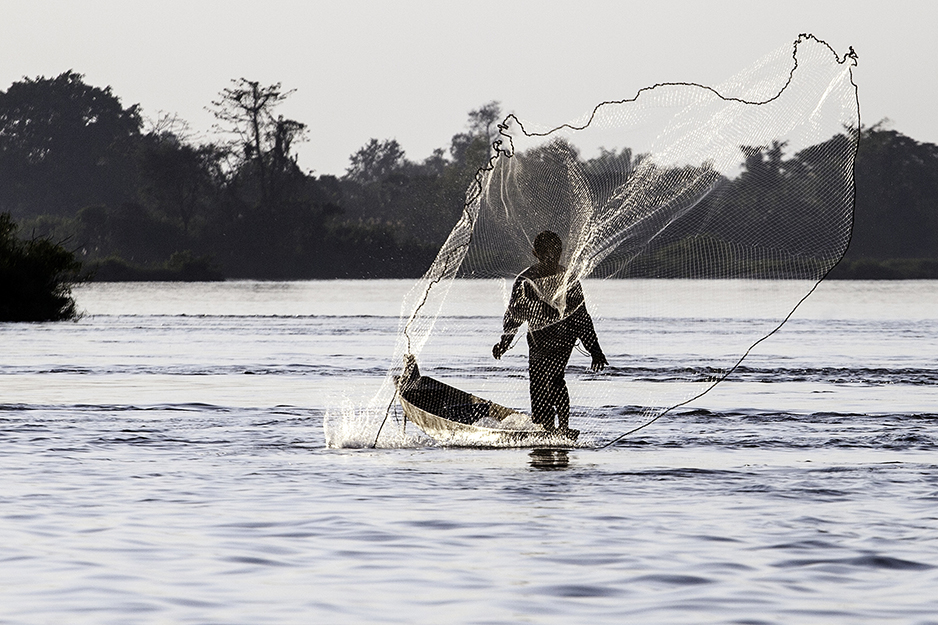 I travelled the two-and-a-half-hour journey from Pakse to Nakasong Pier by taxi and hopped on a small boat to Don Khone Island. As the boat driver navigated our way through the maze of islands I was overcome with a sense of tranquility. There is an innate calmness about this place. Twenty minutes later I was on Don Khone where I checked into the lovely Sengahloune Resort, took a quick dip in the pool, and headed out to explore the island. I made my way to Li Phi Waterfall, a spectacular site where the mighty Mekong goes vertical. I sipped from a fresh coconut on the beach and watched the sun set over Cambodia, before heading for the nightlife on Don Det. After a short and bumpy taxi ride I ended up at Adam's Bar, where I enjoyed some good music, a mean gin and tonic and a few games on their foosball table. While getting to know some of the locals, I got the sense that some people just wash ashore here and never leave.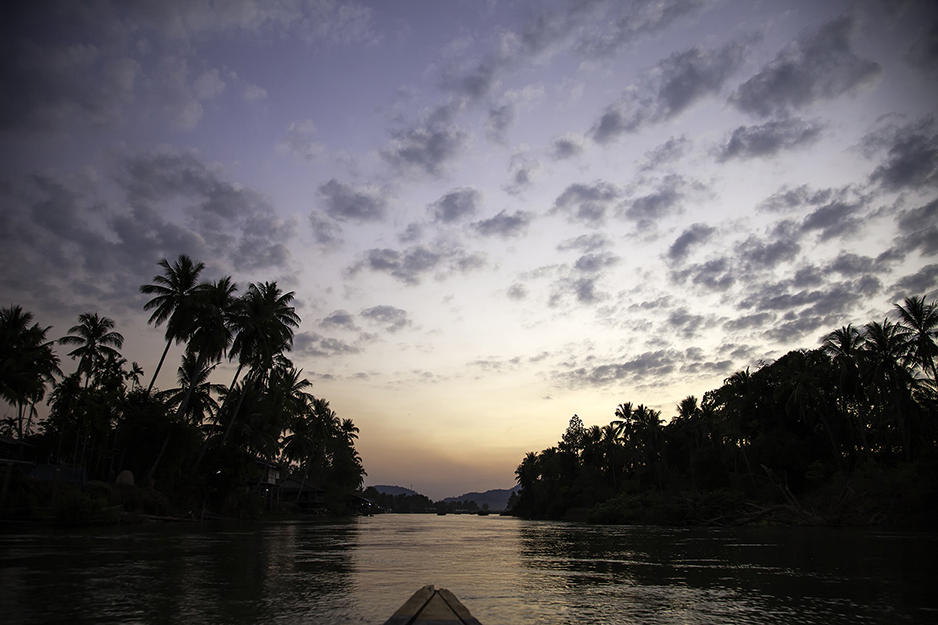 The next day, I decided to take a day tour. My options included: a boat trip to see the Irrawaddy dolphins, a visit to Khone Phapheng waterfall (the largest waterfall in Asia by volume), bicycling and kayaking around the islands – all worthy . However, I opted for something a little off the beaten path: The River Life Experience Tour. This is an authentic excursion that offers visitors a chance to witness daily life in Si Phan Don and to interact and learn from the locals. The tour also directly benefits local tour guides, tour operators and villagers.
I met up with my guide, Mr. Sai, on Don Det and we headed out on the 45-minute journey to Don Loppardi Island. Unlike Don Det or Don Khone, which cater to tourists, the island of Don Loppardi seems untouched by foreigners. Wandering through the island, I felt as though I was seeing life as it's been for hundreds of years (except for the occasional motorbike). We visited a Buddhist temple, with an impressive seven-headed Naga, just as the villagers were bringing offerings to the monks for lunch. Mr. Sai brought me to a local distillery where LaoLao, the ubiquitous and dangerous rice whiskey, is made. After a shot – or two –  I felt brave enough to try my hand at some basket weaving. A local artisan was kind enough to teach me how to weave a sticky rice basket, although I never got close to the breakneck speed that these ladies work at.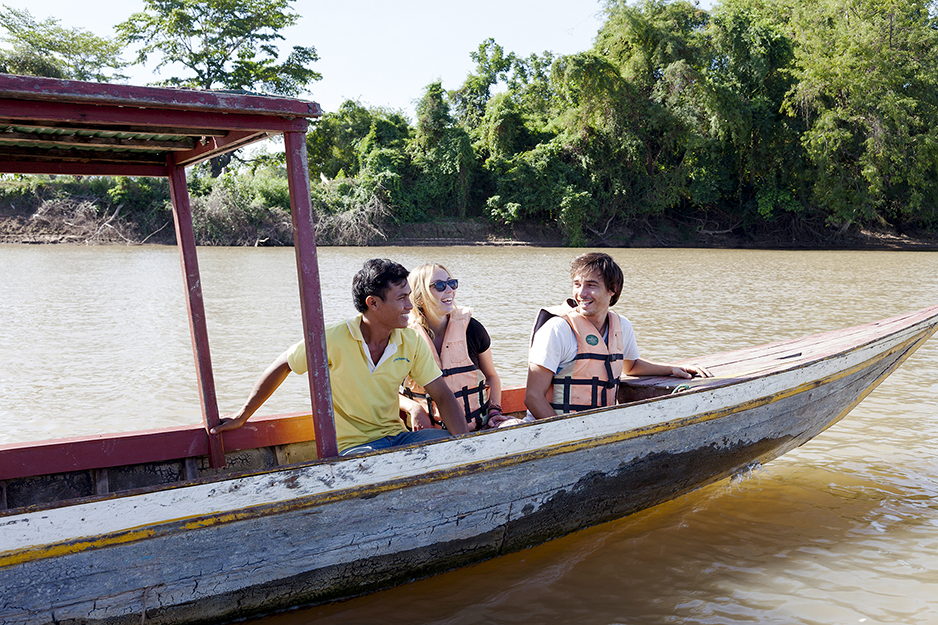 We departed Don Loppardi and headed out for the main event of the day, a lesson in traditional fishing methods from a local fisherman. He showed me the different techniques people have been using to catch fish here for hundreds of years and taught me how to throw a fishing net. After a few tries, I caught a silver-scaled fish about the size of my hand, which was definitely justbeginner's luck. Ten minutes later, my catch was roasting over a fire along with some proper meal-sized Mekong fish. We sat together on the beach and ate our fish with sticky rice, jeo (a spicy dip), and papaya salad; a real Lao-style lunch. This tour really highlights what makes Si Phan Don so great: the relaxed pace of life, beautiful untouched nature and genuinely kind people.
Where to stay:
Sengahloune Resort on Don Khone recently built a new hotel that has the some of the nicest rooms on the Islands, complete with fabulous Mekong views and a relaxing pool. Sala Don Khone, as the name suggests is also located on Don Khone, boasts classic French colonial architecture and floating rooms. Little Eden offers quality service and accommodation, the only pool on Don Det and one of the best sunset views.
Where to eat:
Chez Fred et Lea offers up some classic French and Lao dishes, give the Mekong fish steamed in banana leaf a try. Mama Leuah restaurant has a peaceful atmosphere and the best German-style meatballs in the South. You're guaranteed friendly service and good coffee at Mr. Mo's Restaurant where the fish hot-pot is second to none. Adam's Bar has wonderful cakes and boasts the best burger on the Islands.
How to book the river life experience tour:
General enquires and booking can be made by email at riverlifeexperience@gmail.com or by contacting the tour operators: Green Paradise Travel (greenparadisetravel.com / +856 (0) 20 5575 9252) and Wonderful Tours (+856 (0) 20 9759 8666)
How to get there: Nakasong is located 144km south of Pakse. Taxis are available through many travel companies in Pakse. Buses depart daily from Pakse to Nakasong, tickets can be arranged through hotels and travel companies. In Nakasong, boat taxis depart for Don Det and Don Khone and tickets can be purchased at the pier.
Text: CONNOR BEDARD
Photos by: BART VERWEIJ & SWISSCONTACT