Cambodia's Rejuvenated Seaside Sanctuary
Crystal-clear waters gently lapping at soft white sands, vibrant markets brimming with local delicacies, and a lively nightlife scene that promises endless entertainment – welcome to Sihanoukville, Cambodia's gateway to paradise. Nestled along the Gulf of Thailand, this enchanting coastal gem has become the go-to destination for travelers seeking a serene escape with a touch of adventure, and recently, as a promising host for meetings and corporate events.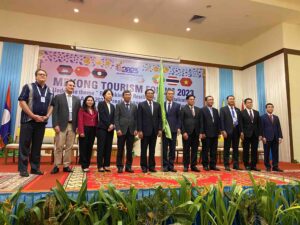 A Royal Touch
Sihanoukville was named in honor of King Norodom Sihanouk, the late monarch who ruled Cambodia for over six decades. It is the only deep-water port city in the country and was established in 1955 to foster international trade and economic growth.
The Mekong Tourism Forum 2023 recently underscored Sihanoukville's growing importance as a regional hub. Held at the esteemed Independence Hotel, over 200 delegates from both local and international spheres convened to contemplate the theme, "Rethinking for Resilience and Digitalization". The city's successful hosting of such a crucial event attests to its potential as a meeting, incentive, conference, and exhibition (MICE) destination.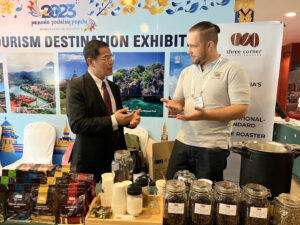 This prestigious forum was a collaborative effort between the Ministry of Tourism, Cambodia and the Mekong Tourism Coordinating Office (MTCO). Participants, drawn from public and private sectors, convened to explore the future of Greater Mekong Subregion (GMS) tourism, discuss the role of digitalization in spurring post-COVID-19 recovery, and foster sustainable tourism practices.
Across the GMS, sustainability remains at the heart of tourism initiatives. In Laos, Plan International's SUSTOUR project and the Lasting Laos certification encourage green practices, while Vietnam is boosting its sustainable coffee farming sector. Thailand, too, reinforces its dedication to eco-tourism through the rehabilitation of Maya Bay. The Asian Development Bank is supporting climate-resilient public infrastructure development and training to improve tourism management across the region. Together, these efforts emphasize a strong commitment to a sustainable future.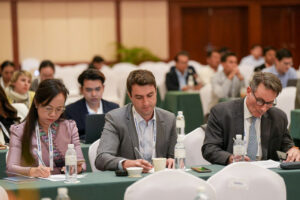 Sihanoukville's coastal allure is evident in its expansive golden-sand beaches, each with its unique charm. Serenity seekers will appreciate Otres Beach, while the more energetic may prefer the lively atmosphere of Ochheuteal Beach, packed with beach bars, restaurants, and water sports. No trip to Sihanoukville is complete without a visit to the nearby islands, such as Koh Rong and Koh Rong Sanloem, where azure waters and white sands create a tropical paradise.
The Water Festival
​​The lively Water Festival in Sihanoukville is a must-experience event, celebrating Cambodian culture against the backdrop of stunning coastal scenery. Witness exhilarating boat races as locals demonstrate teamwork and strength, while the enchanting Loy Pratip ceremony illuminates the night with floating lanterns to pay homage to the water spirits. Don't miss the opportunity to create unforgettable memories and immerse yourself in the heart of Cambodia's coastal charm during this vibrant celebration.
The city's natural beauty comes to life at the Ream National Park, home to mangrove forests, diverse wildlife, and the vibrant local fishing community. Witness the majestic beauty of Kbal Chhay Waterfall, just a short drive from the city center, or take a boat tour through the mangroves to truly immerse yourself in the natural wonders of the region.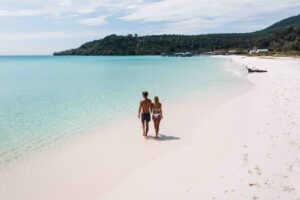 As night falls, indulge your taste buds in the local cuisine at Sihanoukville's bustling markets and street food stalls. Savor freshly caught seafood grilled to perfection, and don't miss trying the famous Cambodian amok (steamed fish curry) or the classic num banh chok (a rice vermicelli soup).
Don't wait another moment to experience the wonders of Sihanoukville, where the perfect blend of natural beauty, culture, and entertainment awaits.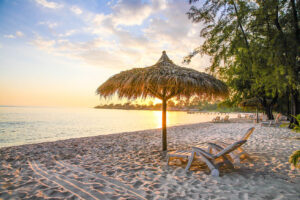 GETTING THERE
Lao Airlines operates flights between Vientiane and Siem Reap, from where you can begin your overland Cambodian exploration to Sihanoukville. Lao Airlines also offers a codeshare flight from Vientiane to Phnom Penh, then Sihanoukville is a short drive away.
Text BY Aditta Kittikhoun
PHOTOGRAPHS BY Cambodia Ministry of Tourism, Mekong Tourism Coordinating Office