Caring for elephants is a jumbo task.
On a bulge of land on the Nam Tien Lake in remote northwestern Laos is a retreat for elephants, many rescued from punishing logging work. The 34 elephants, including three babies, spend their days eating, bathing, and training to undergo health checks, while scientists contemplate their future. 
The Elephant Conservation Center established in 2010, but whose team has been working for the protection of the Asian elephant since 2001, invites visitors to observe these diminutive pachyderms on their own turf. They were also recently granted the Conservation Gold Award by Asian Captive Elephant Standards, an independent auditing service for elephant-based tourism. So I signed up for a three-day program to walk with the elephants, observe their habits, prepare their food, and get a fast-track education about these endangered animals. And, thanks to a new fast road from Luang Prabang to the center in Sayaboury province, plus door-to-door service provided by the ECC, the trip was seamless end to end. 
Laos, once known as "the Land of a Million Elephants" today faces a critical situation: only around 400 captive elephants remain and around 300 survive in the wild. 
Over coffee, in the center's open-sided restaurant our guide, Mr. Pong, explains that wild Asian elephants face existential threats due to loss of habitat through deforestation, and poaching: elephants are in high demand for their skin, bone, and tusks. And captive elephants, once working in the logging industry are now unemployed, as the government outlawed logging in 2016. There are few safe natural habitats left for Elephas Maximus. Too few babies are being born, too.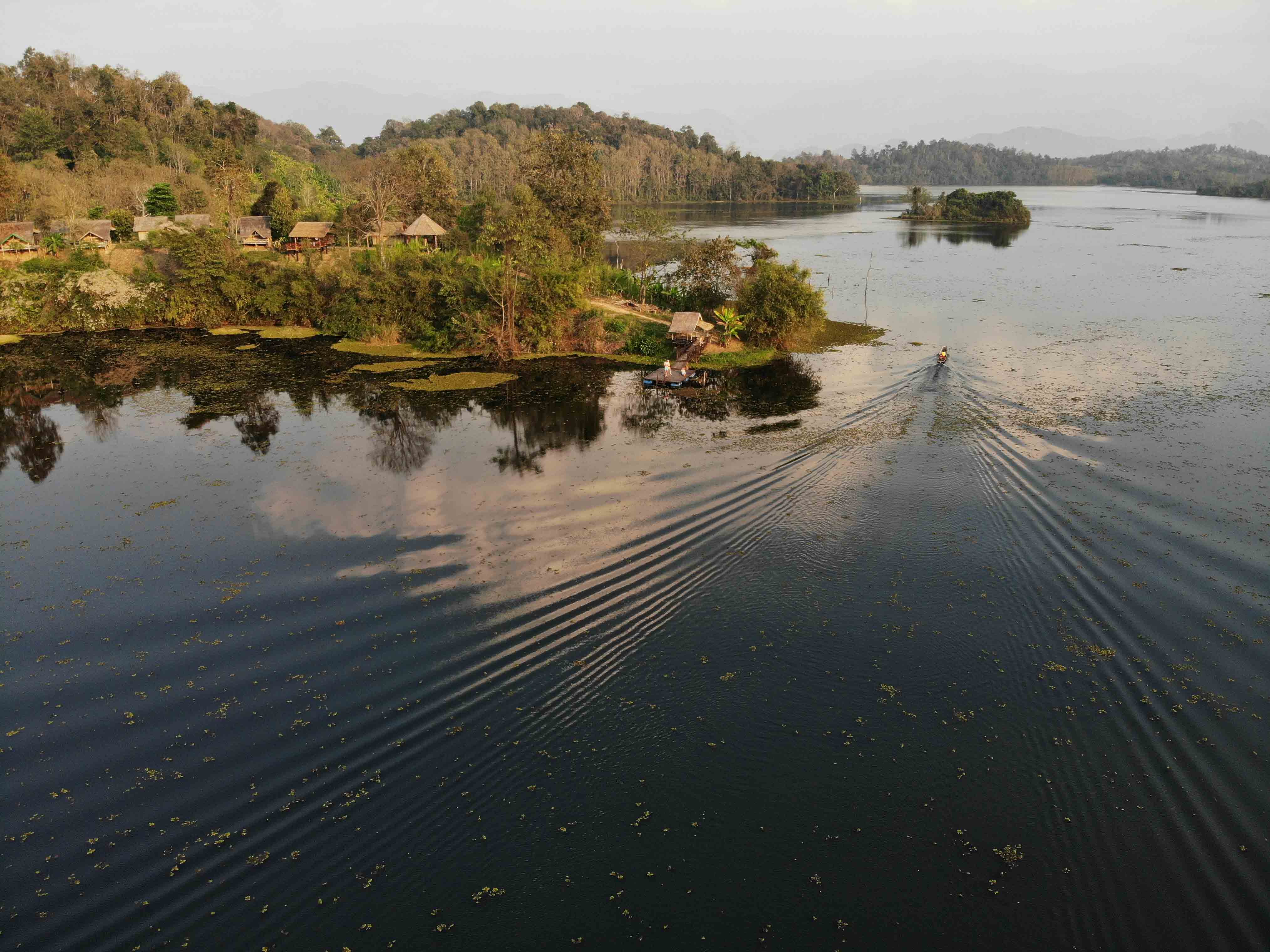 "Historically, mahouts didn't want their female elephants to get pregnant as they can't work for all 22 months of gestation," Mr. Pong tells us "but the ECC is trying to change that with a new breeding program to ensure the future of the Asian elephant in Laos."  
While elephants spend 17 hours a day eating 200 kg of plants and gulping 80–200 liters of water, we humans have more regular dining hours. We hiked over a jungly hill for our lunch in a bungalow overlooking a secluded corner of the lake. In the distance, we heard trumpeting and turned to see several elephants stuffing banana trees into their mouths. The group snorted and dribbled, and five-year-old baby Do Khoun Meuang squealed before sinking completely into the water. It was magical to watch.
Back at camp, we examined  outdated instruments, training hooks to persuade the animals to move one-two ton logs long distances each day, and howdahs which used to carry humans on elephant backs,
before going on to meet vet assistant Mr. Kan at his training station outside the ECC's health clinic. Here elephants are taught how to lift their foot, step on scales, and open their mouths for check-ups using "positive reinforcement" techniques. 
Behind the clinic, an elephant skeleton towered over us, and Mr. Kan used the mammoth display to help deliver a class in unusual facts: elephants sport three eyelids like crocodiles; their teeth are replaced six times over their lifetimes; their penis weighs 27kg, and is a meter long. My mind boggled.
Visitors on the three-day stay watch Mr. Kan at work with his trainees: he slaps the behind of female Mae Khoun Two so she lifts her tail; and he checks her mouth, tusks, and ears. She doesn't seem to mind as she's trunk-deep in a food basket while Mr. Kan fusses.
This training must help when visitors are allowed to approach. In a teak patch, below the clinic, we're invited to get a close-up view of the fascinating wobbly lower lip. The sound of banana stalk being crunched, watching the gaping mouth, hairy chin, candy pink inner lip, pink speckled ear tips, long eyelashes, and wrinkled elbow skin – just like ours – before they meander down to the lake to bathe is all grippingly interesting. 
We also need freshening up, and head to settle into our thatch-roofed bungalows with gorgeous lake views. From my terrace, I watch a deep rose-pink sunset; framed by bamboo sprays, sink behind the hills as kayakers' strokes wrinkled the glassy sheen of the lake below.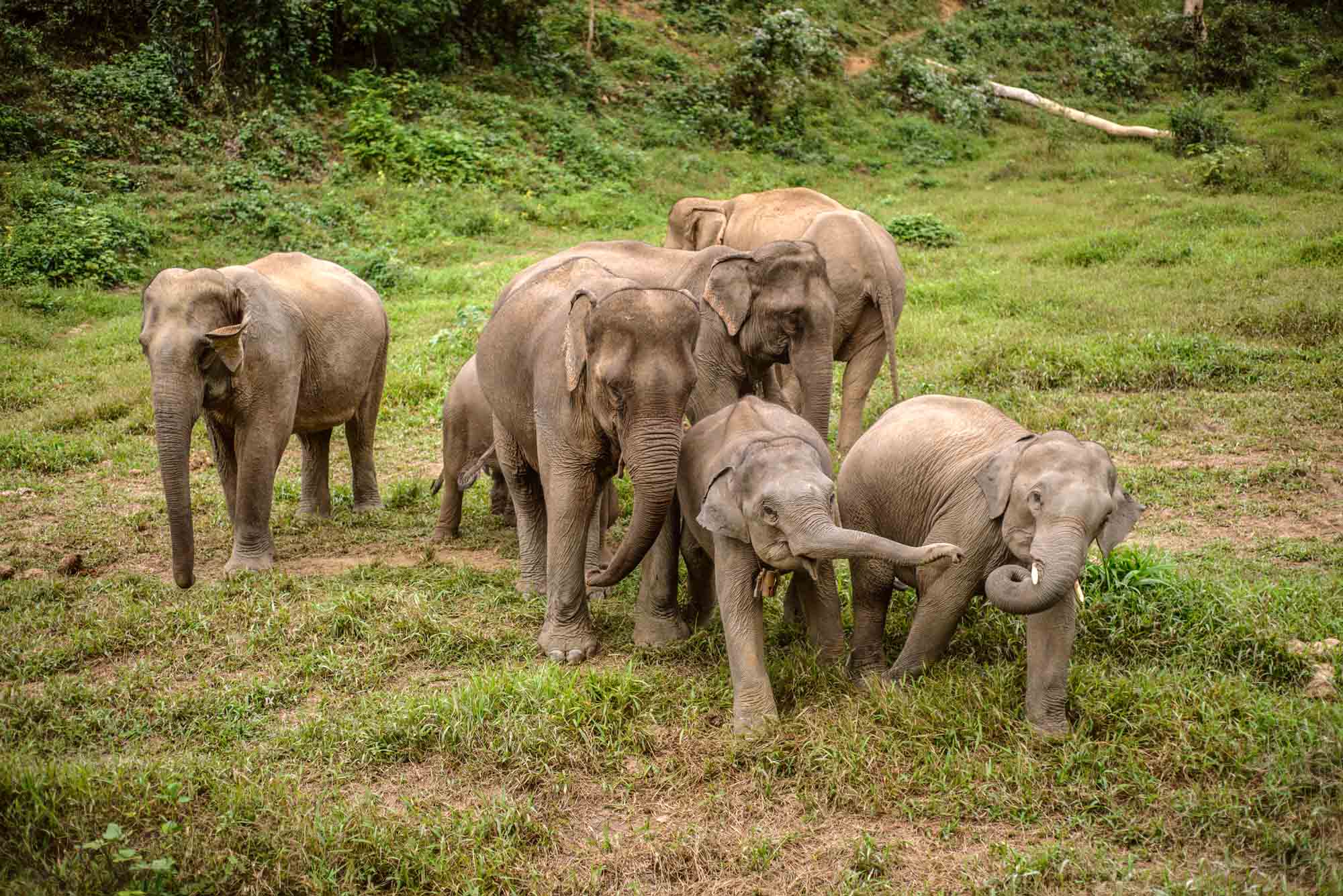 Before a communal dinner of rice noodle soup, Spanish biologist Anabel López Pérez talked to our group about the future of Asian elephants in Laos. 
"If we don't change the situation, there'll be no Asian elephants in Laos in 50 years," she says. "If we want to save the elephants, we have to save the forest. We are not magicians…but the fight starts today."
Part of that fight involves releasing elephants back into the wild but before that can happen elephants must socialize together. We witnessed this on our next morning. After a hike over hills walking behind the elephants that step over huge piles of turd and unleash waterfalls of piss, we watch eight-month pregnant Mae Kham Ohn stand shoulder to shoulder with Mae Ven and Mae Khian. They poke trunks into each other's mouths to check each other out, trumpet, purr, growl, and scratch with their trunks and chin. It was hypnotic, and the highlight of my trip being able to watch them bonding from just a few feet away.
On our last morning, we helped prepare sensorial enrichment – papaya, rice, pumpkin, flowers, bananas, and salts – a technique that reduces stress and encourages new elephants to socialize. We hide food under wood, in trees, and on poles in an enclosure, then observe the animals from an observation post as they tear up tires and planks for the nosh. 
It was a privilege to take part in the center even only for a few days. As Mr. Pong reminded us:  "The ECC's approach – ecotourism for working elephants – is a good solution, to safeguard the animals' future."
GETTING THERE
The Elephant Conservation Center is located in Sayaboury Province. Transfers from Luang Prabang are available.
MORE INFO
Support the ECC through Eat like an Elephant: look for restaurants across offering vegetarian menus with proceeds devoted to the Center: elephantconservationcenter.com/eat-like-an-elephant
Text BY Claire Boobbyer
PHOTOGRAPHS BY Paul wager / ECC / Tibostudio