A street food gourmet guide to Luang Prabang
Asia is famous for its plethora of excellent street food and Luang Prabang is no different. Roads are lined with a cornucopia of stalls, small shops, and carts selling items from banana roti to boiled quail eggs. It can be daunting to know what is worth trying and what should not be missed. So, this guide can help you explore the culinary pleasures of the city!
Eating options are most varied in the morning. Lao people are early risers and are often at the market at 4 AM so breakfast is the perfect time to experience the town coming alive, watch the monks receive alms, and eat your way around town.
At the stands near Dara Market, you can find khao jee pate, a doughy dense baguette filled with sliced pork, shredded omelet, sweet pork floss, pickled carrots, cucumber and topped with sweet chili sauce, and fresh coriander. A lasting legacy from the former French occupation of Laos, baguettes are popular and sure to satisfy your cravings if you need a carb fix.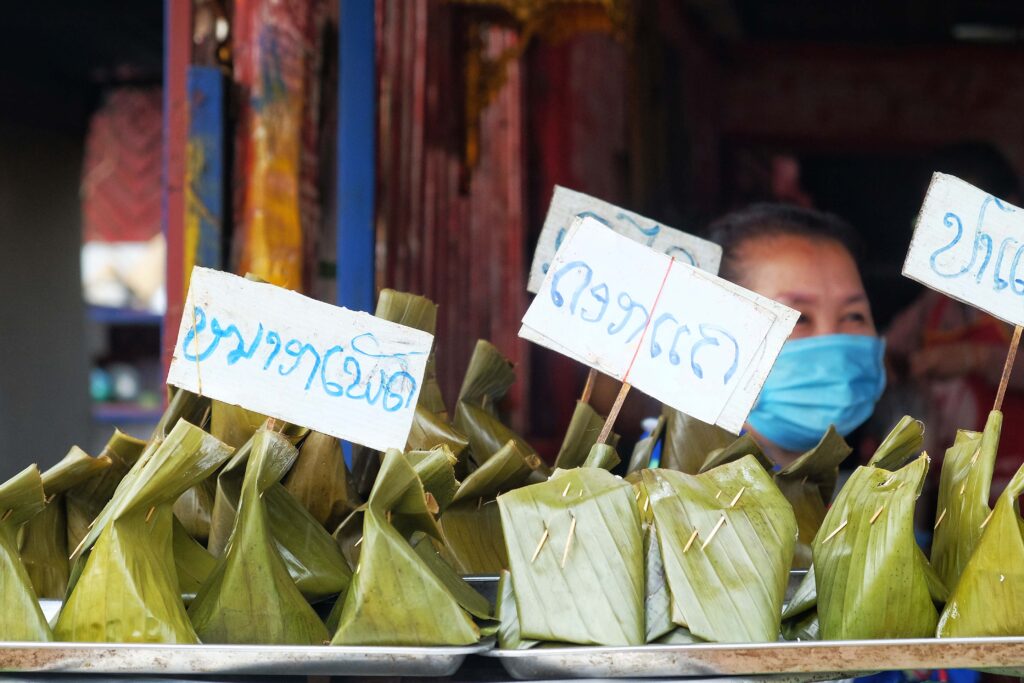 You could also head to the corner of the Mekong and Morning Market to the busy shops offering khao piak khao, a thick comforting rice soup containing tiny orange dried shrimp, pork meatballs, shitake mushrooms, and pieces of pork on the bone topped with a boiled egg. Sit at their terraces on the Mekong across the road and try rich steaming viscous Lao coffee, with its dollop of sticky sweet condensed milk in the bottom of the glass, and watch boats chug by on the river. A great way to start the day.
After giving alms to the monks near Wat Sene skip across the street to one of the oldest food spots in town. Mae Chan's is a popular neighborhood eatery and famous for khao soy and their super fresh herb plate. Having nothing in common with its namesake in Thailand, Luang Prabang khao soy is a kind of Lao spaghetti bolognese. Fresh rice noodle ribbons or thin dried vermicelli are topped with beansprouts, shredded pork, and the unique umami khao soy paste – a mixture of fermented beans, ground pork, and tomatoes – and then a steaming hot savory broth is ladled over.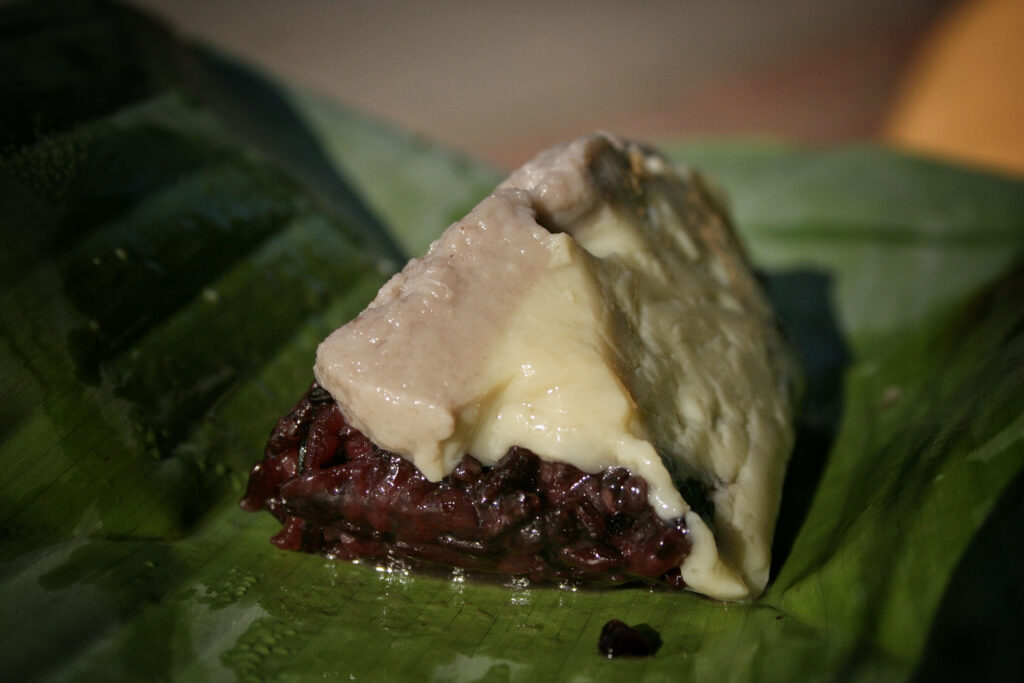 Add in the herbs off your plate, from peppery watercress to sawtooth coriander with its strong kick, anise-flavored basil, and cooling mint. Splash in some soy sauce or fish sauce, sugar, and house-made chili powder to taste and enjoy. Try to go early, as the shop often sells out before noon.
At the market, many vendors' tables are filled with small items wrapped in glossy dark banana leaves secured by toothpicks. Mok is a way of steaming items to seal in the juices and lend its contents aroma. If in season, it's wrapped in a banana leaf and steamed. Mok pa daek, takes its name from the addition of Laos' famous pa daek (fermented fish sauce) lending a savory rather than fishy taste. Finely minced pork is mixed with shredded lemongrass, fresh dill, and garlic, dotted with chewy slivers of dried buffalo skin and studded with whole chilies. Mok can contain anything from bitter seasonal flowers (mok lin mai) to bright orange freshwater crab (mok pou), ant eggs (mok khai mot), or gelatinous dark green Mekong riverweed (mok khai). Peppers stuffed with pork (mok mak phet) are not too radical an introduction if you would like to work your way up the mok ladder.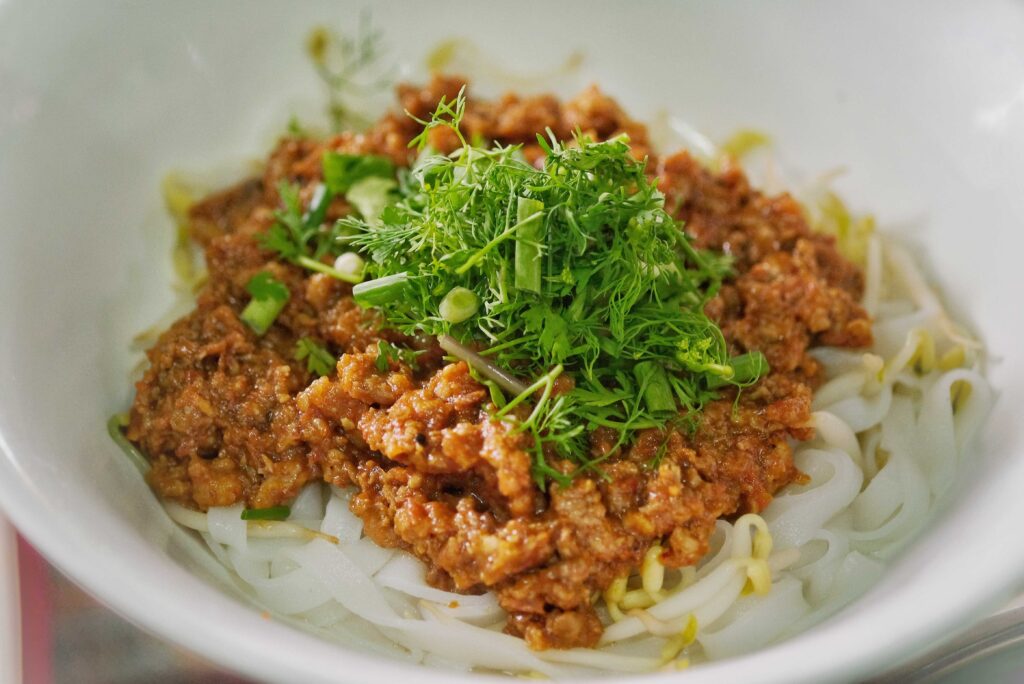 Clouds of smoke billowing and heady aromas lead your nose to discover further tasty morsels sizzling on the grill. As well as the regular choices of chewy sour pork belly skewers, marinated chicken pieces, or lemongrass stuffed Tilapia fish, do try a warm juicy Luang Prabang sausage (sai oua). The herby and fragrant local banger is filled with chunky ground pork, flecks of fresh green coriander, and bright red chili flakes, which are both spicy hot and tangy. It's one of the town's most famous dishes and rightly so. Look for it around the morning market and outside the Lao Red Cross sauna.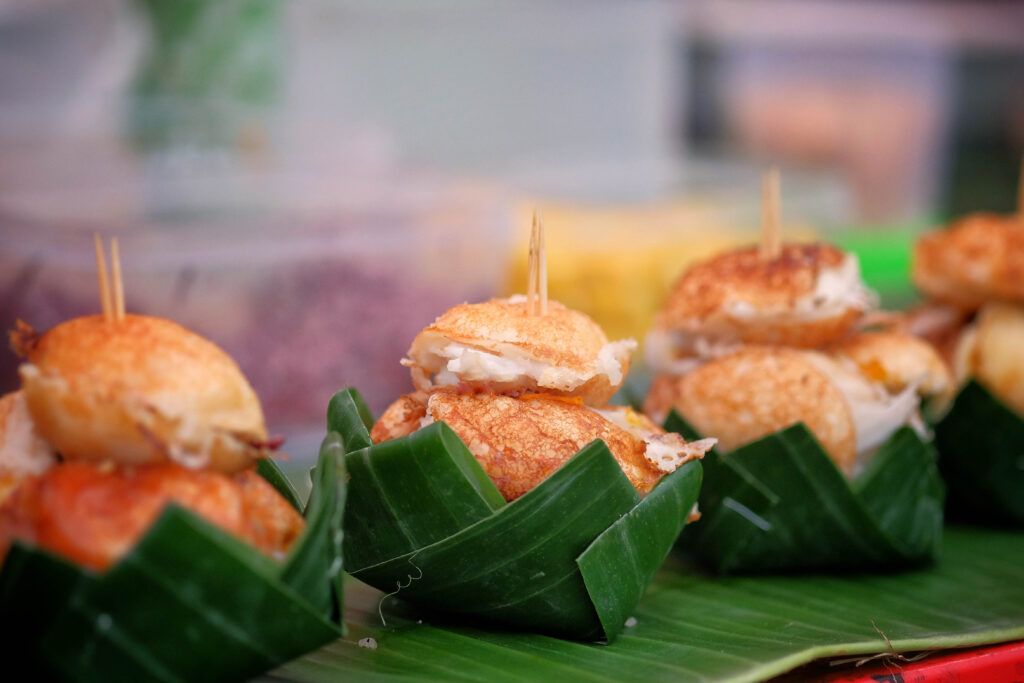 You may also come across women huddled over black cast iron pans with large round molds for cooking coconut batter cakes (khao nom khok). Crispy and hot outside, while silky rich and creamy sweet inside they are very moreish, served in a banana leaf with a toothpick for eating on the go. Purple and white rice cooked in sugar and coconut milk and served in a banana leaf topped with a rich eggy coconut custard (khao kam) is usually sold by pedestrians with lurid plastic insulated buckets suspended from their necks and is another satisfying snack to eat while wandering around Luang Prabang's charming streets and alleys.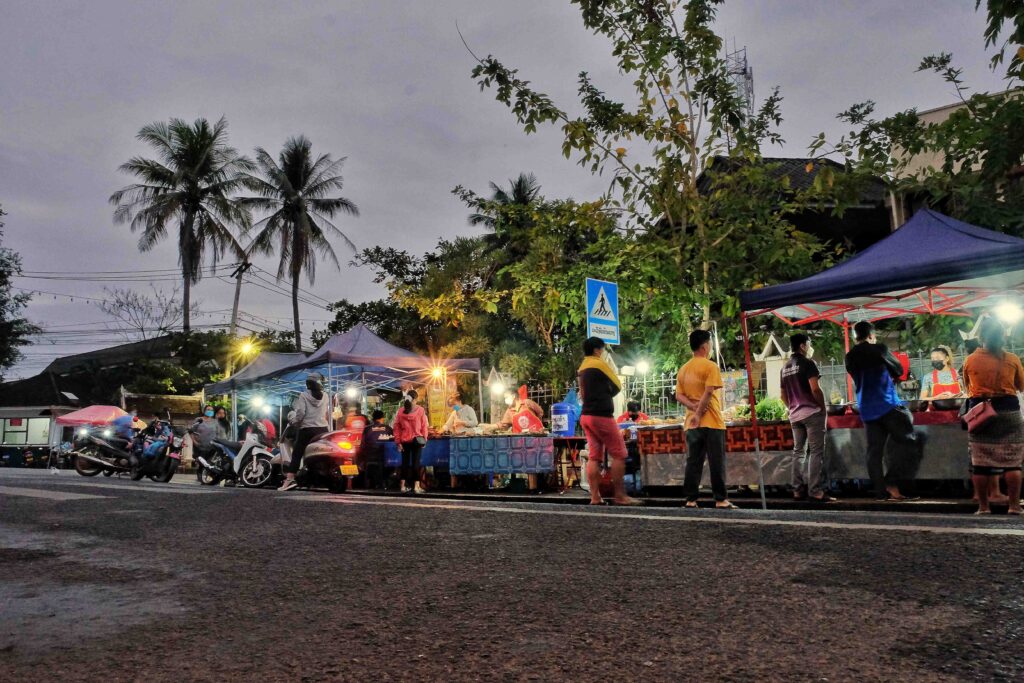 Luang Prabang has some unique dishes on offer for visiting foodies. Joining people at a local stall is a great way to meet locals and make new friends.
MORE INFO
If you would like to dig deeper into Laos' cuisine, an excellent free resource is the Boat Landing Cookbook (foodfromnorthernlaos.com) containing stories, photographs, and many dishes from northern Laos. It also has a useful glossary of ingredients to help you try to recreate your personal favorites at home.
Text BY Anita Preston
PHOTOGRAPHS BY Anita Preston / Evensong Film