This remote province has plenty to delight every visitor
The northeastern province of Houaphan is truly an unseen area of Laos, and its remote location means it has not become too touristed. The province is full of spectacular scenery from rugged mountains to beautiful waterfalls to unusual caves. Houaphan is also full of diverse and interesting ethnic groups, beautiful weaving traditions, and a rich history all its own. With the planned opening of a new airport, Houaphan will see many more travelers in the future. So if you want to see Houaphan in its natural state, visit now before the tourists come.
Sam Neua
Houaphan's provincial capital is Sam Neua, a market town. The handicrafts of the Hmong, Tai Dam, Tai Daeng, and Tai Lue ethnic groups are offered on market days in this town on the Sam River. This quiet village, nestled in some of Laos' most stunning mountain scenery, served as the revolution's nerve center. The majority of visitors come to Sam Neua as a base for seeing the region's remarkable historical and natural treasures.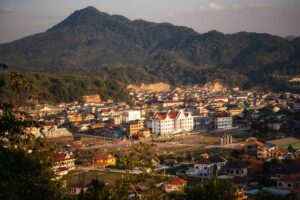 City Pillar
Many places in Laos have city pillars, which date back to pre-Buddhist beliefs. They are said to be home to guardian spirits that look after the city's health and safety. Locals believe in these powers and provide incense and flowers in exchange for wishes of health, success, or riches. In Sam Neua, the city pillar is located at a prominent intersection and is ornamented with traditional motifs.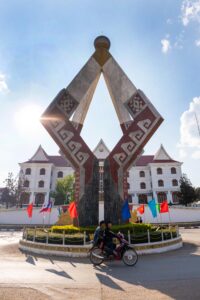 Houaphan Quang Ninh Friendship Park
Locals flock to this large open space in the heart of Sam Neua to exercise, especially early in the morning and evening. The large standing stones represent the famous ancient stones known as Hin Tang, which are located in the province.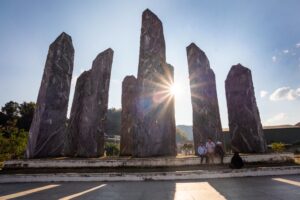 Wat Sibounheuang
The breathtaking vistas of the surrounding landscape are one highlight of this temple. It is situated on a mountaintop with a panoramic view over the town of Sam Neua and the surrounding mountains. Visitors also visit to worship the famous Phra Chao Ong Teu statue.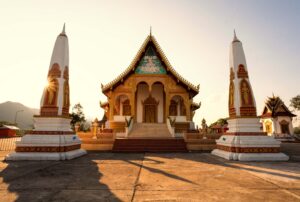 Nam Noua Waterfall
The Nam Noua Waterfall is one of Laos' most breathtaking. These waterfalls are particularly beautiful in the rainy season, when they are at their largest, with an 80-meter drop over two ledges.
It is a good spot for a picnic and a swim in the pools below.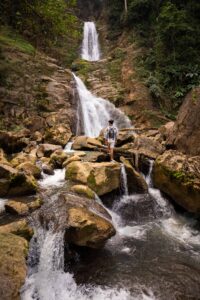 Revolutionary Caves
The Lao resistance movement's headquarters were located here. The Pathet Lao's revolutionary leaders all built their strongholds in caves in Houaphan Province in 1964. With hospitals, offices, schools, a printing press, and markets all within the caves, they became the hub of the Pathet Lao independence struggle. Get a tour guide from the Visitor's Center to really understand the history of this area.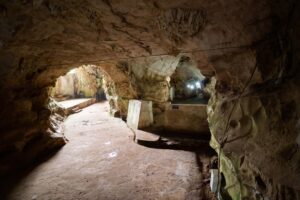 Hin Tang
Mysterious standing stones were built here by an unknown civilization. They are thought to be even older than the Plain of Jars, having been erected by the jar builders' ancestors. It's unclear when this lost civilization existed – though it's thought to have been thousands of years ago – or even who they were. The standing stones, like the jars, are thought to have played a role in ceremonial funerals. Aside from that, little is known.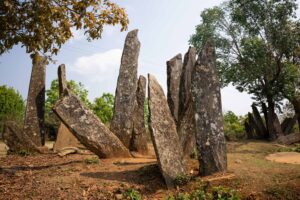 Saleuy Waterfall
During the warm months, Lao people seek respite at this beautiful waterfall. The water cascades down over a slick rockface. If you want to climb to the top, there is a trail nearby. At the bottom, merchants sell refreshments as well as locally produced textiles from the Phong ethnic group.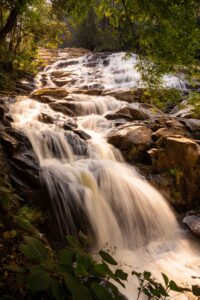 Nam-Et Phou Louey National Protected Area
Nature lovers enjoy this area with some of Laos' best opportunities to see wildlife. The popular one-day Night Safari tour allows sightings of many kinds of deer, cats, and birds in their natural habitat as visitors float down the river. There are also multi-day trekking options through cloud forests to the top of Phou Louey mountain.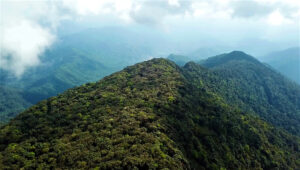 GETTING THERE
Lao Airlines has regular flights to Xieng Khouang. From there a bus or van can make the final leg to Sam Neua.
Photographs by Phoonsab Thevongsa
Text by Jason Rolan