Ango serves traditional Japanese food with a difference
In Japanese, the word Ango has more than one meaning. One is the three-month period of intense training for students of Zen Buddhism, otherwise known as Buddhist Lent.
In traditional haiku poetry, however, the word refers to summer – a happy word that evokes renewal.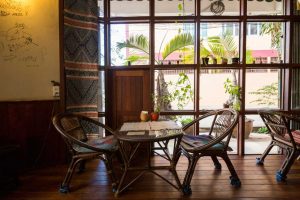 Ango was the perfect name to give a newly opened restaurant in Vientiane, after Japanese couple Hiroshi Yoshioka and Erika Fujiwara took it over from its previous owners last year.
Originally the offbeat corner café Yulala, selling homestyle Japanese food, its new incarnation is similar in atmosphere.
A cosy, wood-floored space littered with homely objects and quirky art, Ango serves the same style of food – rice bowls, salads and green tea – that the owners themselves love eating.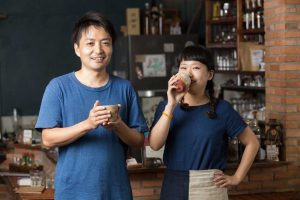 Originally from Kobe City in Hyogo Prefecture, Hiroshi first arrived in Laos in 2009, as a volunteer art teacher for the Japanese aid agency JICA. Erika, a ceramic artist from the famous craft city of Kanazawa, arrived in 2013, mostly to visit Hiroshi, but also because she had recently received an arts scholarship from Japanese cosmetics house Pola, giving her the chance to travel and create a body of work.
But she ended up staying, and in 2014, the owners of Yulala decided to head back to Japan. They offered the business to Hiroshi and Erika, giving them just one month to make up their minds.
Although the two were happy doing their current work, and had never run a café before, they accepted the offer, and spent six months refurbishing the space and making it their own, reopening the space in mid-2016.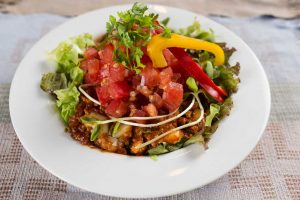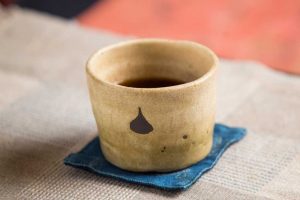 Although Ango's menu is simple and streamlined – an Okinawa-style taco rice bowl, cold friend eggplant and homemade ginger ale are just some of the things on offer – and is open for lunch and dinner, the couple are now trying to work out how they simplify things further, to enable them to pursue their separate artistic careers. Erika recently exhibited her earthy ceramic bowls, fired in a homemade kiln, at Vientiane's I-Cat Art Gallery, while Hiroshi is an illustrator. They even have plans to one day use the space as a gallery; its white walls, timber floors and natural light would be particularly conducive to displaying art.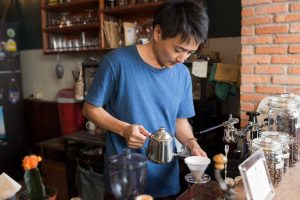 But in the meantime, the café has become a popular spot for diners seeking Japanese food with a difference.
Hiroshi likes playing around with more Southeast Asian ingredients, like coriander and chili, while Erika just likes the kind of food they eat together at home.
"It's food for the house, for family – it's home-style," Erika says.