Bangkok has something for everyone
Bangkok sums up images in your mind of the exotic, the mysterious, visions of pearls and silk, graceful dancers in sweet-smelling jasmine garlands and gold pointed headdresses, like in the film "The King and I". As one of the world's major transportation hubs Bangkok is a great place to spend a weekend if passing through or moving onto the beaches of southern Thailand.
One of its major attractions is its value for money. For such a city, it's incredibly affordable. New York used to be the place to go shopping, but Bangkok can hold its own. You can find everything from high-end electronics to top-quality gems for sometimes a fraction of the price you might pay in Europe or North America. A good way to spend the day and escape the heat is to head to one of Bangkok's many malls for some air-conditioned relief. A new player in Bangkok's prolific shopping scene is ICONSIAM. Ultra-fancy stores such as Louis Vuitton and Chanel can be found if you have cash to burn along with more affordable stores such as H&M. There is a rooftop terrace with a view of the skyline of Bangkok across the river. Look out for the spectacular multimedia waterfall upstairs, which has images and designs actually created in the falling cascade of water. The whole basement is devoted to food. You can find vendors cooking up everything from Pad Thai to mango and sticky rice on the spot. More traditional handicrafts such as wood carvings and embroidered purses can be found here too. For just a casual look around, Central World Mall is hard to beat for a browse. Malls have great food courts too so don't forget to stop for lunch.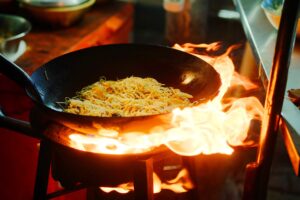 If shopping malls are not your thing there are still some interesting traditional markets around. For an authentic and local experience, you can visit Khlong Toey Market. Open 24/7 this bustling spot supplies the majority of fresh produce for Bangkok's restaurants. I wanted a more old-fashioned market feel so I headed over to the Pak Khlong Talat flower market close to the palace to see the old-style market traders. There is nothing glorious about this market, it gives you a feeling of stepping back in time and is quite dark and dingy in places. The smell of jasmine and the selection of fresh flowers, particularly orchids are interesting to see as well as flower sellers busy making garlands and votives from an assortment of different blossoms.
Golden-spired temples with opulent decorations are a Thai signature. Especially prolific around the Grand Palace, some of the most important temples in Thailand can be found here. This time we decided to explore Wat Pho where you can see a massive reclining Buddha and the largest collection of Buddha images in the country. The temple compound is quite extensive and there are lots of hidden nooks and crannies to explore. Due to its proximity to the Chao Praya River and Wat Arun (the Temple of Dawn) heading down to the river at sunset gives you a chance to catch the temple in its splendor as the sun goes down. A picture-perfect spot for a beautiful sunset snap!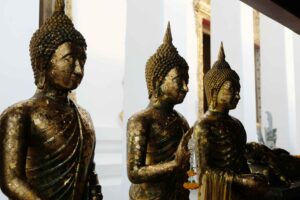 All that shopping and walking around temples can make you hungry but fear not, Bangkok is famous for its street food. Come evening, smoke wafts off grills, huge woks go on the burners and carts appear from out of nowhere peddling everything from fresh fruit to grilled river prawns. The food is cooked in front of you and could not be any fresher. Prices are cheap. You should eat a little and move on to the next stall and then try that one! With many exotic and delicious items to sample, Bangkok is a foodie's paradise, with Chinatown especially famous for its variety of choices.
Bangkok is a city that never sleeps and sampling the nightlife is a must. You can go home as late or early as you want. Gone are the days of tacky bars, Bangkok now has rooftop bars with spectacular views. There are plenty of themed bars such as ones selling only gin or decorated like a train's dining car from the 1920s. Also popular is Tep Bar, which specializes in cocktails and nibbles based on Thai whiskey and local ingredients. If it's more off-the-wall drinking spots you are after, the backstreets of Thonglor are worth exploring and contain some of the hippest bars in town. Bangkok, of course, has an extensive transport network. Trains run till around midnight. After that Uber and Grab are popular apps for arranging rides back to your hotel.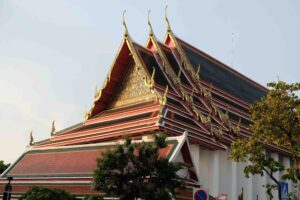 GETTING THERE
Lao Airlines flies daily to Bangkok from Vientiane and Luang Prabang.
Text BY Anita Preston
PHOTOGRAPHS BY Anita Preston / Evensong Film