Wind down at a coffee shop in Vientiane
Vientiane, the capital of Laos, is famed for its cultural and historical tourist attractions, dazzling with elegance and of superlative value to Laos what with Patuxay, a monument to the independence from French colonialism, and That Luang, an ancient and sacred site symbolic of the Lao nation and a treasure for the Lao people and for Buddhists on both banks of the Mekong river. Furthermore, Vientiane also boasts natural tourist attractions no less exquisite than those of the provinces. Today, however, we will be looking at some spots of natural abundance accessible without having to travel far from the capital and where you can fill your lungs with fresh air and enjoy the comforting respite of the surrounding nature away from the strenuous hustle and bustle of your studies, work, or daily life.
Aiden's by Manee Cafe
If you are looking for a place to engross yourself in your favorite novel amidst the soothing sound of a fountain to quieten your mind accompanied by smooth grass and enchanting leafy trees with sweet and savory delights on offer, try out Aiden's by MANEE Café at least once because it has all of the above and if that is not enough, this café is the only one in Laos which has an olive tree, which is almost a hundred years old and stands at the front of the café for you to relish in its charm, not to mention a children's playground where adults can play too.
– Location: Lane 42, Phonpapao village, Sisattanak district, Vientiane capital
– Opening hours: 8 am – 9 pm (closed on Mondays)
– Facebook: Manee Cafe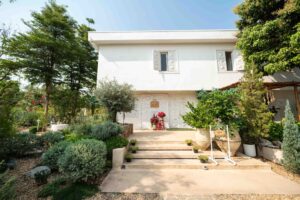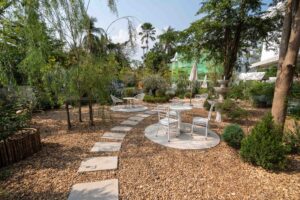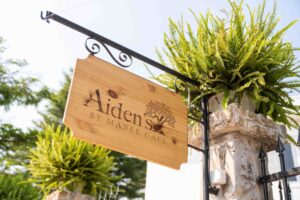 Backyard Cafe & Playground
If you are looking to cleanse your lungs with some clean air while enjoying a natural view with a wide open space and fish ponds, a variety of sweet and savory dishes to choose from, unique to this café, and slides for your children to have fun, you must try the Backyard Café and Playground because it has everything you could dream of, including a pavilion, café area, White House area, and a children's playground.
But this is not all – you can also watch the sheep, rabbits, goats, and cows go about their business – so if you have the chance to drop in, don't forget to feed the large flock of sheep who live there with cabbage, which is sold there. The sheep are adorable and let you touch them but avoid touching their horns as it can make them charge.
– Location: Dongkhamxang village, Hatxayfong district, Vientiane capital
– Opening hours: Tuesday to Sunday
– Facebook: Backyard Cafe&Playground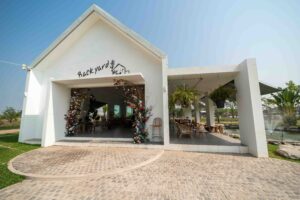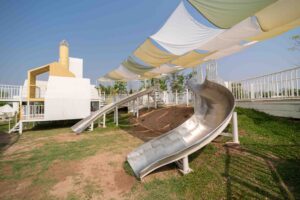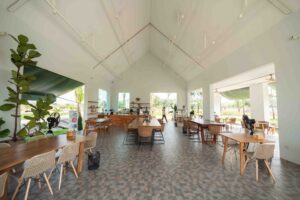 Vientiane Garden Restaurant
How would you like to sit, breathing in the fresh air watching a shoal of koi fish swimming around the plunge pool of a waterfall with a variety of flora to see? It is not hard to guess how blissful it would be but there is more because if you add some delectable food to take pleasure in such an atmosphere, it would make it an experience to remember for many years to come.
So if you are in search of something like the above, you must try out the Vientiane Garden Restaurant at least once as its full range of services means that you needn't go looking elsewhere.
– Location: Phakhao village, Xaythany district, Vientiane capital
– Opening hours: Every day from 10:30 am to 11 pm
– Facebook: ສວນອາຫານວຽງຈັນ-Vientiane Garden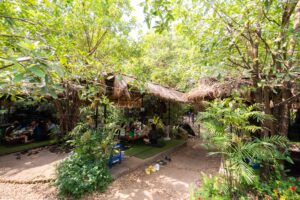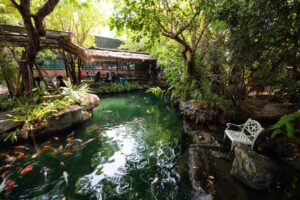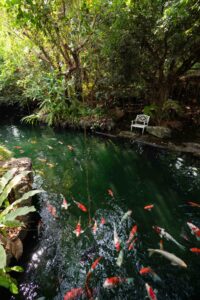 But whether you hail from Laos or anywhere else across the globe, the key thing is to remember your own role in the ecosystem. Being a tourist comes with responsibilities and we have to understand the risks and preventative measures associated with these if we are to minimize our carbon footprint.
This also concerns being mindful of our actions and how they could have an impact on the health of others, flora and fauna, and the environment on which we all depend.
By keeping this in mind just a little, it is easy to reduce our carbon footprint and have consideration for the places we visit so that we may work together to look after the environment, people, and fauna of Laos for them to thrive and ensure their safety for the future.
GETTING THERE
Lao Airlines has daily flights to Vientiane from Bangkok, Hanoi, Seoul, and many cities in Laos.
TRANSLATED BY Nick Pugh
PHOTOGRAPHS BY Phoonsab Thevongsa