The right mix of tradition and ingenuity cook up a win for Chef Khammoun.
On a beautiful November evening in the 3rd floor garden of Crowne Plaza, five chefs gathered for the honor of winning the prize of Laos' top chef at the ASEAN Sustainable Tourism Solutions Expo.  
Most of the ingredients they knew beforehand, a wide range of meat, fish, vegetables, and herbs which are commonly used in Lao traditional cooking, but they also knew that there would be some additional mystery items, presented to them at the last minute, testing their ingenuity. And it was these ingredients that really pushed our chefs to their limits. With butterfly pea flowers, rosella leaves, and the unlaid eggs from chickens to inspire them, our chefs got to work.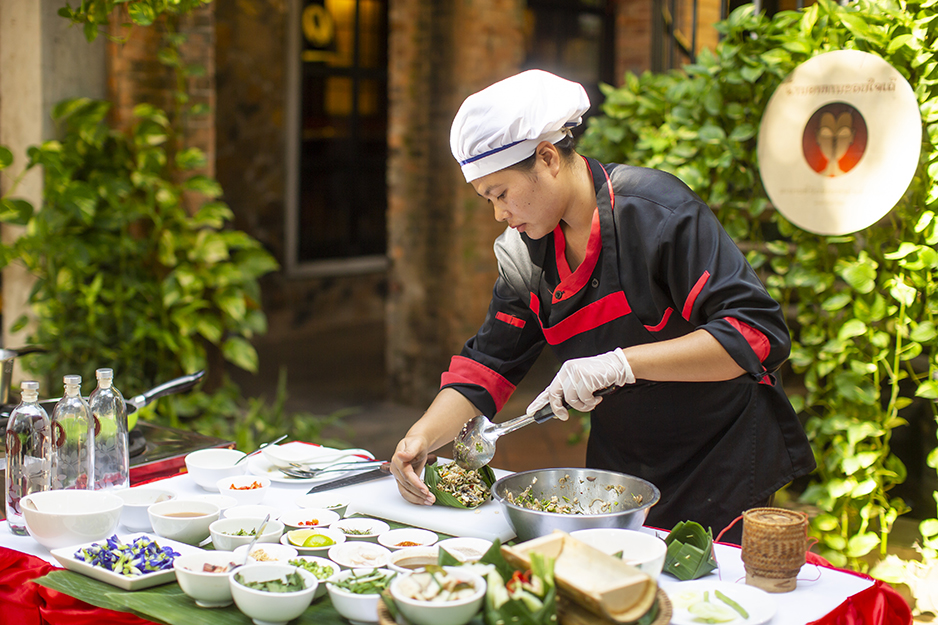 As the guests mingled under the stars, the air filled with the aroma of pork and fish, of lemongrass and lime. With just 45 minutes to present their food to the judges, the chefs chopped and bashed, steamed and fried, showcasing dishes such as tilapia with a tom yum sauce, herbed pork on bamboo skewers, and of course, the Lao national dish of laap.
There were some amazing dishes and the judges had a tough decision to make.  
In the end, it was Chef Khammoun from Khop Chai Deu who most impressed with her perfectly balanced dish of koi paa, a southern Lao specialty of minced fish, served alongside a delicious and creative soup inspired by the secret ingredients. The soup of yellow unlaid eggs floating in a pool of zesty bright blue stock was both completely surprising and also truly delicious. 
Khop Chai Deu is one of Vientiane's best-known restaurants, having started back in 1998, and Khammoun has worked there for 11 years. She was excited to have had the opportunity to enter the competition and utterly delighted to have won.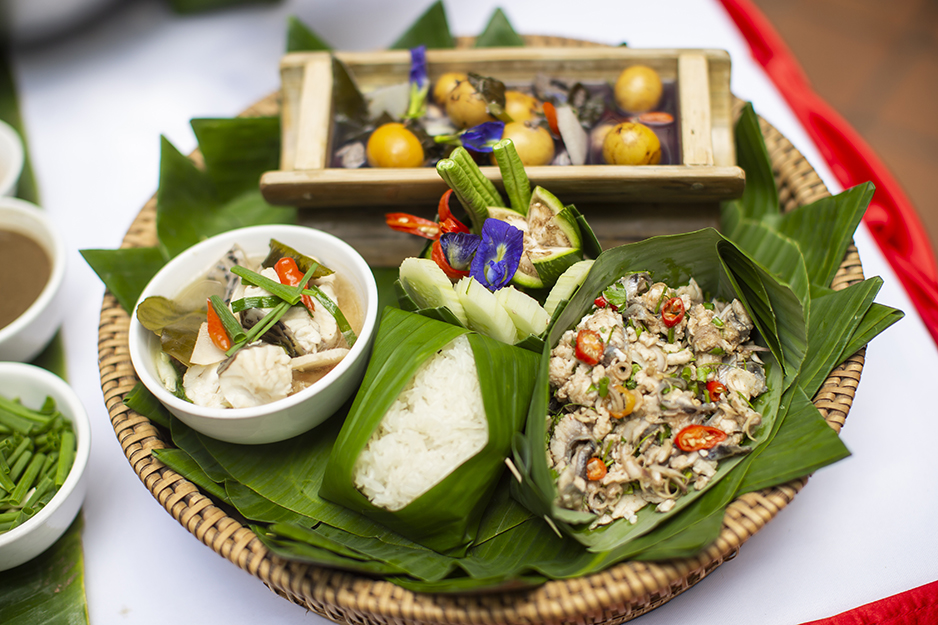 She didn't enter with the idea of winning, it was all about taking part. For her, it was particularly important to represent Laos in the food she served, and she was delighted that it was traditional Lao-style food that won the day, showing that traditions still have a very important part in people's everyday lives. She is now keen to develop further menus at Khop Chai Deu where traditional foods from throughout Laos are showcased in their extensive menu, giving customers the opportunity to try a wide range of some of the amazing food that Laos offers. 
Unlaid Eggs with Rosella Leaves in Butterfly Pea Soup
– Unlaid Chicken Eggs
– Butterfly Pea Flower
– Galangal
– Rosella Leaves
– Lemongrass
– Kaffir Lime Leaf
– Chili
– Salt
– Fish Sauce
– White / Light Soy sauce
MORE INFO
Khop Chai Deu
Restaurant is located near Nam Phou in downtown Vientiane and has live music every evening.
Find them online at inthira.com
Text BY Jo Lidbetter
PHOTOGRAPHS BY Phoonsab Thevongsa