A annual test of endurance, teamwork, and speed
Monsoon rains have flooded the rivers during the three-month season of Buddhist Lent, causing mythological water serpents known as Nagas to swim into the irrigated rice paddies. In order to entice the playful guardian Nagas back into the rivers before the waters recede, the Lao organize longboat races with nearby villages competing. Racers compete for bragging rights and prizes as large audiences gather on the shore to cheer them on.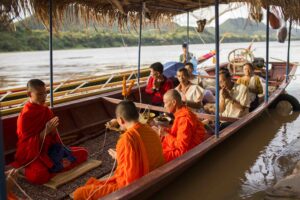 The tournament is staged on the Khan River in Luang Prabang halfway through Buddhist Lent (this year it is on September 14th) with onlookers crowding both banks. Miss New Year and Lao dignitaries watch the races from a magnificent pavilion at the finish line and award prizes to the winning teams.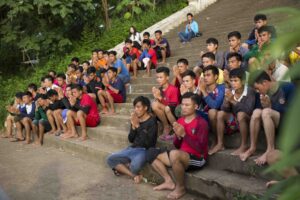 Text BY Jason Rolan
PHOTOGRAPHS BY Phoonsab Thevongsa