Traveling is a great way to learn about other cultures, try new foods, and make unforgettable memories. Yet tourism can also have negative impacts on the environment and local communities. As responsible travelers, we can minimize these impacts and leave a positive mark on the places we visit. One way to achieve this is by choosing eco-friendly accommodations and tour operators who have been certified by Travelife, the leading sustainable tourism certification worldwide. In this article, we'll explore the benefits of staying at a Travelife-certified hotel and provide specific examples of sustainable practices implemented by these hotels.
Travelife is a certification program for accommodations and tour operators that promotes sustainable tourism practices. To become Travelife Certified, a business must undergo a rigorous assessment that evaluates its environmental impact, social responsibility, and cultural preservation practices. Local businesses are provided with free training and coaching to become certified by the SUSTOUR Laos project which is funded by the European Union.
Mr. Malaithong Kommasit, Minister of Industry and Trade, Ms. Chanthachone Vongsay, Vice President of the Lao National Chamber of Commerce and Industry (LNCCI), and Mr. Niall Leonard, Charge de Affairs of the European Union Delegation in Laos. Mr. Leonard personally handed over the awards to each of the five hotels who are leading the way in sustainable tourism.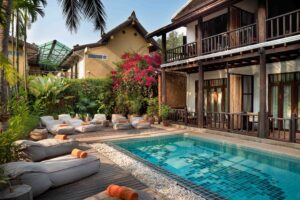 Mr. Leonard remarked that "the European Union (EU) is proud to support micro, small, and medium-sized entrepreneurs to enter the green tourism sector. Laos, as a green destination, will increase income and employment opportunities, while strengthening environment protection and climate change mitigation. Overall this step represents a significant contribution to sustainable national economic growth."
Vice President of LNCCI Ms. Chanthachone Vongsay, said, "In highly competitive business as the tourism industry, the LNCCI recognizes that MSMEs in Laos have the potential to grow and to meet the global standards of sustainability in tourism. With the support from Plan International Laos, the government and LNCCI have motivated, promoted, and assisted the MSMEs in the supply chain of the tourism industry to improve the quality of sustainable operations and services. This will pinpoint Laos as a final destination of many responsible tourists."
Five hotels in Laos have recently been certified by Travelife – Souphattra Hotel Luang Prabang, Luang Prabang View Hotel, Maison Souvannaphoum, Maison Dalabua, and Salana Boutique Hotel. During the Made in Laos fair, the five Travelife certified hotels were recognized for their efforts and commitment to sustainability. By choosing one of these hotels, you can be assured that you are supporting responsible and sustainable tourism.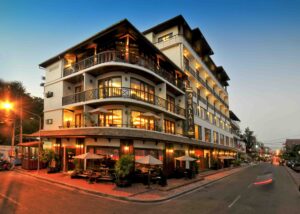 Travelife Certified hotels implement a variety of sustainable practices to reduce their environmental impact. For example, the Souphattra Hotel Luang Prabang and Maison Souvannaphoum use energy-efficient lighting and appliances throughout their properties which significantly reduce energy consumption. The Luang Prabang View Hotel and Salana Boutique Hotel have implemented water saving devices in guest rooms and public areas, reducing their water usage by up to 30%. Maison Dalabua and Salana Boutique Hotel have implemented recycling programs to manage waste effectively and reduce their environmental footprint.
These hotels also prioritize supporting local communities by sourcing products from local suppliers. For example, Maison Souvannaphoum uses straws made from banana leaf, a local product that provides a sustainable alternative to plastic straws. By staying at a Travelife certified hotel, you can help reduce your own carbon footprint and support local communities.
As responsible travelers, we can minimize the negative impacts of tourism on the planet and its people. By choosing Travelife certified hotels in Laos, we can help preserve the environment and support local communities while also having an unforgettable travel experience. Remember to choose Travelife certified hotels for your next trip to Laos, and join the movement towards sustainable tourism.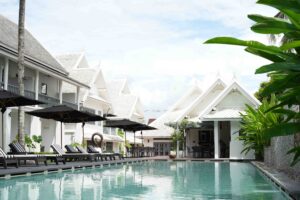 MORE INFO
SUSTOUR Laos Project Office (LNCCI building)
Kaysone Phomvihane Ave, Phonphanao Village, Saysetha District, Vientiane Capital, Lao PDR P.O. Box: 4596
Text & PHOTOGRAPHS BY The SUSTOUR Laos Project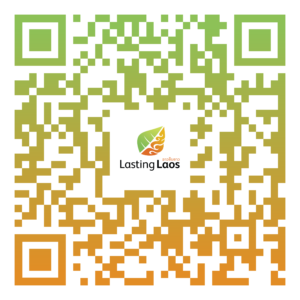 facebook.com/lastinglao
Book your next stay at one of the Travelife Certified Hotels at
Angsana MaisonSouvannaphoumHotel
Call: +856 71 254 609
Email: reservations-maison@angsana.com
www.angsana.com/laos/souvannaphoum
Souphattra Hotel Luang Prabang
Call: +856 71 211 222
Email: info@souphattra.com
www.souphattra.com
Luang Prabang View Hotel
Call: +856 71 260 560
Email: booking@lpbview.com
www.luangprabangview.com
Salana Boutique Hotel
Call: +856 21 254 254
Email: rsvn@salanaboutique.com
www.salanaboutique.com
Maison Dalabua
Call: +856 71 255 588
Email: book@maisondalabua.com
www.maisondalabua.com