Luxury living with Mekong views
Nestled along the banks of the Mekong River, the Riverfront Apartments offer a tranquil retreat in the bustling city of Vientiane. The luxurious apartments provide stunning views of the river and the city skyline, making it the perfect choice for a comfortable and relaxing stay for a weekend or even longer period.
Each of the 39 apartments is elegantly designed with modern amenities to ensure a comfortable and convenient stay. The apartments range in size from one to three bedrooms and feature spacious living areas, fully equipped kitchens, and private balconies that offer breathtaking views of the Mekong River. The bedrooms are comfortable and cozy, featuring plush mattresses and high-quality bedding to ensure a peaceful sleep.
The Riverfront Apartments are perfect for those seeking a bit of relaxation. The complex features a beautiful rooftop pool, a fitness center, a spa, a cinema, and a golf simulator ‐ a first in Vientiane.
One of the main attractions of the Riverfront Apartments is the Sala Sane restaurant, which features all day dining and serves delicious Thai and international cuisine prepared with fresh and authentic ingredients. It is the perfect place to have a special meal while enjoying breathtaking views of the Mekong.
Overall, the Riverfront Apartments offer a luxurious and comfortable stay in a prime location. Whether you are visiting for business or pleasure, this is the perfect choice for those seeking a bit of luxury and relaxation in the heart of the city.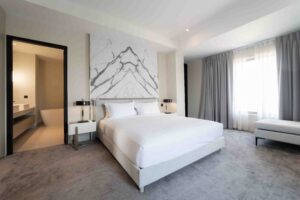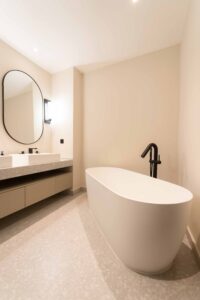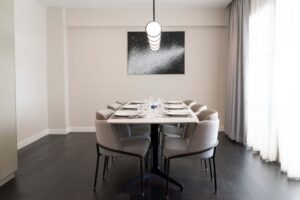 GETTING THERE
Riverfront Apartment is in Phanman Village, a short drive from downtown Vientiane.
MORE INFO
For bookings and more information, visit riverfrontapartmentvte.com
Text BY Jason Rolan
PHOTOGRAPHS BY Phoonsab Thevongsa