MAG has helped Laos overcome tragic legacies of war.
Laos is the most heavily bombed country in the world, per capita. Between 1964 and 1973 over two million tons of bombs were dropped on the country – that's one ton for every person living in Laos at the time. More than 250 million cluster bombs were dropped, but over 30 percent didn't explode. An estimated 50,000 people have been killed by unexploded bombs, 20,000 since the war ended. Almost half have been children. This deadly legacy continues to threaten the lives of thousands of communities across Laos.
The Mines Advisory Group (MAG) – a charity that removes landmines and unexploded bombs from countries affected by war – was invited to work in Laos in 1994. Since then MAG has worked with Lao authorities to find and destroy more than 250,000 unexploded bombs. At the community level, our teams also work to raise awareness of how to recognize, avoid, and report the bombs that are killing and maiming people. The message is simple: don't touch it, don't move it, and call the hotline. The data gathered so far suggests that a minimum of 2,000km² of land still needs to be cleared.
Over the past 25 years, MAG has been able to check and declare safe 331km² of land, as well as clearing cluster munitions, or "bombies", from large areas. MAG staff also find hand grenades, mortars, rocket-propelled grenades, and larger ordnance weighing more than an average motorbike, are still found regularly.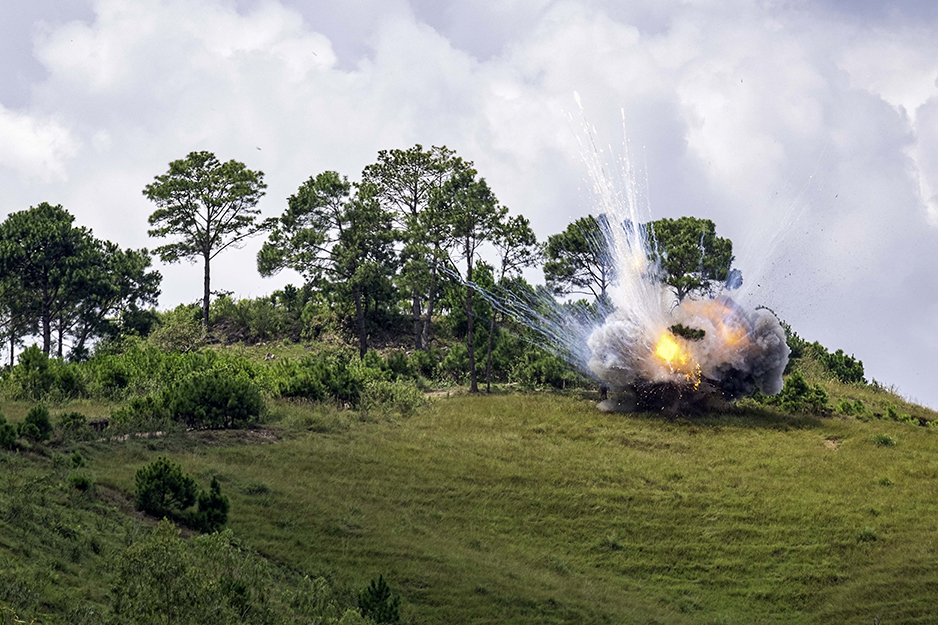 To make the land safe, every inch of land needs walking over with a team carrying specialized metal detectors. Sometimes machines are used to clear areas with heavy vegetation. Every piece of metal as big as half a piece of bombie needs to be excavated, confirmed if dangerous then destroyed. MAG now has more than 900 staff in 54 teams in Laos working year in, year out to make land safer. 
In 2008, MAG cleared the land in and around a primary school in Xieng Khouang province in the northeast of the country. The head of a missile, three unexploded bombs, and a rocket were found in the playground as well as over 400 bombs in the forest area behind the school. Today, a new school building has been constructed and 139 children attend this primary school. Teacher Siphandone Bounma said: "Now the area is safe, the teachers can safely take the children into the forest to learn about nature. The school also generates income from planting corn and vegetables, and we plan to plant coffee next year."
Manixia is our most senior national staff member in Laos, who manages over 200 people. She began working at MAG in 2007 and has since progressed her career step by step, starting as a technician, then a Deputy Team Leader, then a supervisor, and now one of two Provincial Operations Managers in Xieng Khouang.
"I have often heard bomb clearance being described as a difficult job and so is not for women," she says. "It is a difficult job, and not everyone can do it, but we have shown that men and women can do it equally. The first time I carried out a demolition, it was quite scary. But afterward,
I felt like superwoman!"
Manixia wants to use her success to inspire other women to break down stereotypes and become leaders in their field. Here is her advice: "Have confidence in your ability and be yourself. Don't be afraid to ask for help."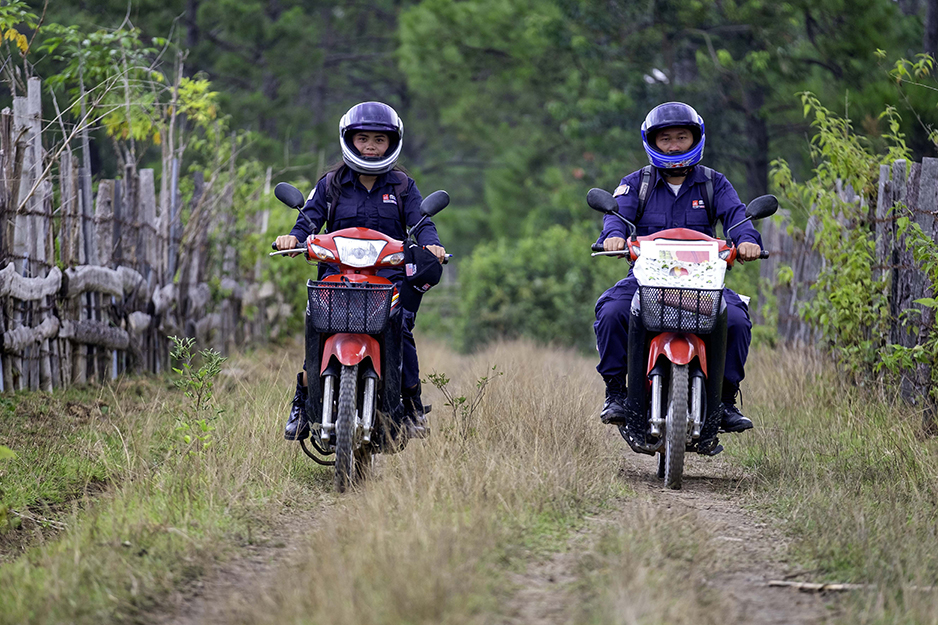 MAG has teams and visitor centers in Xieng Khouang and Vientiane and in late 2019, will open a third visitor center in Thakhek, Khammouane province.
MAG's work wouldn't be possible without the support of donors and governments from around the world who fund our work – in particular, Norway, the United States, and the UK governments – which has allowed MAG to put more teams into the field and speed up the survey and clearance.
Laos has the ambition to eliminate all possible unexploded bombs casualties by 2030. The Lao government is working on a plan to achieve this – but it is clear that a sustained increase in investment is needed to free all communities from the deadly legacy of a conflict that ended almost half a century ago.
Text BY Mines Advisory Group
PHOTOGRAPHS BY Bart Verweij