The rooftop of the rejuvenated Lao Chaleun Rama
Laos' second city, situated on the Mekong at a major crossroads linking Thailand and Vietnam, Savannakhet has been influenced by many different cultures. The province is also the country's most populous and is a significant area of natural wildlife. The city itself was built up by the French to be an important trading port which attracted many Chinese and Vietnamese traders.
In the past decade, there has been a focus on renovating old buildings downtown, rather than demolishing them, which gives the city a more authentic feeling. From crumbling French buildings to cozy Vietnamese cafes to Thai hipster drinking spots to ancient Lao Buddhist temples, this low-key city is a fusion of inspiration worth exploring.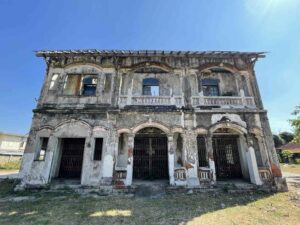 1. An abandoned building from the French Colonial era
2. A spiral staircase inside a cafe at the Lao Chaleun Cinema
3. An antique Peugeot bicycle, now a
decoration
4. Modern artists have left their mark with colorful street art
5. A trendy retro boutique in Savannakhet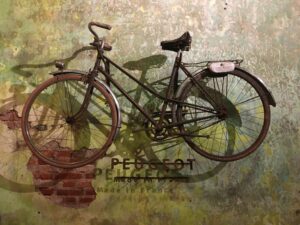 1. Wooden assembly halls are rarities in Laos
2. A huge Buddha flanked by smaller Buddha statues
3. One of Savannakhet's most unusual landmarks – this stilted library – raised above water to protect the ancient manuscripts from insects.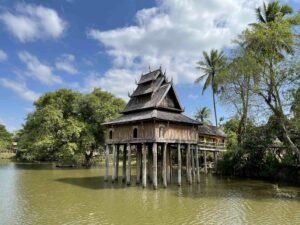 1. The iconic That Ing Hang stupa is the holiest in Savannakhet
2. Seno sits at a vital crossroads and is a popular place for local grilled chicken
3. Vendors sell mangos, grilled eggs, and chicken to buses as they pass
4. You can gaze at Thailand from the new promenade on the Mekong River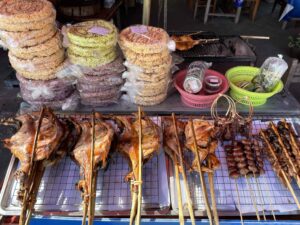 TEXT & PHOTOGRAPHS  BY Jason Rolan