Oft-overlooked Pakse unveils reasons to stay a while longer

In southern Laos, the Mekong river breaks away from the Thai border and winds its way to Pakse. For most visitors, the town is a one-night stopover before they follow the river's course to Champasak and the Four Thousand Islands or head to the high ground of the Bolaven Plateau. But I found myself in no hurry to leave.
The world's best-known travel book publisher says of Pakse, "…don't linger long because there's not much to do." Now I'm no fan of pithy maxims but there is one I live by when traveling and it is this; if a guidebook states there is little of interest, you can guarantee it's a place worth spending time. And that's exactly how it turned out to be in Pakse.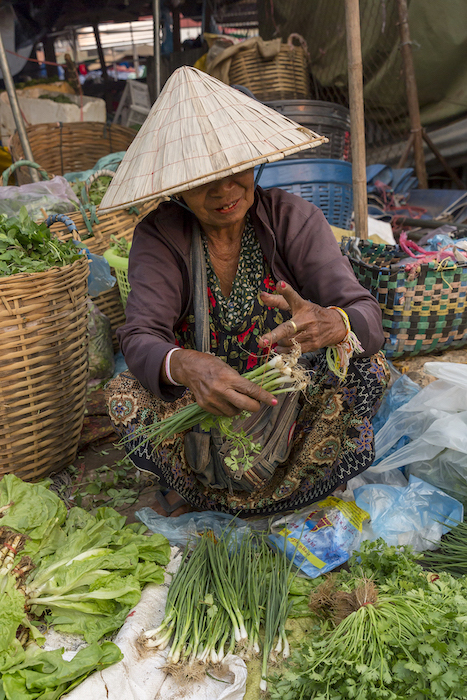 Downtown Pakse is held within a sweeping bend of the Xe Don river and the mighty Mekong, a geographical location that led to the French
establishing the town as an important administrative outpost in 1905. Over the years it has grown into a bustling commercial centre and is home to Dao Heuang market, one of the biggest and most vibrant fresh markets in Laos. Open dawn until dusk, the market draws villagers from surrounding villages who arrive in shared songthaew trucks to sell food that they have grown, reared, caught or foraged.
Dao Heaung market also functions as a distribution centre for traders who purchase fish caught in the waters around the 4,000 Islands, as well as vegetables from outlying farms, which are sent up to Vientiane's own and equally vibrant Khoua Din market. A visit to Dao Heuang market is an assault to the senses; colorful, chaotic and an unmissable experience. To capture it in full swing, rise early and go at 6 am. A smaller afternoon section operates from around 4 pm and is equally atmospheric. Nearby, there is also a daily roadside pig market where locals haggle with Vietnamese traders for the best price on piglets.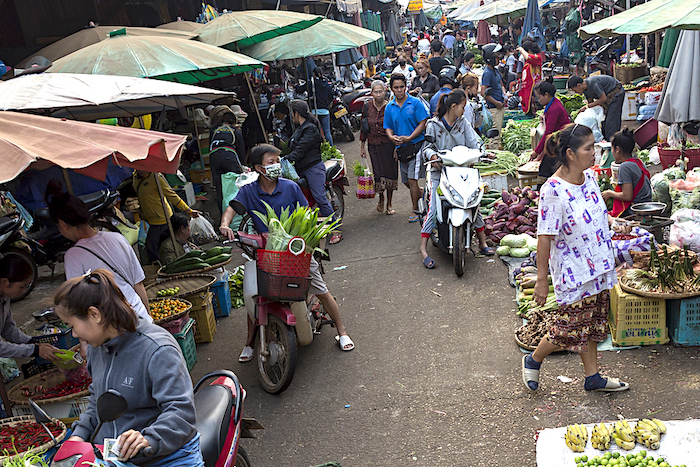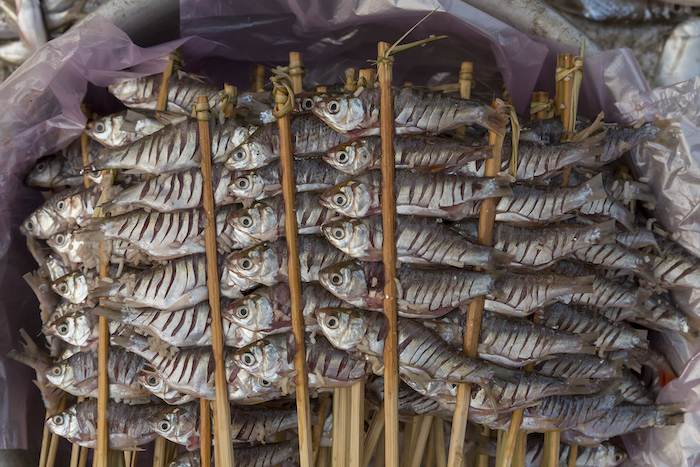 Faded charm
Although new buildings dominate the Pakse skyline, there are still pockets of faded colonial-era charm to enjoy. A short section of the backstreet called Thaluang provides a glimpse of past splendours but alas this row of crumbling 1920s shophouses stands as testament to years of neglect. So far only two buildings have benefited from restoration and the new lease of life they deserve; as Se Se Wine & Beer and 124 Thaluang Coffee which serves local coffee from Pakxong. One of the most impressive and fully restored buildings in town is the Chinese Association Building on Road 10 but it is fun walking the streets in search of other less polished gems.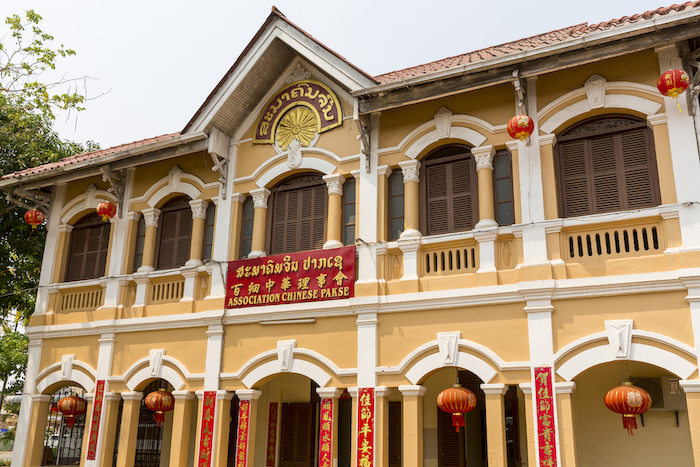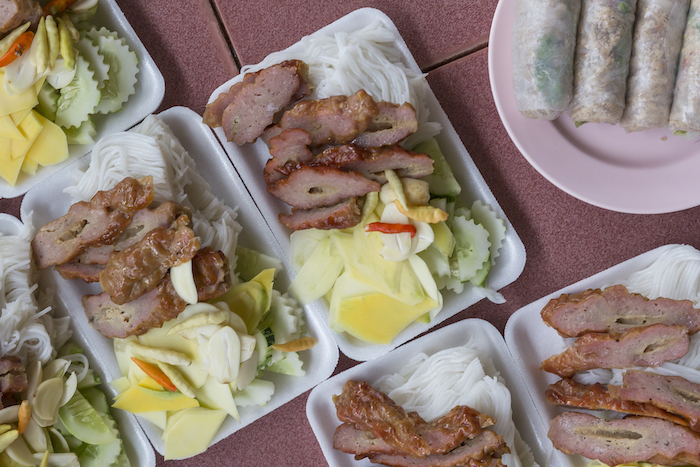 The culinary landscape of Pakse has been no less affected by its past than the architecture. In the late 60s and 70s during the American war against Vietnam, many Vietnamese sought refuge in Laos and today Pakse is home to a large community. Of course, when they settled their food traditions came with them. For some of the best naem neuang you are likely to taste, head to Naem Neuang (tel: 02055631339) where the pork balls for these delicious little 'do-it-yourself' rice paper wraps are still grilled over charcoal. The open-fronted family restaurant serves up excellent ban xeo stuffed crepes, goi cuon fresh springs rolls, bi bun noodles, and more. It's also worth heading over to Nem Khao Chao Kao on Road 11 (tel: 020 59632888) for nem khao rice ball salad, pan pa whole grilled fish, and much more. By night, ascend to the rooftop bar at downtown Pakse Hotel for a sundowner or quaff Beerlao with locals at The Light House Station, an alfresco bar zone on Road 11 where you can eat, drink and listen to live music. Further along Road 11, 3 Yaek has a good selection of Lao-Thai food, friendly staff and an easy-going atmosphere (tel: 031215436).
Local crafts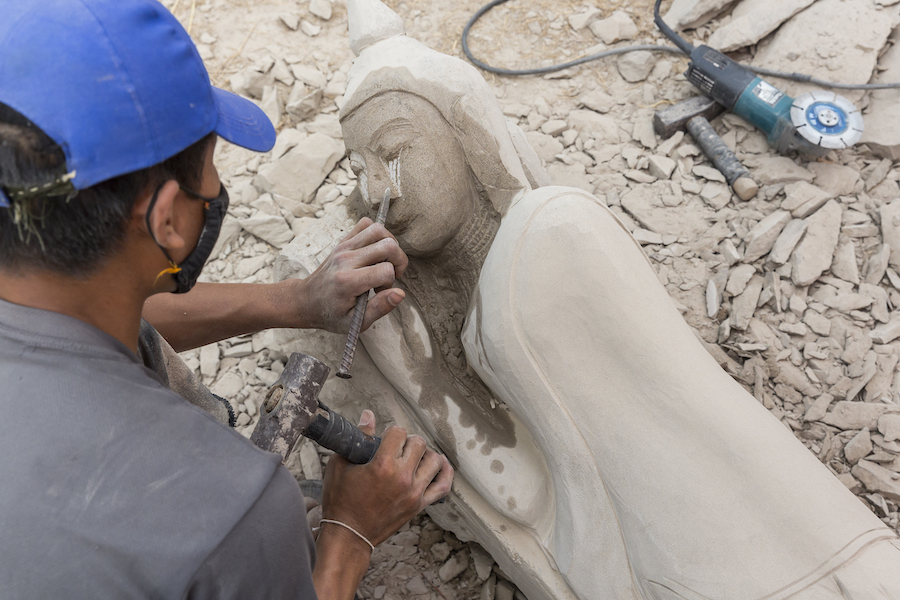 Laos boasts many highly skilled craftsmen and women and there are several artisan communities within easy reach of Pakse. The most interesting is the village of stonemasons at Wat Chomphet. Lying just eleven kilometers north on Route 13, here you can see craftsmen hew Buddha images from stone using hammers, chisels, and angle grinders. Continue on another six kilometers to Ban Saphay and you can watch deft-fingered ladies weaving silken threads into exquisite sinh, the traditional Lao skirts. The nearby island of Don Kho is also home to weavers and accessible by a short ferry ride. Less delicate but equally impressive is the work of blacksmiths, 81 kilometers west on Route 16 E. Here, old truck suspension leaf springs and other scrap metal are forged into rustic knives and machetes.
No visit to Pakse is complete without a trip to Phou Salao temple which crowns a hill on the opposite side of the Mekong. The main attraction here is an enormous golden Buddha image, and of course the panoramic view. It can be reached by a steep staircase or a four-kilometre road which winds its way around the hill. Phou Salao is popular with evening joggers who go up by road and down the steps.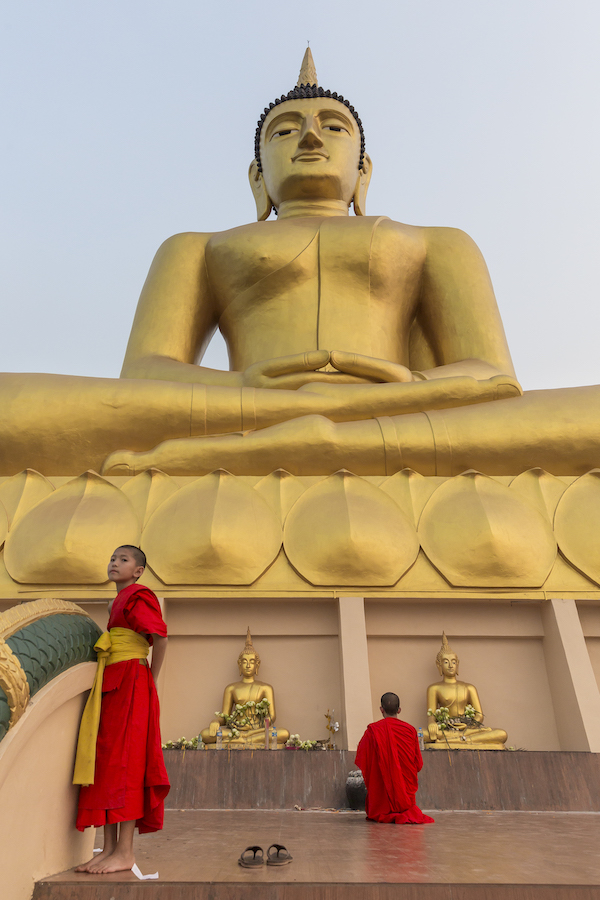 Getting around
Head to Monument Books and pick up a copy of the beautiful Pakse Attractions map made by an expat living in Pakse. The map is one in a series of five covering southern Laos. The creator of the maps also runs NKM Homestay with his Lao wife. Visit mmapssouthernlaos.wordpress.com and chezlhabitantapakse.wordpress.com.
There are several businesses along South Road offering scooters for hire from 50,000 kip per day, most notably Miss Noy, and Pakse Travel Co. They also offer tours and van and driver hire.
Where to stay
Pakse offers a wide choice of guesthouses and hotels to suit all budgets. Many are centrally located South Road and convenient for restaurants, bars, coffee shops, and exploring the downtown area on foot. One of the newest additions is the 4-star Athena Hotel which features comfortable contemporary rooms and a secluded swimming pool. Visit athenahotelpakse.com. Other options include the 3-star downtown Pakse Hotel on Soi 5 with its popular rooftop restaurant and bar, hotelpakse.com. Budget travelers can head to the Alisa Guesthouse and Lankham Guesthouse, also located on South Road.
Text and Photographs by MICK SHIPPEN