Journey deeper into southern Laos
Most journeys to southern Laos include visits to the famous Wat Phou UNESCO World Heritage Site as well as the 4000 Islands in Champasak Province. But for a more eclectic holiday, visit Savannakhet and Salavan Provinces to see the lesser-known Heuan Hin (Stone House) and 4000 Holes.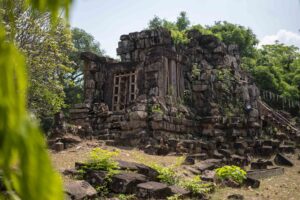 Like the Wat Phou temple complex, Heuan Hin is a stone temple. It is believed to be the northern-most Khmer structure in Laos, located along the Mekong River in Savannakhet Province. It is believed to be one of the rest houses constructed by Jayavarman VII in the 12th century. Originally a Hindu site, it was later converted by Buddhists.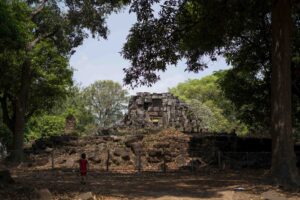 A bit farther to the south is the area known as the 4000 Holes along the Mekong in Salavan Province. Erosion over millions of years has caused peculiar formations in the seasonally-submerged sandstone here. These types of formations are known as "giant's kettles" or "potholes", and are formed from water flowing over rocks and debris. The flow causes them to spin around on the sandstone, drilling holes over many millennia. Some are quite shallow and small, while others make great swimming holes in the dry season.
Heuan Hin was an outpost of the Khmer Empire
1. Heuan Hin has not been heavily studied or restored, like Wat Phou.
2. Stone nagas stand at the corners of the area.
3. Heuan Hin is in the center of a small village and remains a place of worship.
4. Local people make offerings and pray to the Buddha in the sanctuary.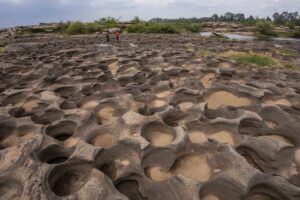 1. The 4000 Holes is a large area of sandstone eroded by the Mekong.
2. Some holes are large enough to swim in.
3. During warm months, the larger holes are great for cooling off.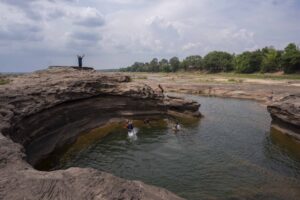 1. These natural land formations are very unique.
2. A sign welcoming visitors to the 4000 Holes.
3. One of the large holes formed by water swirling over the rock.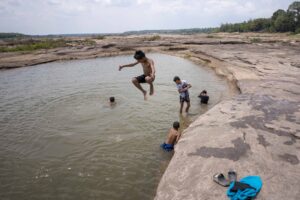 GETTING THERE
Lao Airlines has four flights to Savannakhet per week. Heuan Hin is 70km south of the city. 4000 Holes is 150km south of Savannakhet.
PHOTOGRAPHS BY Phoonsab Thevongsa
Text BY Jason Rolan