Come for the good cause, stay for the excellent service
Located in the heart of Vang Vieng, The Academy Training Hotel and Restaurant offers overnight stays, meals, meetings, and workshop rooms, as well as being a training ground for Laos' future tourism and hospitality professionals.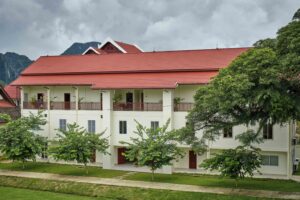 The Academy is part of Vientiane Province Technical College, providing students of tourism and hospitality a unique practical training environment. These budding young professionals are overseen by their teachers and an international management team, while developing their core skills and preparing to enter the workforce.
While guests can experience The Academy as a unique hotel and restaurant offering delicious food with enthusiastic staff, it's much more than that. By staying and dining here, it allows students to acquire skills and knowledge more directly linked to their future.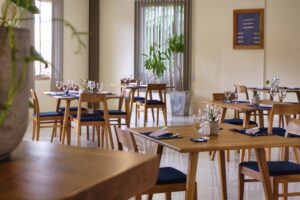 The Academy offers a comfortable night's sleep in charming bedrooms with a balcony and ensuite bathroom. The hotel rooms are available at 150,000 LAK per night including breakfast for up to two people. Extra beds are available upon request for an additional fee.
The kitchen team of teachers and students are expertly trained by a professional chef to produce a delicious fusion menu blending international and local produce, combining fresh ingredients and native herbs and spices to create innovative yet simple dining options. The homemade pizzas are an absolute must-try and are very popular for delivery. The restaurant is open from Thursday to Sunday, both for delivery orders and indoor dining.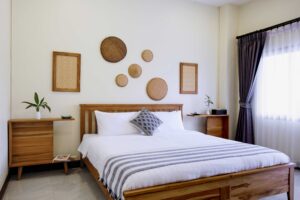 If you are just out for drinks, The Academy's bar has you covered with beverages ranging from classic cocktails to a diverse assortment of wines to pair with succulent snacks. Come and enjoy happy hours from 5–7 PM every Thursday, Friday, and Saturday.
Only a one-hour drive away or only 2 stops by train from Vientiane, The Academy offers a delightful spot to host your upcoming staff retreats, training workshops, or meetings. If you are coming from Luang Prabang, the train ride will bring you to Vang Vieng in less than an hour!
Please contact us if you want to try our flavorful cuisine and comfortable bedrooms, while also supporting the development of our ambitious students!
The Academy Training Hotel and Restaurant is supported by the Skills for Tourism Project (LAO/029), co-financed by the Governments of Lao PDR, the Grand Duchy of Luxembourg, and Switzerland, and implemented by the Ministry of Education and Sports of Lao PDR and the Luxembourg Development Cooperation Agency (LuxDev).
MORE INFO
The Academy Training Hotel & Restaurant, Vang Vieng
tel.: +856 30 522 1052,
email: theacademytraininghotel@gmail.com
Facebook: @TheAcademy.VangVieng
Text & PHOTOGRAPHS BY Skills for Tourism Project (LAO/029)