Handicrafts and Local Life
Pakse provides more than just great transport links to other Southern Laos destinations. The capital city of Champasak province has its own distinct charm and offers tourists the best of both worlds: the relaxed sabai sabai way of life and the hustle and bustle of being a gateway city. Once you are there, stay for a while, and don't miss out on the hidden gems this city has to offer.
The Weavers of Ban Saphai and Don Kho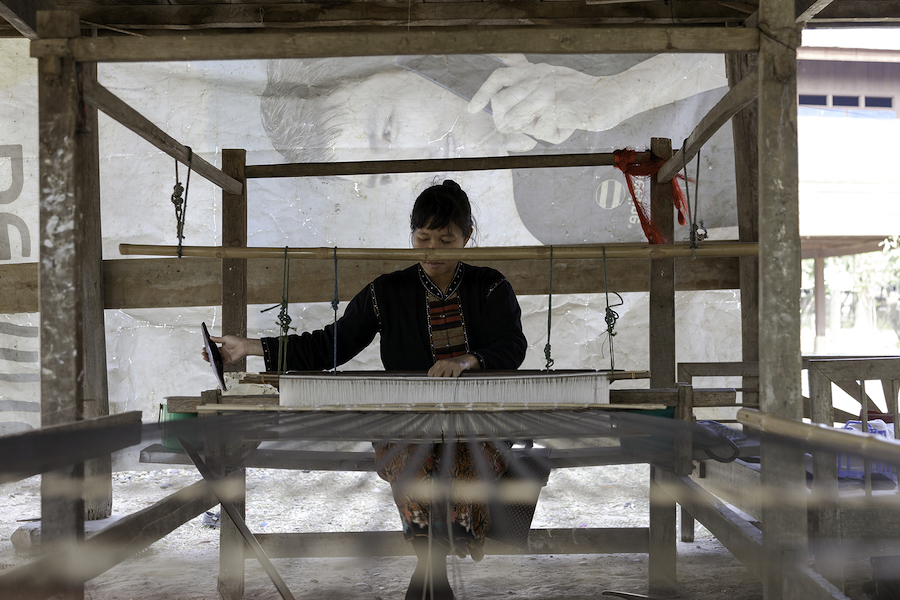 Ban Saphai is located 18 kilometers north of Pakse. The Traditional Culture Center here opened in 2014 and can organize weaving demonstrations. The center also houses a one-stop shop where you can buy wonderful handicrafts from the surrounding villages. Textiles coming from this area are renowned for their beauty.
Take a short boat ride along the Mekong to Don Kho from Ban Saphai. Don Kho is the oldest town in Champasak province, the first inhabitants came from Attapeu some 400 years ago. Now, there are 78 families living on the island; their livelihoods based on weaving, fishing, and managing homestays. Nine homestays were recently awarded the ASEAN Green Tourism Standard in recognition of the excellent quality of their services.
Don Kho is a relatively small island that can be easily explored on foot. Here, under the shade of their traditional stilt houses, you can marvel at the skill of local residents weaving on their big looms. If you ask, you might even have a chance to get a weaving lesson yourself. It is also a good opportunity to directly purchase a souvenir from the weavers, and know that you have supported the community directly. While you visit the island, you can walk through rice fields, see vegetable gardens, and stand on beautiful sandy river beaches.
Ban Don Khor: The Buddha Stone Carvers Village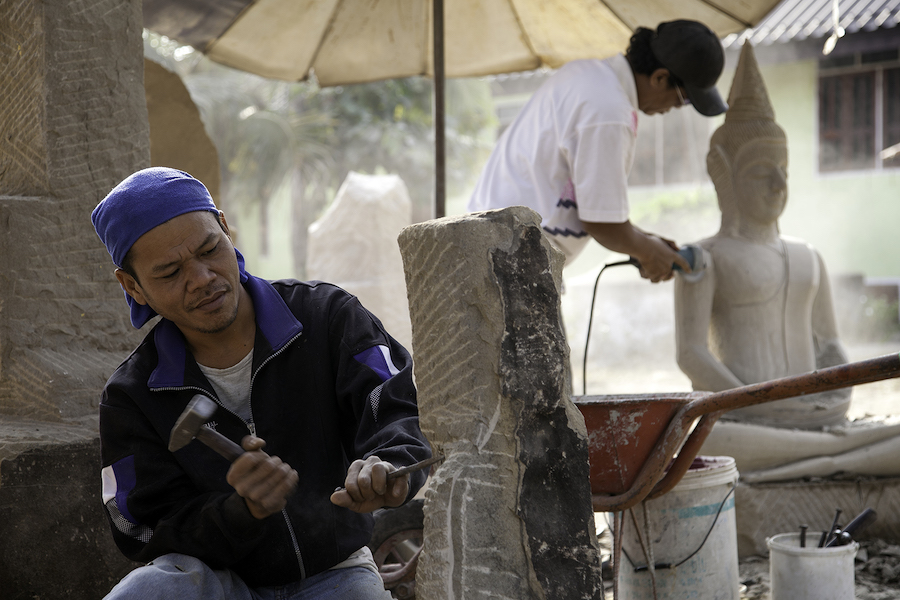 Ban Don Khor (not to be confused with the similarly named Don Kho above) and the more well-known Wat Chompet are located 13 km north of Pakse. Visit the local artisans carving traditional Buddha images. Take some time to appreciate the intricate process of stone carving; some can be as small as the palm of your hand, while some are life-size.
Here you might be lucky enough to meet master sculptor, Mr. Khamlan. His family had been the first carvers in the village; his father carved the impressive 30-meter high Buddha statue at Wat Chompet. He said that he learned to love the craft through his father's influence, "I watched my father do it [drawing & carving]. I learned from him and I've grown to love stone carving." Mr. Khamlan also mentioned that the smaller the stone, the more difficult it is to carve; he added that it takes him one week to carve a palm-sized Buddha.
The Laos Wind Trace Art Museum
A visit to this art gallery will give you a real insight into authentic traditional life, as portrayed by young Lao artists. Locally known as the "Korean Museum," this unique art gallery located at KM7, is a joint project between Laos and South Korea.
Ban Nong Bueng: The Woodcarving Village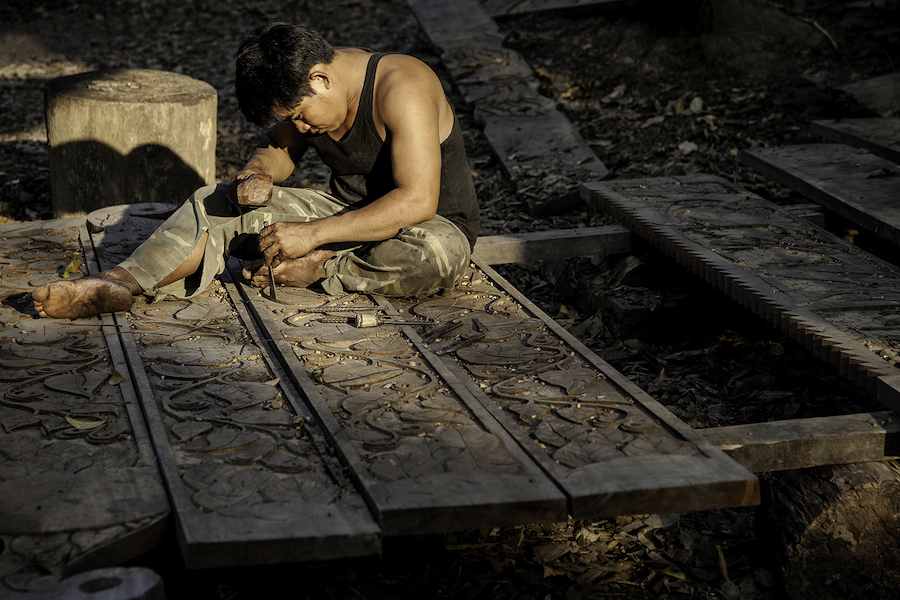 Ban Nong Bueng is a traditional woodcarving village that has managed to pass on ancient woodcarving skills from one generation to the next. The traditional techniques used here, like carefully burning the wood until it turns black, originated from the Ta Oy ethnic group that still live in the highlands of Southern Laos.
The village makes many interesting products, from ceremonial masks and sculptures to practical everyday items like wooden plates and outdoor lamps; for sure you have seen their designs decorating many hotels and restaurants in Southern Laos.
Recommended itineraries
Within Pakse:
     

Ban Saphai – Don Kho – Ban Don Khor – Wat Chompet
Easily accessible by tuk tuk, motorbike, or even a bicycle (if you're feeling active). Ban Saphai and Don Kho are located 18km from Pakse so it's recommended to go there first and visit Ban Don Khor and Wat Chompet on your way back to the city center. Can be a half or full day activity.
Pakse and surrounding area (Patunphone District):
 

The Laos Wind Trace Art Museum – Ban Nong Bueng – Xe Pian trek/Phou Asa Mountain
Better to rent a car for this itinerary because of the road condition going to the woodcarving village and farther afield to Xe Pian National Protected Area. To make this a half-day tour, book a short trek via Kingfisher Ecolodge or Ban Kiet Ngong to visit Xe Pian. Refill your water bottles or have a relaxing Italian lunch at Kingfisher while you're at it. To make this a full day activity, swap Xe Pian for a tour of Phou Asa Mountain and be amazed at the view overlooking both the Xe Pian and Dong Houa Sao National Protected Areas.
Text by Dyan Barutzki and Sommith Phunyathone
Photographs by Swisscontact & Bart Verweij