One portion Lao cuisine mixed with one portion tuk tuk creates a recipe for culinary adventure.
You have heard that Lao food is varied and delicious – spicy hot, sometimes steaming, and eaten with basketfuls of sticky rice – but where to track down the stuff not cooked for farang taste buds?

I chose Lao foodie Ere, and his Hungry Tuk Tuk tour of Vientiane, to guide me on a taste adventure via some of the best eats in the city. I would also get a backstage pass to witness some food preparation in the city's private homes, something I couldn't do on my own. Ere was born in Vientiane, and has lived in Australia, so straddles the linguistic divide which is essential once off the tourist trail.

We were joined by two voracious American foodies and, eager to get over the start line, we were at our first stop just past 9am. Right away, I knew this would be my favourite stop. A local family grilled bamboo tubes over coals stuffed with sticky rice, coconut milk, and taro. Khao lam, traditionally served with barbecued chicken, has been made by this family on the banks of the Mekong River for the last 23 years. Warned not to eat breakfast before the tuk tuk safari by Ere this was a warm, fragrant start to the day and a fascinating window on to this home industry with the family machete-ing and stuffing the bamboo, turning over 80-90 tubes a day on the coals.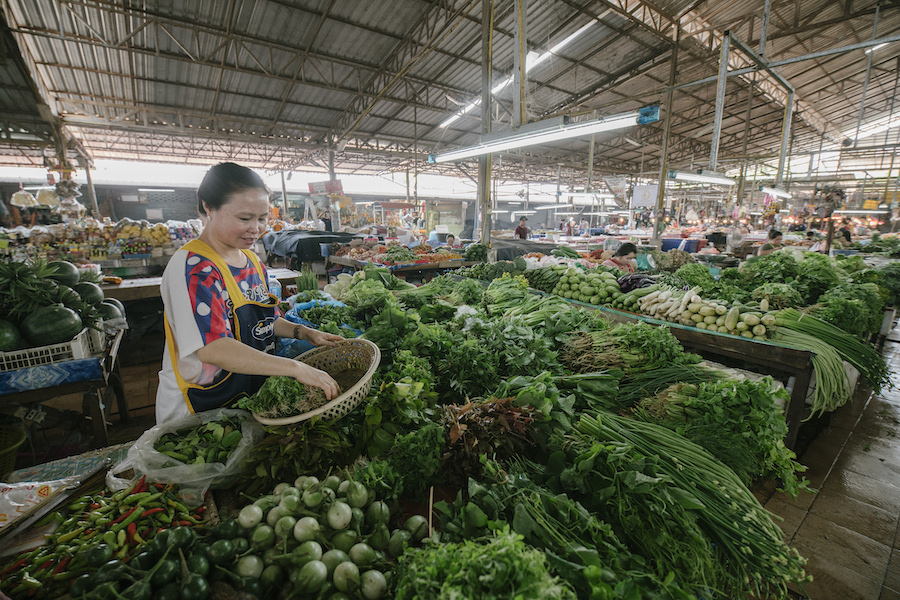 Our second breakfast was not strictly Lao but we had no complaints. Ere took us to his favourite banh cuon stall. Vietnam's banh cuon are tiny parcels of culinary heaven — rice paper wrapped around minced pork, wood-ear mushrooms, and topped with fried shallots. We perched on street stalls while being served by a Vietnamese-Thai cook who has been selling in downtown for more than 30 years. I would happily have stayed there all day but we had more to see and more to eat.
One of the city's major wet markets is stacked with towers of banana, eggplant, palm hearts, lemon basil, morning glory, and more at one end, and fish thrashing about in metal bowls at the other. While we observed the market in motion we snacked on moreish sticky rice parcels stuffed with deep-fried garlic, mint, lemongrass, starfruit, and peanut.
After the assault on our senses at the Houa Khoua Market, we headed for something more aromatic, something Ere says he survives on three times a day. In Vientiane, there has been a surge of uber-cool coffee shops with baristas turning out Lao brew, but Ere ushered us to a busy back-to-basics side-street outlet where rotund women pounded ground coffee into enormous cloth filters, while pots boiled, and instruments steamed. I was handed a cup of coffee large enough to caffeinate an Olympic team; I was afraid to drain my cup, nervous I wouldn't sleep for a week.
Hungry for lunch, we pulled into an anonymous noodle restaurant, the kind of place where you know if it's packed with locals it must be good. After comforting tapioca noodle chicken soup, khao piak, staff offered us a takeaway bag of a much-loved Lao dessert — coconut dumplings — but we declined knowing there were only a couple more notches on the belt to expand, and still two more stops to make!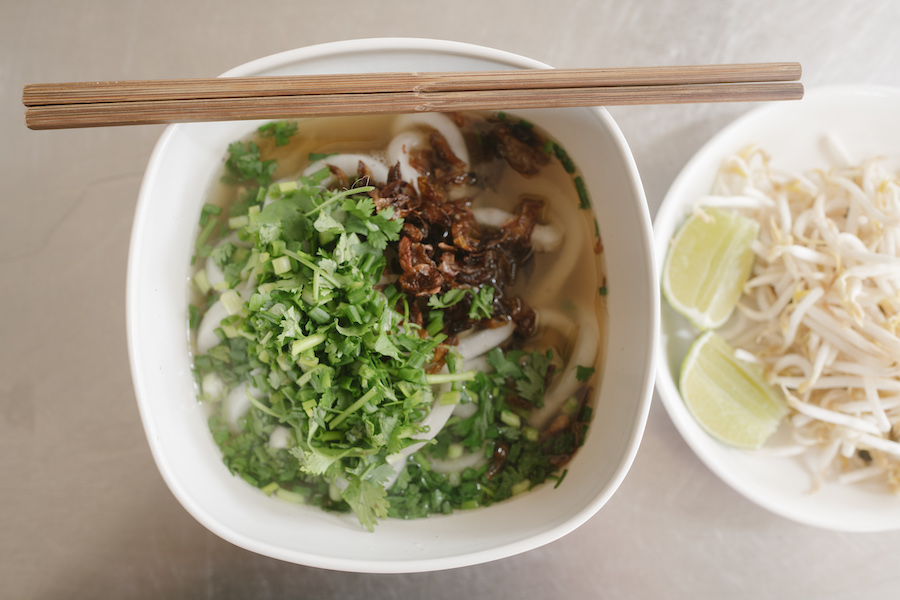 Lao papaya salad has a fiery reputation so a tiny DIY papaya salad stall presented a chance — to fire up or mute. Ere egged us on to add a lot of chili to the huge wooden pestle and mortar used by DIY customers. We threw in pa dek (Laos' famous fish sauce), sugar, eggplant, garlic, and shrimp paste and a whole lot more but I couldn't stomach swallowing the fire and eased off on the chilis.
Our food safari ended where I hoped it would — with mid-afternoon booze: Beerlao overlooking the Mekong while munching on fried insects. These tiny crickets are packed full of protein but after our day-long seductive spread we could barely move another morsel to our lips. And, after devouring enough food for a week, we could barely move. A vote was taken — more beer and a plate of insects so we could watch the world go by from the river bank.
For more information:
Tuk Tuk Safari operates a number of tours in and around
Vientiane by tuk tuk. Visit tuktuksafari.com for a full list
of their offerings and to make reservations.
Text by Claire Boobbyer