A labor of love brings positive results for Laos and its animals.
In off-the-beaten-track parkland, 60 km north of Vientiane, a young British couple are giving a new lease on life to the nation's zoo. It's no ordinary revitalization of ancient pens for wild animals, but a multi-year project elevating wildlife rescue and conservation throughout the country.
Eve Mansfield and George Sullivan have run a rescue, rehabilitation, and release center around-the-clock since they took over the reins of the Lao Zoo two years ago. The pair, who met at the start of their careers in a Yorkshire zoo, headed to remote wildlife projects in Australia and Southeast Asia before pitching up to a job at the zoo. The couple quickly realized the potential to forge something special for multiple species, and create an education hub for the nation – the Lao Conservation Trust for Wildlife.
"We're trying to build up the Trust in this country," Eve tells me. "It really is like a country-level project. It's daunting, scary and exciting."
The ex-owners of the Lao Zoo supported the couple's move to establish Laos' only non-profit foundation for wildlife rescue, rehab, release, and education, and continue to help finance and support the venture. Funds also come from personal donations, conservation bodies, volunteer programs, western zoos, the EU, and the British Embassy.
The center's days are focused on the admin, staff, and 500 animals in its care, including furry Frida, a baby Phayre's Langur with bushy eyebrows who thinks George is the bee's knees as he feeds her non-stop.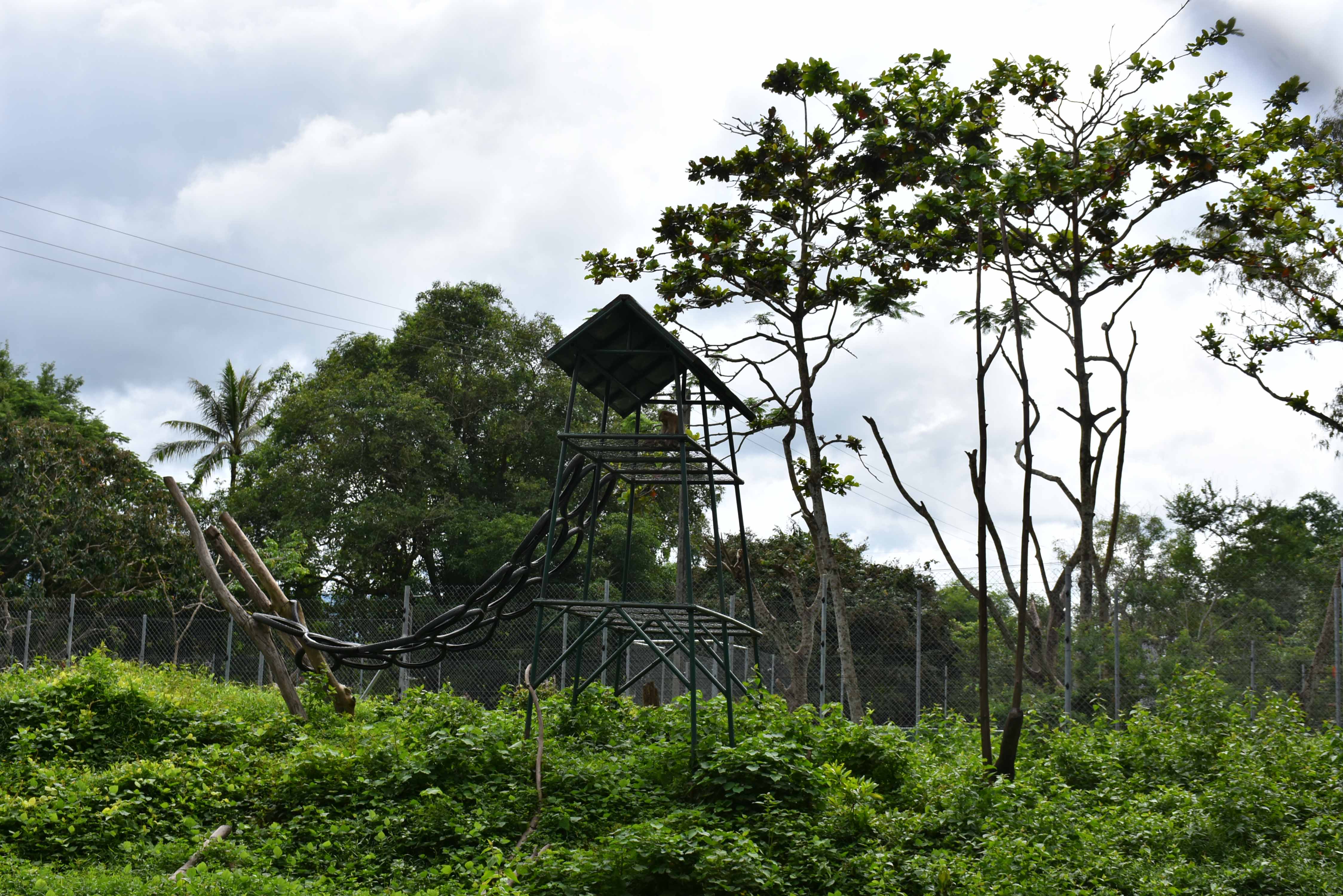 The couple keep a phone under their pillow – a 24-hour emergency hotline – and go anywhere at any time in their pickup truck/animal ambulance. George recalls answering a call to rescue two moon bears playing on the forecourt of a petrol station. Looking at images of 15 kg babies he imagined the call-out would be a breeze but when he arrived two 40 kilogram animals were messing about on the highway and had to be anesthetized. His team also recently rescued 105 birds from pet shops in Vientiane.
Animals come into their care in different ways. Locals drop animals at the door several times per month – either by anonymous dump, or coming in to explain. Monks who care for donated otters, bears, and primates in temples also dial the duo. But many of the species are illegal wildlife trade rescues. Government Forestry Department inspectors confiscate animals and send them to the LCTW. Word is spreading, too, on social media about the trust's work, and is gradually reaching stewards at provincial forestry departments: inspectors from Savannakhet called recently with a rescued haul of 20 king cobras, 30 tortoises, and some pangolins.
All new arrivals are assessed by vets at the onsite Animal Hospital. To qualify for rehab, all native species are assessed for physical and mental health. Any animal habituated to humans will never be released, Eve tells me, because it's certain the animal will find itself a victim of the illegal wildlife trade.
Once given a clean bill of health, fortunate individuals are released into national protected areas with camera traps. Recently, two tortoises and a pangolin that had recovered from snare wounds were released into the Nam Et-Phou Louey in northeast Laos, a protected area where the Wildlife Conservation Society monitors eight camera traps and runs an ecotourism project.
"Hopefully, the illegal wildlife trade will decrease and we'll have less wildlife in the center," Eve says, "but this site will evolve with the issues Laos faces. It will go with the trends and issues as they emerge."
The couple's commitment is unwavering: "In the future, we want to go into the national parks, do fieldwork, pay for rangers and camera traps, etc. If it helps the conservation of wildlife in Laos we will help."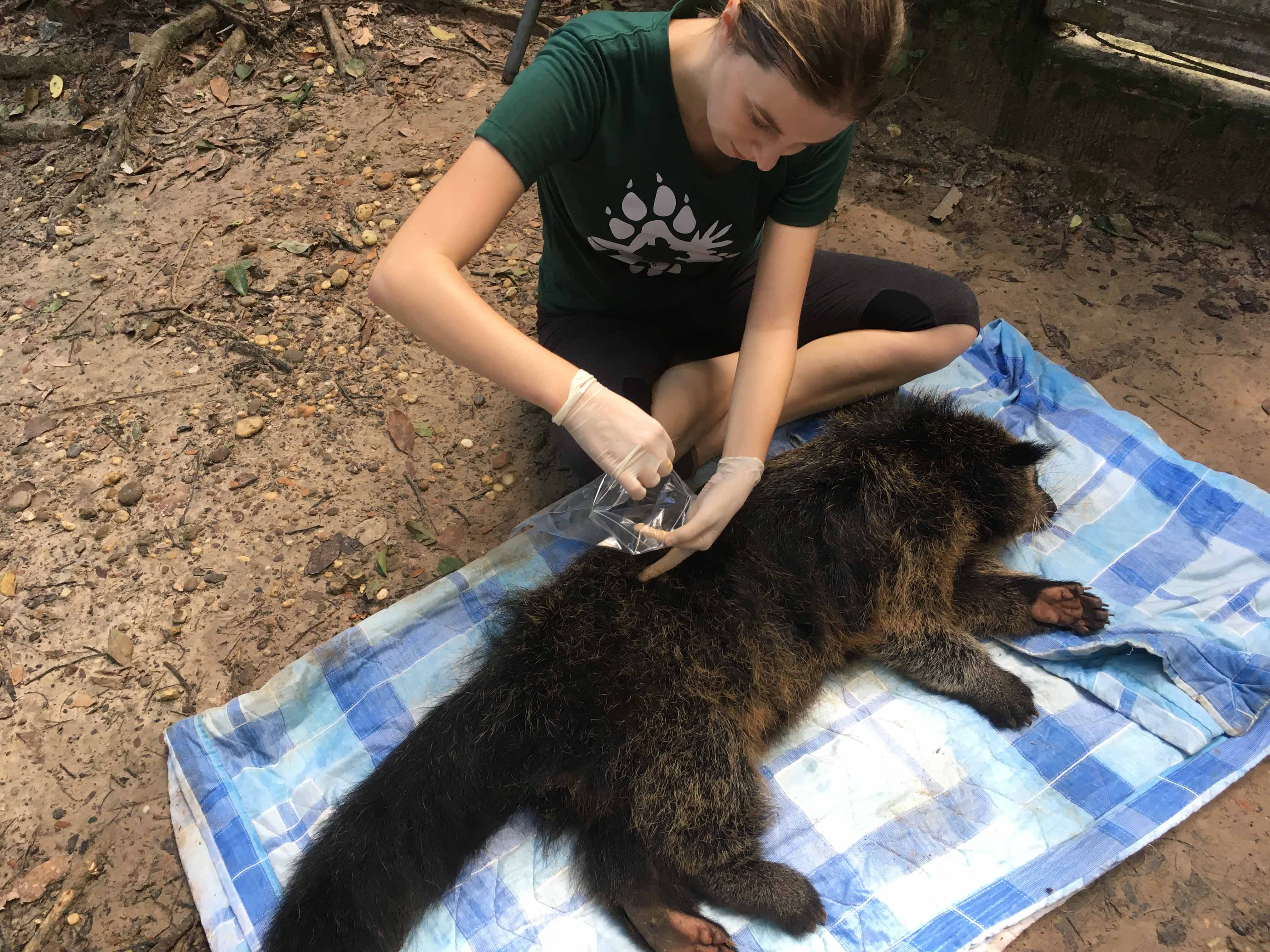 After lunch at the onsite restaurant, the pair guide me around pens on the 100-acre site, telling me about the animals that will never taste freedom – ex-pets, amputees from snare wounds, toothless big cats, etc. They are cared for in the sanctuary and their lives improved somewhat with resocializing, more space, a new diet, and exercise to resurrect muscles for climbing. I meet lifelong resident Rambo, a beautiful leopard; a Binturong – which looks like a cross between a bear, otter, and a sloth; and a pigtailed macaque, who used to be afraid of grass as he lived on concrete for 18 years.
Many of the animals have lived at the zoo since it opened in 1994, George says, but there are creatures who go way back to its origins in the 1970s as a government farm populated by deer and crocs.
What can they do with inherited old stock? It's the 70 bequeathed crocodiles who represent one of the most exciting challenges for the trust. Many are Siamese and saltwater hybrids but DNA tests on one-fifth of the population revealed shocking news – 90% were pure Siamese. With less than 70 crocs in the wild in Champasak and Khammouane provinces, this news brings high hopes for a breeding programme with the aim of releasing new crocs back into the wild where it's safe for the animals and locals.
It's important, George and Eve say, that these same locals are invested in the Trust and the welfare of the nation's species – a good many listed as endangered. Thus the site will be open to locals and foreigners. Educational tours will launch later this year with ticket sales to foreigners funding free access for Lao visitors. Tours will visit the sanctuary and an education hub warning visitors of the illegal wildlife trade.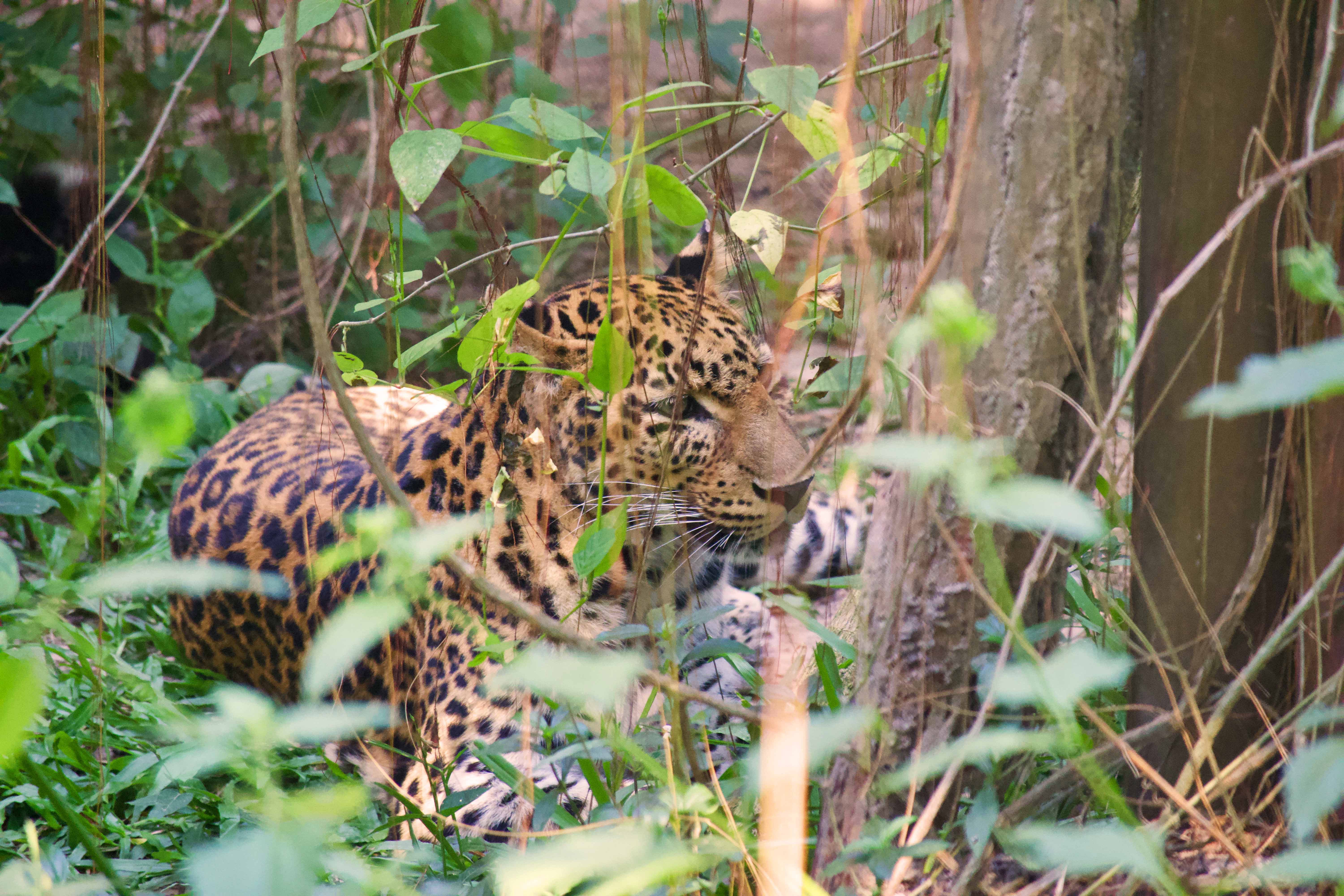 At the moment paying volunteers are welcome from all over the world. Professional internships are available, as are opportunities for wildlife fans who want to work with husbandry, food enrichment programs, and building enclosures. Donations of talent (social media/web savvy folk) are also welcome. International volunteers, who live together in rather smart woodland bungalows, rise with the unique song of Northern White-cheeked gibbon at 7.30 am and go to bed to the chatter of jackals at night.
But there is one species which makes little noise but is getting extra love and attention. Laos' first dedicated pangolin enclosure, paid for by the British Embassy, is newly opened, and a special rare Chinese pangolin living alone in stylish quarters recently gave birth to a boy. Her baby represents new hope for her species and the revitalized old national zoo.
GETTING THERE
The centre is located in the small town of Ban Keun, 60km North of Vientiane Capital. It can be accessed by public bus on the Vientiane–Ban Keun route departing daily from the Morning Market.
Want to get involved?
To make a donation or enquire about an internship or volunteer program, contact the Lao Conservation Trust for Widlife at:
lctwildlife.org  or  facebook.com/lctwildlife
Text BY Claire Boobbyer
PHOTOGRAPHS BY The Lao Conservation
Trust for Wildlife