An Oasis of Serenity in Northern Laos
Nestled in a stunning bend of the Khan River just outside of Luang Prabang, The Namkhan Resort and Eco-Farm, formerly known as NamKhan Ecolodge, is a tranquil oasis that offers guests a unique opportunity to reconnect with nature and themselves.
The Namkhan has been welcoming guests since 2019 and places utmost importance on people, ensuring they are always at the forefront. With a distinct and approachable persona, the resort exudes worldly wisdom, sustainable practices, and friendliness. Its community is defined by the connection of individuals through shared motivations and adherence to mutual values. What sets The Namkhan apart is its unwavering commitment to sustainability and preserving the natural beauty around them, which forms the core of its values.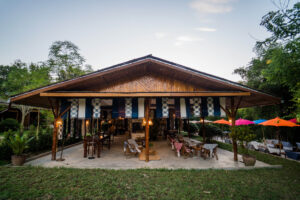 In a country where agriculture is the mainstay of the economy, The Namkhan draws inspiration from the belief that promoting organic farming is paramount. With a focus on biodiversity, over 50 different varieties of vegetables, herbs, and fruits are cultivated, promoting a thriving and sustainable agricultural ecosystem. Not only does this provide employment opportunities but also ensures that employees and guests have access to healthy food.
Nestled in the heart of nature, The Namkhan is an ideal getaway for those seeking peace and clarity away from the city. The resort and eco-farm also attracts explorers who want to indulge in thrilling activities and discover Lao culture in an authentic and local way. The hope is for every guest to leave The Namkhan with a sense of tranquility, rejuvenation, and a desire to share their spectacular experiences with others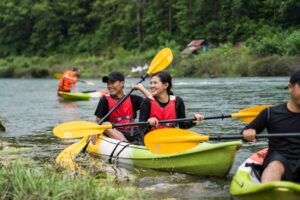 From spacious suites and cozy bungalows to luxurious glamping tents, The Namkhan has beautiful accommodation options that cater to every traveler. Each style is meticulously designed to provide the utmost comfort and relaxation, with modern amenities and breathtaking views. Later this year, The Namkhan will introduce four new accommodation options: the River Suite, Lovers Suite, Stargazer Suite, and Owners Suite. These additions will further enhance the range of choices available to guests and offer unique opportunities to marvel at the stellar wonders of their surroundings.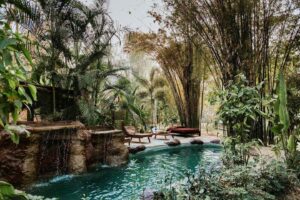 At The Namkhan, guests can experience the rustic charm of the eco-farm by taking part in organic farm activities and learning about sustainable agricultural practices during their stay. A wide range of activities also caters to adventure enthusiasts and those seeking a more rustic vacation, such as kayaking and tubing, as well as archery, mountain biking, and much more. To really unwind, enjoy a peaceful yoga class by the river, indulge in blissful spa treatments, or engage in tranquil meditation sessions. For those interested in cultural immersion, there are cultural tours and workshops, such as bamboo weaving and cooking classes. Guests can also visit nearby villages to learn about their rich traditions and local culture.
The Namkhan implements several sustainability practices to minimize its environmental impact and promote eco-friendly tourism. One of these key initiatives incorporates solar energy wherever possible, including in water management systems and lighting around the resort. The Namkhan considers it their responsibility to remain respectful of our beautiful environment and preserve wildlife and ecosystems by using renewable energy sources.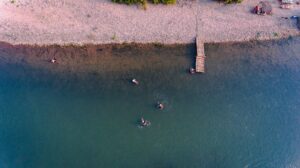 The Namkhan is currently undergoing an expansion to enhance our offerings and provide even more magical experiences for its guests. The aim is to provide an enriching and authentic experience that stretches guests' perspectives and leaves a long-lasting impact. With a focus on holistic experience from organic gardening to adventure sports to yoga, meditation and mindfulness retreats, people can find solace and harmony in the serene atmosphere of The Namkhan — a blissful escape that nourishes the soul like no other place.
below: The resort even has its own beach on the Khan River
GETTING THERE
Lao Airlines has daily flights to Luang Prabang from Vientiane, Bangkok, Chiang Mai, and Hanoi.
MORE INFO
For bookings and more info, visit namkhanecolodge.com